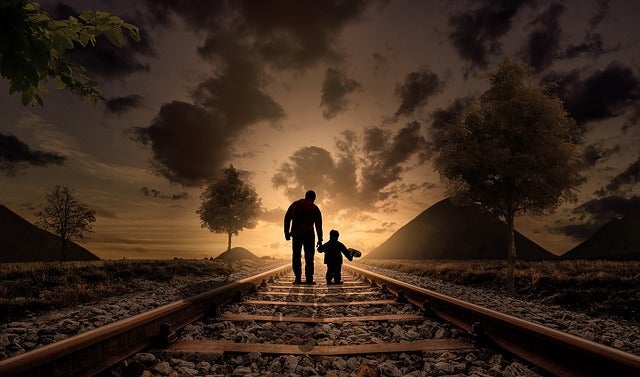 Many of us hold a very special place in our hearts for our fabulous fathers. As we celebrate Torrita di Siena donkey races to San Giuseppe feasts, we observe with intrigue as cultures worldwide celebrate father figures. U.S. Americans prepare to honor fathers, father-figures, and male role-models on June 18, and we share the unique traditions of 10 countries celebrating in different months:
Finland: Finnish fathers have been honored on the second Sunday of November since the 1950s. An official flag-raising holiday, families participate in dad's favorite activities, offering him home-made cards and gifts, and sharing messages of love and appreciation.
France: La Fête des Pères is observed on the third Sunday of June, and gained popularity after an advertising campaign marketed lighters as the perfect gift. Today, the briquets are replaced by drawings or small gifts, and children spend the day showing dad how much they love him.
Germany: Father's day is observed on Ascension Day, the 40th day of Easter. As in many countries worldwide, children offer cards and gifts to their fathers. One unique German tradition includes family hikes, and picnics with dad's favorite food and drink.
Italy: Like its Spanish neighbor, Italy celebrates St. Joseph's Day, or San Giuseppe on March 19th. Festive celebrations include street parades, feasts of zeppole, frittelle, and bonfires with friends and family. In some parts of Italy, towns hold donkey races as a symbol of Joseph leading Mary to Bethlehem on a donkey.
Mexico: El Dia del Padre is celebrated on the third Sunday in June. Children honor their fathers by spending time doing dad's favorite hobbies, gifting handwritten letters, or cooking meals. Some walk or run the 21 kilometer race in Mexico City, the "Carrera Día del Padre 21K Bosque de Tlalpan" as a unique bonding experience.
Russia: Occurring on February 23, known as Defender of the Fatherland Day, this holiday evolved from a military tribute to Russian soldiers, to a commemoration of father figures. In 2016, the cities of Moscow, Novosibirsk, and Orenburg hosted Father Fest festivals featuring music, games, and dancing. St. Petersburg's fifth annual Daddy-Starts celebration included sports tournaments, concerts, and family games.
South Africa: Father's Day is accompanied by a delectable indigenous dish feast of bobotie (a rich meat pie), biltong (salted, curated meat), and boerewors (grilled sausage). Families participate in street performances, games, sports tournaments, and concerts countrywide.
Spain: Celebrated on March 19, St. Joseph's Day, honoring the saint's fatherhood example. Children wake dad with homemade breakfast, and spend a family day enjoying dad's favorite activities. Kids or spouses give a toast, or short speech about their beloved father figures.
Thailand: Fathers are worshipped on December 5, the birthday of beloved King Bhumibol Adulyadej. The Thai King annually addresses his citizens. Fathers and grandfathers are honored with Canna flowers.
Father's Day is a wonderful chance to let the father figures in your life know they are appreciated and cherished. To all grandfathers, dads, uncles, and brothers who guide us and show us unconditional love, Happy Father's Day!
Sharon Schweitzer, J.D., is a cross-cultural trainer, modern manners expert, and the founder of Protocol & Etiquette Worldwide. In addition to her accreditation in intercultural management from the HOFSTEDE centre, she serves as a Chinese Ceremonial Dining Etiquette Specialist in the documentary series Confucius was a Foodie, on Nat Geo People. She is the resident etiquette expert on two popular lifestyle shows: ABC Tampa Bay's Morning Blend and CBS Austin's We Are Austin. She is regularly quoted by BBC Capital, Investor's Business Daily, Fortune, and the National Business Journals. Her Amazon #1 Best Selling book in International Business, Access to Asia: Your Multicultural Business Guide, now in its third printing, was named to Kirkus Reviews' Best Books of 2015. She's a winner of the British Airways International Trade Award at the 2016 Greater Austin Business Awards.
Support HuffPost
The Stakes Have Never Been Higher
Related
Popular in the Community