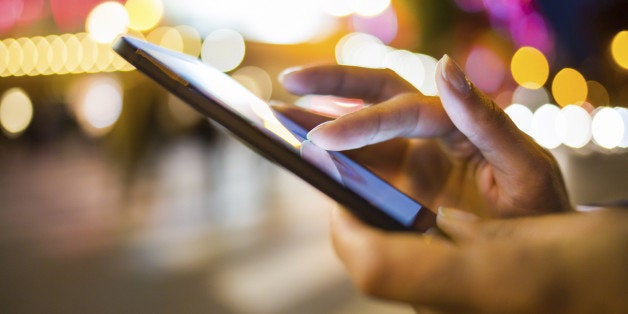 I recently flew down to the Virgin Islands to bury my father. As I was sifting through his very few belongings in the tiny room he had been inhabiting for the last 25 years, I found an old iPhone. It was like opening a treasure chest filled with digital artifacts -- emails, photos, apps, music. I had found a way to reconnect with the man I once knew as my father but who had become a stranger over time.
My dad's death was sad for a number of reasons. Mostly, for me, because I had almost no contact with him for the last 25 years.
When I was 12 years old, my dad was divorced and broke. He had lost his family and his business and sought comfort in a bottomless bottle of alcohol. You could say he had hit rock bottom.
Rather than dealing with the situation he was facing around debt and addiction, he created a great escape. He moved to the Virgin Islands, where he could leave his responsibilities behind with very little consequence. He found his own version of Never-Never Land, living on an abandoned boat in a small shanty water-town community in the bay.
Estrangement is difficult and complicated. He did try to reach out a number of times on his own terms on birthdays and holidays, and I was always glad when he did. I felt like that was his way of letting me know he wished things could be different. But I was not good about keeping up my end of the communication. Even as an adult, I was too hurt and bewildered by his life choices.
I flew down to the Islands for the funeral to do my best to give him a dignified ending. I regretted not keeping in touch with him. My choice to keep him out of my life made finding any sense of closure around his death seem pretty much hopeless. It was too late; getting to know each other a second time around wasn't an option now.
But the trail of digital media I had access to on his iPhone offered me a glimpse into who this man had become and a bridge back to the memories I had of him as a father.
The photos stored on his phone gave me physical evidence of how he looked in his final days. He was older and grayer than I imagined, but he seemed active and happy. He was still playing tennis at one of the local island resorts where, I later learned, he worked for seven years managing the tennis shop. I remembered that he was an avid tennis player. I had vivid memories as a very little girl of hanging out in the day care center of the local tennis club while my dad played. Afterwards, he would buy me a 3 Musketeers candy bar and a can of white grape juice from the vending machines.
The last couple of pictures in his camera roll were of my newborn nephew -- images my sister sent him in the days leading up to his death. I hope he exercised his right as a first-time grandfather to show his friends pictures of his grandson and brag about the cutest baby ever.
As I swiped through the phone, I noticed a bunch of recipe apps. I found lists in one of the apps of Asian recipes. That brought back memories of ordering Chinese take-out on the weekends when we were still a family -- spare ribs and Moo shoo pork were our favorites.
He stayed up to date on sports and news through email alerts with a daily dose of the Bleacher Report and MSNBC. As a native New Yorker, he kept his connection to the city alive with the New York Post app. And every day he had a joke sent to his inbox. In a condolence card I received from a friend of his, she recounted his "many jokes" and said "he will always be remembered as bringing a smile to everyone's face." I thought to myself, that's a nice way to be remembered.
When I listened to his iTunes, a Frankie Valli song came on, and I thought about how I wanted to see "Jersey Boys," which had just come out in theaters that weekend. There were some of his favorite pop-soul singers from the late '80s like Taylor Dayne and Simply Red that I remember him listening to right before he left for the islands. He has some of my own favorite songs from the last 25 years. Turns out we had similar taste in music -- a random Boyz II Men album from 1997. There wasn't much of an "estate" to close out upon his death, but I feel like his music is the one thing he could leave to me.
And thanks to my own iPhone, I was able to document the way he lived. To my surprise, he had a lot of friends who wanted to meet me and give me the memories I had been missing over the last 25 years. His friends offered little eulogies; they told me how much they loved him and how much he loved me. I recorded them.
A neighbor of his from the boat community recounted how they supported each other when it stormed all night long. "Were you up in that storm?" she'd ask. "How much water did you have to bail out of your dingy?" I asked her if it was hard, living on a boat like that. "Yeah," she said, "but it was fun."
Another friend of his told us how much he missed spending time with my sister and me, and how much he missed that aspect of his life. "He never put you out of his mind -- he kept a lot of things inside," he said, "but he felt it."
I have regrets that estrangement will always be a defining characteristic of my relationship with my father, and I wish things could have been different. But I did find some solace when his friend went on to let me know that the experience of my father's death and visit to the Islands inspired him to become closer to his own daughter, whom he had not spoken to in over a year. When he called her, he said it was as if they had just spoken last week. I could tell how proud he was of the things she was accomplishing in her life, and how much he wanted to be a part of it. It felt like a translation of how my father must have felt about me.
I realize nothing can replace a face-to-face goodbye. But I believe the digital clues I've been able to piece together give me the memories I need, and I'm grateful that I was able to witness his life -- even in death.
Support HuffPost
A No-B.S. Guide To Life
Related
Popular in the Community