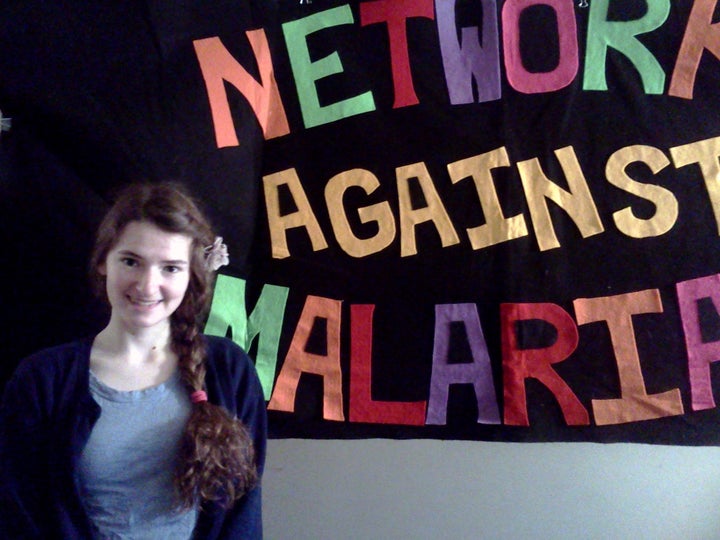 This is part of our new series "Gen: Change," in partnership with Youth Service America, featuring stories from the 25 most influential and powerful young people in the world. Click here to read more about Madelyn and her amazing story.
I jumped out of the car and ran inside my house. On the kitchen table, a package from Uganda was waiting for me. I tore it open and discovered the colorful pictures of smiling children waving their malaria bed nets in the air.
It doesn't seem like too long ago that my sisters and I began NETwork Against Malaria. The summer after my sixth grade year, we met Michael Christopher Mujule, a man from Uganda. My father invited him to our house for lunch. He told us stories about his friends and family. Intertwined in these stories of happiness and fond memories were stories about malaria and the terrible pain this disease caused Mujule and his friends. Being from America, we did not know about malaria because it is no longer prevalent here.

My sisters and I wanted to help, so we researched malaria. We learned that malaria kills one child every 30 seconds. It was a terrible realization that children were suffering and dying from a preventable disease.

It was then, there in my family room, that NETwork Against Malaria (NETwork) was founded. It took us a while to find out exactly how to make NETwork work. There was so much to figure out: where, how, when, and to whom to send the nets.

With Mujule's much-needed help, we developed a system unique to any nonprofit distributing mosquito nets. We have a close-knit group of volunteers in Uganda that deliver the nets, and they explain how to set up and use the nets in their own language as well as in English. They distribute the nets through schools and provide the nets to the children and their families. With each distribution, detailed records, photographs and video recordings are made to ensure the efficacy of the organization.
In America, we focus on fundraising and education. We have involved over 30,000 Americans. We stress education because we learned about the lack of awareness regarding malaria's worldwide, deadly impact. I have flown all across the country teaching people about malaria and how easy it is to prevent it.

Through my years of working with individuals of all ages and backgrounds, I have learned that most people genuinely want to help. Most people want to reach out to those in need and make a difference in our world. Often, people just do not know how to begin. Over 21 chapters of NETwork have been started all over the country by students that saw what NETwork does and wanted to participate. These chapters help raise awareness and funds in their area. Then they send funds and resources to NETwork's national headquarters, and life-saving nets are purchased.

I am reminded of one volunteer who was having a rough time in school with grades as well as interacting with other students. He began volunteering for NETwork when he was 16. I spoke about NETwork to his youth group in a small Midwestern town. After that, he came to every local event and began speaking to crowds about malaria. He channeled his fun and creative ideas to develop new fundraising activities. He always thought far out-of-the-box, and I often found myself struggling to make his dreams for NETwork reality. When he was a senior in high school he organized a local concert to raise funds. NETwork made a big difference in his life. Before his involvement in NETwork, he spent his nights planning pranks to play on his teachers and his days fulfilling them. He is now at an internationally renowned university studying agricultural sciences to solve world hunger. He has brought NETwork to the community there.

When I was 12, I never imagined the affects NETwork would have on people. I never imagined that we would have provided 11,500 bed nets, saving 34,500 lives (three children can sleep under each bed net). I never imagined we would inspire people to start their own organizations. I never imagined that five girls from a small town could change people's lives across the world.

That is why when a package from Uganda comes in the mail, I run, not walk, to see the faces of the children we have helped to save.
Related
Popular in the Community