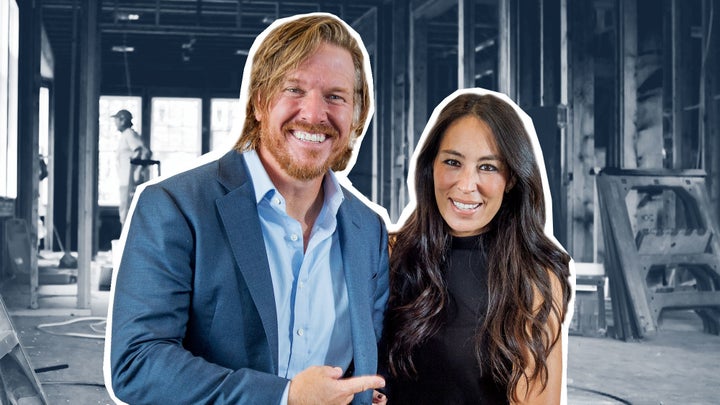 Five years ago, a show about a small-town couple running a real estate and home design business while raising their four children premiered on HGTV. "Fixer Upper" quickly became Texas' most prized possession, shoveling in ratings and setting a new (but probably painted antique white) bar for home improvement television.
If HGTV was once a destination for wallpaper television, the kind of programming that played pleasantly in the background of your home for hours on end, the Gaineses made it something else ― a purveyor of a new and improved kind of "ubiquity TV" that didn't just stream on your screen. With books and decor lines, a physical mecca in Texas and near-constant paparazzi coverage of its stars, "Fixer Upper" was everywhere, so firmly lodged in the pop culture landscape that it was hardly just wall dressing.
This week, the cultural phenomenon that was "Fixer Upper" came to an end after five seasons on the network. Now, diehard viewers are left wondering: How did a show about remodeling captivate our attention for so long? And how will HGTV fill the farmhouse-shaped hole in its programming? HuffPost spoke to a few HGTV representatives and professionals in the world of home improvement entertainment to find out.
In a nutshell, Chip and Joanna Gaines represented exactly what Scripps Network (now under Discovery) was looking for at the time: compelling, character-driven content for a channel previously populated only by background noise. The story of charismatic, goofy Chip and his style-minded, shiplap-loving wife, Jo, wasn't just meant to be viewed in bulk on the weekends, the low-volume hum of equipment dulling your tired senses. It was meant to be appointment television, wooing viewers eager to catch up with the Gaineses to a steady Tuesday night slot.
"We've moved beyond where I think the network was in terms of being wallpaper programming," Allison Page, the general manager of programming at HGTV, told HuffPost. "I don't say that submissively, because it was very successful to have the network be something that people just wanted on in the background, and I think it still works on that level, but I think now that we have true stars and real hits, those have become more appointment programming."
So what are the markings of appointment programming in the home improvement realm?
"These programs are about redemption and hope," Page said. "They're about making something beautiful, they're about fixing what is broken [and] honoring the history of something while making it work in the present day. They're stories about pride in the work and essentially building communities and creating spaces where people can live their best lives."
Between unexpected reno complications and subway tile selection, Chip and Joanna offered glimpses of their personalities, values and life at home with their "kiddos." They became full-fledged characters on-screen, and their partnership proved irresistible for viewers.
The Gaineses harnessed the "redemption and hope" narrative better than most ― to their own advantage. "No one gets it more than Chip and Jo. That show did for them what everyone knows it's done for them," explained John Feld, senior vice president of HGTV programming. "They have this incredibly thriving business in Waco now, and that's the benefit. ... We put them in a situation which was like, 'Can you give us this amount of episodes and a few more next season?' And they knew what the benefit of that would be and they worked twice as hard."
Indeed, Chip and Jo's combination of personality and design aesthetics ― Farmhouse sinks! Wood beams! Concrete countertops! Motivational wall art! ― captivated fans well beyond the HGTV platform. Viewers were first introduced to the Gaines family through their Magnolia renovation and design business. During their time on the network, the family would go on to launch the large Magnolia Market in Waco, home to their bakery, the Silos Baking Co., where people can shop or relax in a physical environment carefully curated by the Gaineses. The duo also released their own seasonal lifestyle magazine, Magnolia Journal, and just last month opened a breakfast joint, Magnolia Table, to rave reviews.
But it wasn't Chip and Jo who approached HGTV with the idea of "Fixer Upper." The idea to take on the worst house in the best neighborhood and make it a client's dream home ― that was the network's.
"We knew we wanted to make a show called 'Fixer Upper' that basically followed a real-life family-owned company where people were working with homeowners to find the worst house on the block and make it the most beautiful house on the block," Page explained. "We gave the production company casting money, and then they hired scouts and used their own internal teams to set a really wide net."
The team's casting department eventually found a blog post featuring Joanna's work and filmed a demo reel with her and her husband, who ended up booking the gig due to their requisite skill set, natural on-air chemistry and prime location.
"One of the values we thought would be compelling in a show like this would be being in a smaller town where there's a very strong sense of community and where housing prices are reasonable. That's part of the ethos of HGTV," Page said. "While we do occasionally shoot in New York or LA, a larger percentage of our programming is somewhere in the middle."
As a result, the Gaineses have provided not only themselves with an exorbitant amount of, well, wealth, but have made Waco a Disneyland-like destination for home and design obsessives. Over 30,000 people flock weekly to Magnolia Market. In its first week alone, Magnolia Table and its menu of tater tots, lemon-lavender doughnut holes and avocado toast drew crowds of hundreds. It's no wonder that the couple decided now was an ideal time to hang up their on-screen tool belts.
"We're just going to take a break, we're going to enjoy our family, we're going to step back, really focus on our businesses, and what God has blessed us with, and then we just can't wait to see what the future holds. We really are extremely optimistic," Chip told HuffPost last fall.
Of course, while Chip and Jo excelled beyond imagination in the world of lifestyle programming, HGTV amassed a healthy roster of ubiquity TV talent outside of "Fixer Upper" (like "Property Brothers" Jonathan and Drew Scott, who predate the Gaineses on the network's roster).
″'Fixer Upper' took it to another level, but I think we built a foundation of a few hit shows," Page said, recalling the first iteration of "Flip or Flop," which also became optimal viewing thanks to its now-divorced hosts, Tarek and Christina El Moussa. (The show launched a franchise with six new iterations.)
"Beyond that, I think now we have 'Home Town' [with Ben and Erin Napier] and 'Good Bones' [with Karen E. Laine and Mina Starsiak] showing that same kind of intent of view, so we're absolutely just trying to build on that, with all the other chapters of 'Flip or Flop,' knowing that we trained an audience to know there was going to be a premiere episode on Thursdays for 52 weeks a year rather than 20 weeks a year."
In other words, HGTV is staying focused on talent-driven shows in the same vein as "Fixer Upper." But professionals in the home-building and design worlds would like to see the network switch things up a bit, or try going back to the gimmick-free, wallpaper basics.
New York-based interior designer Rayman Boozer of Apartment 48 says he'd like to see a "Design 101" type of program where viewers can simply get the useful home improvement information they need.
"I'd love to see a reboot of 'Dear Genevieve,' or something similar," he told HuffPost, referencing "Trading Spaces" alum Genevieve Gorder's show, in which she helped lucky homeowners redesign a run-down space in their house. "I'd also like to see a show that goes back to basics: Show a real-life interior designer providing realistic ― cost-effective and available ― advice and sources. In each episode, the viewers could explore fabric showrooms, furniture and flooring shops, etc. No gimmicks."
Amber Lewis, on the other hand, wants the network to feature higher-budget homes and convey the often-pricey truth about construction, real estate and design.
"In my opinion, the biggest problem with HGTV is that it's completely unrealistic. The budgets are so under market value for what it actually costs to get work done," the CEO and lead designer of California-based Amber Interiors told HuffPost. "It would be refreshing for them to update their price points and get with the times! No bathroom costs $5,000 to completely remodel, and not a single kitchen on earth can be remodeled in a couple weekends with a $10,000 budget! How about high-end, large-budget projects and a host that shows the back end of how that's done, almost like a 'Lifestyles of the Rich and Famous,' just no Robin Leach, or caviar wishes and Champagne dreams!"
For Page and Feld, the most important thing is to give the audience what it wants: an escape.
"The viewers see us as this comfort food, especially in times of upheaval and turmoil and whatever else is going on in the world," Feld said of the network. "Our goal is just to continue giving them those projects, and especially those people who they can feel are likable and who they trust to do the things that relax them every evening. There's nothing tense or anxiety-causing in our programming."
"What's so special is this is a channel that's more than the sum of its parts," she said. "It's more about 'I love HGTV,' whereas you look across the cable landscape and you'll see a hit here or a hit there. It's less often 'I love this entire meal.'"
Luckily, dessert is still on its way. Beyond the reruns that will inevitably follow the finale, Joanna is set to premiere a new 30-minute series, "Fixer Upper: Behind the Design," in the coming weeks. Like any good ubiquity TV stars, the Gaineses aren't really going anywhere.
Popular in the Community