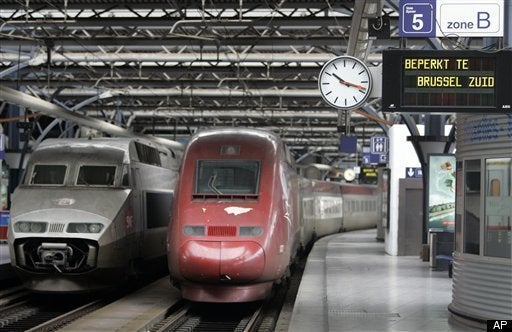 The awarding of high-speed rail money by the federal government in February turned into a test of which state officials could transcend partisan bickering and agree to pony up a bit of their precious local resources -- and which couldn't. States along the Northeast corridor failed to get much funding, despite their overwhelming objective need. But among the big winners was Florida, which owes its success in large part to outspoken liberal Congressman Alan Grayson, who showed he does know how to make nice with knuckle-dragging Neanderthals when it means getting something done for his Orlando district.
For Transportation Secretary Ray LaHood, evidence of bipartisan local commitment was his highest priority in determining where to dole the dough. That's because for stimulus-funded programs like this, getting projects up and moving fast is essential -- and backyard battles over turf and partisan posture can delay a project for decades. (How's that Purple Line coming along, Maryland?)
When LaHood was done, Florida was getting $1.25 billion, the Midwest was getting $2.6 billion and the entire Northeast Corridor -- Washington to Baltimore to Philadelphia to New York to Boston - was getting less than half a billion.
That's because the primary qualification wasn't need -- or even partisan politics. "If you look at where money went, it went to districts all over the country where members of Congress voted against the economic recovery," LaHood, a former House Republican, said last week at a breakfast with reporters. "Now we've seen them show up at the ribbon cuttings, by the way, elbowing their way to the front of the line."
Florida's victory can be traced to the support of its well-placed congressional delegation and a GOP legislature that pulled itself together in time to persuade the White House that the state was serious about getting into the rail business.
Vital to that effort was Grayson, who Washington Republicans routinely portray as more interested in his national popularity with the Democratic base than with Central Florida issues.
In order to find out what Florida needed to do, Grayson asked White House Chief of Staff Rahm Emanuel about the decision-making process, Grayson told HuffPost. Emanuel told him that there was real concern in the White House that Florida was not fully ready for high-speed rail, and that it might not be willing to spend any of its own money toward that end. Florida voters had previously backed rail in a statewide vote, but then repealed their own law.
Florida needed to show it was serious -- and it did, by bringing LaHood down to Orlando in October for a public meeting with rail advocates. Grayson knew LaHood had a ride to the airport in front him and asked if he could tag along. He rode with the secretary and bent his ear for the 45-minute trip.
The visit was followed up with action in the state legislature.
States like New York, Nevada and Georgia, meanwhile, wound up holding lighter bags, unable to, in LaHood's oft-repeated phrase, get their act together.
The Georgia legislature, LaHood said, has no reason to complain because it was too stingy to invest any of its own money in rail, even after he came to Atlanta and told state leaders that they had little chance at a federal commitment if they wouldn't put some of their own skin in the game.
"I told them the same thing I tell everybody else: Get your act together. I didn't hear one word of criticism for saying that. Georgia doesn't have its act together, because the legislature does not want to put up the money for high-speed rail. And Florida didn't either, until they found out they weren't going to be in the business unless they did it."
LaHood said he met privately with Georgia Gov. Sonny Perdue, a Republican, after delivering the message. "He thanked me for saying that," recalled LaHood. "Unless a state or a region has its act together with money, with a good plan that connects things, they're not going to be in the high speed rail business."
Midwestern states, said LaHood, were rewarded for having their act together, but the Northeast and the Lone Star state weren't as lucky.
"If Texas had had its act together, they would have gotten some rail money," said LaHood. Asked about the quality of New York's application, LaHood barely veiled his displeasure.
"I think the money we gave New York reflects what we thought about their application," he said. New York won just $151 million. "Look, I've talked to the governor; I've talked to Senator [Charles E.] Schumer about this; I've talked to Congresswoman [Louis] Slaughter about this. They know. Any region that had their act together got money."
An aide to the New York delegation said that lobbying from federal representatives was the only reason that the state -- whose legislature makes the U.S. Senate look like a model of efficiency -- got even the paltry sum it did. Slaughter looked to put a positive spin on it. "We all worked very closely on this application and I was pleased with the fact that Secretary LaHood gave the state more money than 42 other states received. We won't let up until we make high speed rail a reality for New York," she said in a statement to HuffPost.
Florida claimed the second-biggest single prize of $1.25 billion for a line connecting Tampa and Orlando. LaHood explains: "They wanted me to tell the legislature, 'If you don't pass some money, you're not going to get high speed rail money.' And that's exactly what I said in Orlando in front of a huge crowd of people. The legislature met, they passed the money. The president went there and made the announcement."
And it couldn't have hurt Florida that its GOP governor, Charlie Crist, broke with his party to campaign for the stimulus (a stance that is now endangering his bid for the Republican nomination to the Senate).
Florida also had well-placed lawmakers in Washington. Rep. John Mica's district stretches from near Orlando up the coast through Daytona Beach, where the rail line could extend to, on up to Jacksonville. Mica, as the highest-ranking Republican on the Transportation and Infrastructure Committee, has plenty of pull.
Democrat Corrine Brown, meanwhile, represents the adjoining district and chairs Transportation and Industry's Subcommittee on Railroads. Both lawmakers, said LaHood, encouraged him to come to Orlando for the rail meeting.
"He came down and he did tell the state that if they wanted to compete, they had to get things resolved," Mica told HuffPost. "He's been most helpful."
Mica, however, said he was disappointed overall. In an unusual move for a politician, he said that even though he doesn't represent the Northeast, leaving it largely out of the equation was an injustice. The entire Northeast region got less than half a billion.
"When I sent out a release when they made the awards, I praised them for selecting Florida, but as the Republican leader of the T&I Committee, I also have to express my concern about not doing the Northeast corridor," Mica said. "It's the only right of way that Amtrak owns."
Mica argued that the Chicago routes aren't going to be long enough to get up to a genuinely high speed and neither will the Florida line, though he supported it regardless for the boost it'll give to the region. The line between Washington and New York, added Mica, doesn't currently meet international standards for what constitutes high-speed rail, and still wouldn't after a project Amtrak is proposing. Now that the first round of rail money has been given out, he said, he'll focus his effort on getting funding for the Northeast.
"I just got done telling [Committee Chairman] Jim Oberstar [D-Minn.] that 75 percent of our chronically delayed flights in the nation emanate from New York. Tell me what else would have a greater impact for the environment, for energy, for aviation, for surface transportation, than putting high-speed rail in that corridor," said Mica. "I'm not a hardass. I can be. I'm just trying to bring to light what I'd hoped we'd do."
Grayson, who supports high-speed rail in general, fought for the Orlando to Tampa line, he said, because of the benefit it will bring to the tourism industry, which is the engine that keeps Central Florida running.
High-speed rail would free up space on the busy I-4 highway and would make areas further from Orlando attractive to stay. "Once it's built, it'll be part of what makes Central Florida appealing. In the same way that people often remember the monorail ride at Disney World more than anything else, they could well end up remembering the high-speed rail ride from Orlando to Tampa more than they remember anything else," Grayson said.
Though the state legislature has made moves in the direction of funding the project, a final vote is still to come. If it fails, there'll be no shortage of states clamoring for Florida's money.
"The amount of money that we're looking for from the legislature is less than one week's revenue for the state, and this is a project that will be creating jobs, sustaining jobs and improving the economy for 50 years or more," Grayson said.
Yet there are still pockets of resistance. As Grayson put it: "Right now there's an opposition to anything that involves spending money."
Popular in the Community