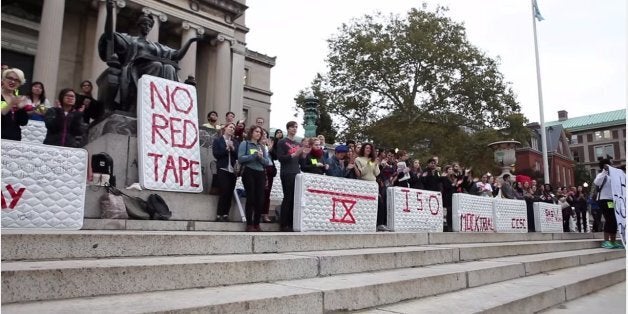 How far will a school go to protect a star athlete from rape allegations? Ask Florida State.
Our film The Hunting Ground and the New York Times have already detailed the extent of FSU's derailment of Jameis Winston's rape case, but a recently released, explosive deposition shows how top-level administrators were actively involved in this cover-up.
1. Jameis Winston (now the starting quarterback of the Tampa Bay Buccaneers) has been identified in the sexual assaults of two women, and
2. The Florida State Chief of Police and the Dean of Students colluded to stop the investigations of Winston.
This is the case: In December 2012, Erica Kinsman reported being raped by an unknown assailant, and the next month, identified Jameis Winston as her attacker. In Ashton's deposition, she explained that a second woman, who has not been publicly identified, also reported Winston had sexually assaulted her.
By October 2013, FSU was moving forward with investigations into both reports, even as Jameis Winston's football team was winning game after game.
Then FSU's Chief of Police David Perry learned that Winston was being investigated and called Jeanine Ward-Roof, the Dean of Students in charge of Title IX investigations regarding sexual assault. Ashton testified that Perry was upset Kinsman had been told about the second victim, which prompted her to move forward with her complaint against Winston. Chief Perry wanted to know "if we make it a practice of telling victims that the perpetrator has been identified in other cases."
This was when Ashton realized that FSU officials were in damage-control mode as they braced for a media firestorm, "...that's when I found out that everyone knew and that it was going to be in the newspaper within the next couple of days. And it was blowing up," she testified.
Shortly after that, FSU ditched the mandate to investigate all reported cases, Ashton said. "Everything was changing hourly." At that point, Ward-Roof shut down both cases involving Winston, and on November 12, 2013, the dean sent a placating email to Chief Perry, saying, "It is not likely we would tell a victim that the accused was involved with another case unless we were moving forward with a conduct case...that is not the fact..."
The following month Winston won the Heisman Trophy and in early January led his team to win the national championship.
Two weeks after the season ended, FSU finally called Winston in to testify, but, as we revealed in The Hunting Ground, he refused to answer any questions. Rather than meet with Kinsman to hear her account, FSU sent a letter to Winston saying they were terminating the investigation because Winston refused to talk to them.
The deposition of Ashton, a nine-year employee of FSU who had steadily risen through its ranks and left the university in August 2015 -- two months after testifying -- also revealed:
FSU's victim advocate office had 113 sexual assault reports over 2014, yet FSU's administration reported only 14 sexual assaults to the federal government.
When asked what changes should be made at FSU, Ashton said:
"I would like to see, when perpetrators are found responsible, that expelling a student is on the table."
When asked if that was currently the practice, Ashton replied: "No."

When Ashton questioned FSU for violating victim confidentiality by obtaining victim records from the advocate's office, FSU responded to her concerns by threatening her:
Ashton: "Turning them over made me extremely uncomfortable. I questioned it... In my good-faith view, our records are privileged. And the victim is the only one that can waive that privilege. And I have been asked for student records and been told that I will be personally liable if those records are not reviewed before releasing them."
Question: "That sounds like a threat. Is that how you took it?"
Dean of Students Ward-Roof has since left FSU, but astonishingly, Chief of Police Perry remains.
There must be a thorough outside investigation into how Perry and other FSU officials-including Jimbo Fisher, the FSU head football coach, and Monk Bonasorte, the Associate Director of athletics-colluded to protect Winston.
Something is terribly wrong at Florida State when football players can commit crimes of violence with impunity, knowing FSU's athletic and police departments will protect them.
We urge President John Thrasher to clean house and end this corruption. Until that happens, FSU's entire student body is at risk.
President Thrasher, will you investigate this collusion to protect a star athlete or will you continue to cover up the truth?
Related
Popular in the Community