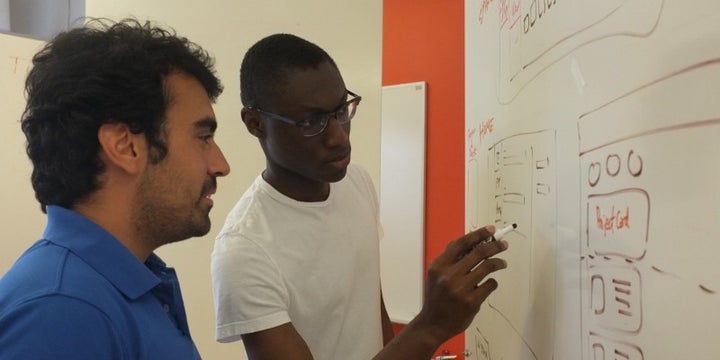 Bridge for Billions, was recently recognized by Europe's Forbes 30 Under 30 in the Social Entrepreneurship category — Founded on a simple statement in 2013 at Carnegie Mellon University, the team, led by CEO Pablo Santaeufemia, came together around a mission of empowerment, collaboration and created an interactive platform to allow entrepreneurs to structure, develop, and refine their business ideas.
We took the time to ask Pablo Santaeufemia about his journey in developing Bridge for Billions...
1. Determination
Q: What are some challenges you faced when developing your venture?
At the beginning, most professors, investors, incubators staff and even friends did not believe in what I was proposing. However, their criticism only made me more determined to find better ways to explain and sell B4B, and improve our product.
I come from a low-income family and I knew I had no money to pay for any of my employees… especially software developers to develop the platform, and whenever I talked to support programs and early-stage investors in the US, they all wanted to see we had some traction and many were extremely skeptic… However, how was I going to develop B4B without any money to initially develop the platform?
Q: Was there any point when you thought it was over? That you were going to fail?
Many of my friends from Carnegie Mellon and Brown University were accepting very high-paying jobs while I was 200% focused on Bridge for Billions together with my co-founders. I still had to finish my masters and it was extremely scary not knowing what was going to happen after graduation, specially when my family was definitely not going to be able to support me financially. I felt I was being crazy and irresponsible… and many of my friends made sure I knew that... For the last 10 years, I had received generous full scholarships to get an education that could have enable me to get a good paying job and achieve the financial stability that my family and I in Spain needed for a long time. Many time it was this the "fuel" that pushed me to work so hard.
However, after several pilots and lots of user testing with entrepreneurs and mentors from Mexico, Ghana and United States, I was sure Bridge for Billions was delivering a huge value and having a great impact, and it was just a matter of time before others saw it.
Therefore, I packed my suitcase and I came home to live with my mother after 10 years of living abroad. I had a semi-finished product and 2 great co-founders, one living in Taiwan and one in New York City. With my scholarship savings and my cofounders with part-time jobs as consultants, we worked for 4 months full-time from home and during those times, I thought I really thought it over….
I was fortunate to find software developers that believed in B4B and were willing to work with us for free for 3 months… Then, Diego Hidalgo a Spanish philanthropist believed in us and gave us a small grant that helped us finish the product. We then started a crowdfunding campaign which helped us launch our product and since then we've been growing. It wasn't until the summer of 2016 that "I saw the light at the end of the tunnel".
2. Flexibility
Q: As an entrepreneur how important has flexibility been in developing your venture?
Flexibility is crucial for everything. You have to be flexible to allow others to work with you when you cannot pay them, you have to be flexible developing your product making sure you adapt by listening to your customers… You have to be flexible to pivot everything, but as a social entrepreneur you can pivot all things but your mission and your target beneficiaries which are the main reasons you started all of this never change.
3. Imagination
Q: What was was your spark, where did it come from?
The idea for Bridge for Billions was inspired by the realization that there are brilliant ideas by people that do not have the necessary tools to structure, expand, or launch them. Entrepreneurship ecosystems worldwide are not inclusive and systemically exclude low-income, women, rural and minority entrepreneurs. This leads to a bias in which problems get to be resolved through a market-based approach. Therefore, if we continue excluding these entrepreneurs who have business solutions with the potential to make billions of lives better, we will only develop solutions for the wealthiest customers or ill-suited solutions for the other 90% of the world.
Throughout my career and specially during my time in India, Thailand and China, I was continuously sickened by the consequences of the aid and volunteering industry, especially by the "voluntourism". While well-intended, many times these initiatives are short-sighted and compromise the dignity of the recipients, while not making an impact on those in need. Based on these experiences, I became convinced that a market-based approach, with local entrepreneurship and job creation at the core, was integral to alleviating poverty. During my time at Carnegie Mellon University, while pursuing a Master's in Mechanical Engineering and Technology Innovation Management, I continued to ruminate on how to create products and services that would truly help those in need.
From my own experience, I believe that resourceful people or "fighters" as I call them, when giving a chance (guidance and resources) can achieve great things. At the same time, there are lots of professionals who want to volunteer using their skills but do not know how to do it in a meaningful, structured but still effortless way. The idea to improve the world by focusing on empowering others; a vision for robust collaboration; a belief that if you contribute your skills and resources to empower others you will enable change.
That's how Bridge for Billions started off at Carnegie Mellon as our masters project. Combining my 3 main passions: international development, engineering and entrepreneurship, I thought to create an entrepreneurship mentoring platform that would channel the good intentions of skilled volunteers in a way that would truly help those entrepreneurs who needed it.
4. What are your non-work habits that help you with your work-life balance?
While I should disconnect from work more often, when I do, I really do disconnect and I believe it's crucial. I really enjoy going out with friends, having dinners at home, dancing or going for walks.
5. What is your best tip for entrepreneurs?
Be resourceful and train your resilience, these are the two most important assets you have for free, and still they are the hardest to get.
Popular in the Community