When the White House let it be known, recently, that the Obama's will be spending New Year's Eve and New Year's Day under the warm blue skies in Hawaii surrounded by white sandy beaches, it got me to thinking how other U.S. presidents spent New Year's Eve
I wondered, for example, whether some presidents welcomed in the New Year with a lamp shade over their head, swinging from the chandeliers in the East Room of the White House after absorbing too much of the bubbly.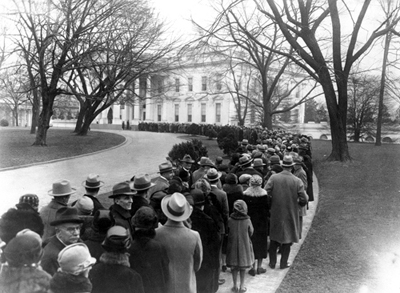 The spiciest evening spent at the White House on a New Year's Eve probably came on December 31, 1995, when President Bill Clinton indulged in his third rendezvous with White House intern Monica Lewinsky in his private study. This tryst reportedly took place during the early afternoon; later that evening, the President flew off with his family to Hilton Head, S.C., for their traditional family retreat, called "Renaissance Weekend'', where they celebrated with a 1,000 of their closest friends. On New Year's Day, the First Family attended a seminar on "personal growth and family values."
Compared with "Slick Willy", most U.S. presidents had rather sedate New Year's Eve celebrations.
In fact, for some presidents, New Year's Eve was business as usual. President Jimmy Carter was in Tehran December 31, 1977, where he praised the Shah's nation for being "an island of stability"; and in 1992, President H.W. Bush welcomed the New Year with U.S. troops in Somolia.
And let's not forget, 147 years ago, President Abraham Lincoln was getting ready to deliver the final Emancipation Proclamation on January 1, 1863, as the nation was heading into to its third year of a bloody civil war in which he claimed all slaves in the eyes of the federal government were considered free.
But not all presidents were so hard-working on New Year's Eve.
In 1971, with a thick snow battering the nation's capital, the normally cantankerous Richard Nixon surprised members of the press corps on New Year's Eve by inviting them to the White House for cocktails and conversation, while mixing up what he described as his "special formula martini."
Little would the press corps know that three years later, members of a jury would be escorted back to their hotel room on New Year's Eve by a federal marshal after failing to reach a verdict during the second day of deliberations of the Watergate cover-up trial, involving White House staff members being charged with conspiracy to obstruct justice. Judge John J. Sirica gave strict orders to federal marshals that "there will be no special New Year's Eve celebration" for jurors.
Lyndon Johnson usually liked to sneak away to his ranch in Texas for the Christmas holidays, including New Year's Eve and prepare his State of the Union address.
On New Year's Eve 1964, LBJ left Lady Bird at the ranch to watch a movie, while he engaged in some party hopping; first by attending a private reception at the University of Texas in Austin; later he headed to a private club, the "40 Acres" not far from the college campus. After about an hour there-he dashed off to the home of Frank Irwin, former Chairman of the Board of Regents of the University of Texas and a close friend of the president, before heading to the Driskill Hotel for a New Year's Eve bash attended by the White House press corps.
Both John F. Kennedy and Ronald Reagan usually could be found in Palm Springs on New Year's Eve; Kennedy in Florida; Reagan in California.
On New Year's Eve 1961, President Kennedy and Press Secretary Pierre Salinger popped into the Palm Beach Country Club; while in 1987, the Reagan's stayed at the estate of Walter Annenberg, former publisher and United States Ambassador to the United Kingdom, which included guests: Bob and Delores Hope, Dinah Shore and Frances Bergen, an American actress and wife of ventriloquist Edgar Bergen.
Harry Truman spent New Year's Eve at a stag party aboard his presidential yacht. "Williamsburg" (anchored in the Potomac off Quantico Va.,) in 1945, which included a makeshift band of players from the ships officers, including Corp David Mann, playing the piano, Corp Clemens J. Salber on the accordion, George W. Duvall plucking the banjo, with the president's group singing ``Auld Lang Syne'', "The Caissons Go Rollin' Along" and "Deep in the Heart of Texas", among other ditties.
Before it became fashionable for U.S. Presidents to leave the White House for the Christmas holidays, First Families used to greet the general public on New Year's Day in the Blue Room. John and Abigail Adams, in fact, began this time-honored tradition on January 1, 1801 at a time when the White House still wasn't fully furnished.
During President Tyler's New Year's Day greeting, along with greeting the general public, N.P. Willis, poet and popular magazine writer was in line to meet the president and even composed a poem about the day.
In 1928, President Coolidge and First Lady, Grace Coolidge, met the general public on New Year's Day, including diplomats from 58 nations, every branch of the U.S. government, Cabinet officers, and officers from the U.S. armed forces, who were entertained on a biting cold morning with sounds of "Hail to the Chief", compliments of the U.S. Marine Band, exploding through the air.
More than 6, 300 members of the general public queued up to meet President Herbert Hoover on New Year's Day 1930, a day in which The New York Times reported that "women and children of all classes and colors passed along to grasp the hands of the president and his wife."
President Hoover is believed to have been the last U.S. President to greet members of the general public on New Year's Day.
President Franklin Roosevelt and First Lady Eleanor, however, did have some unexpected guests on New Year's Eve, 1938, when a 16-year-old high school student named Joe Measell, his date Beatrice White; and his 14-year-old brother, Donald, managed to slip past the Secret Service and walk right up to the room where the First Family where entertaining guests, including Henry Morgenthau Jr., Secretary of the Treasury, Bishop Atwood and Mr. Endicott Peabody, the Rector of Groton School, while watching the movie, "Pygmalion" As soon as the lights went on after the movie, Measel entered the room, walked up to the president and said "Excuse me, Your Honor, but I'm here on a dare from a party and would like to have your autograph." The President, amused, obliged as did Mrs Roosevelt, but not before the First Lady scolded the youths for entering White House grounds uninvited.
So with President Obama in Hawaii, with wife Michelle, children, Sasha and Malia, along with Marian Robinson, his mother-in-law never far away, I guess he'll be on his best behavior; which means, of course, we'll have to wait for a few more administrations before we hear about any presidents with lamp shades over their head on New Year's Eve.
Popular in the Community