Twine HR Expert Interviews: The goal of this series of articles is to help HR practitioners learn best practices from HR executives in top performing companies, and understand the various trends and technologies within the HR and people analytics space. See more posts in our blog here.
We got the chance to speak with Nicole Hazard, AXA's Head of HR Strategy, Analytics and Innovation, about her role at AXA, and how AXA uses big data to drive employee retention and engagement across thousands of employees from all over the world.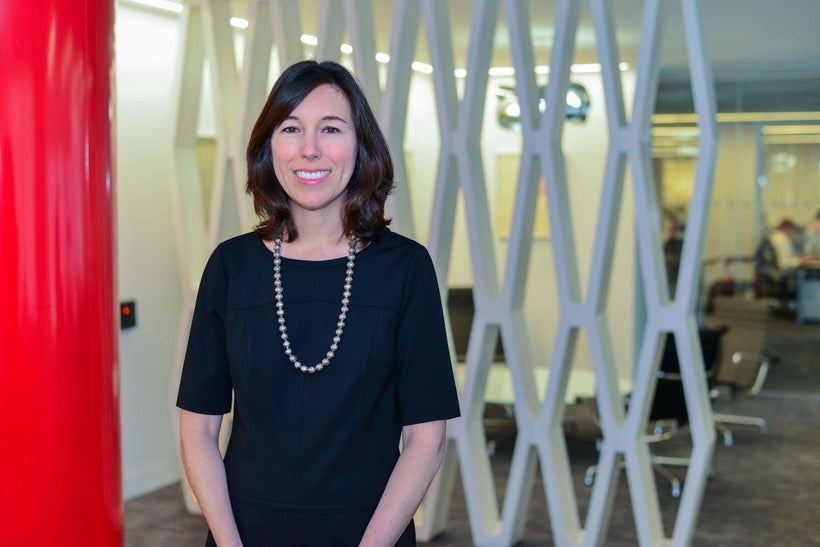 What is your role like as Head of HR Strategy, Analytics & Innovation at AXA US?
Nicole: It's a very exciting role, because it's probably the most future-oriented of those in HR. My team is tasked with looking at workforce planning issues, such as the types of profiles we need in the future and how are these talents going to be sourced in the future.
So, we spend a lot of time thinking about the "build-buy-borrow-bot" equation, and we're increasingly looking at the impact of automation for certain roles. We're focusing on where we get the best talent.
My team's charge is to look at how to marry technological solutions and HR's core value to the company and its people. We explore new software solutions that answer a lot of common HR questions, and go through a fairly rigorous process of testing out new vendors in that area and validating them over a period of time.
What are key metrics when testing out these technologies?
Nicole: First, we look at the added value that the technology provides to us in terms of quality of the result. So, in terms of predictive recruiting, we look at whether this solution will give us better candidates in the long term
Second, we look at the user experience. Is this something that will have an enterprise application and touch many people in the company? Increasingly in HR, one of the things we're really challenged with is creating apps and software solutions that resonate with our employees in the way that they use Uber and other apps in their everyday lives.
What is AXA doing to drive employee retention today? What have you found to be most effective?
Nicole: We have a number of different internal processes or software solutions that we've piloted in the last couple of years to answer those questions. We're looking at tools that help measure our culture and gain real-time feedback from our people on questions like how they are experiencing the company, what their workplace aspirations are, and what their experience at AXA has been like given where they sit in terms of the business.
We also have piloted a big data analytics platform that allows us to gain access to over a billion data points from all over the world – data points associated with compensation metrics, labor pool, supply and demand, job descriptions of other companies where the hubs of talents are, globally and locally. This has been a tremendous resource for us in terms of workforce planning. From there, we've gone on to look at tools in predictive hiring.
How prevalent is internal mobility and internal hiring in AXA?
Nicole: It's a big part of our value proposition as a company, and especially a differentiator for AXA as a global company. We're very proud of the fact that we offer short-term and long-term assignments for people, based on performance and aspiration.
Internally, we are very vocal promoters of internal mobility and we make sure all our jobs are posted on the company intranet. We have strong conversations about people around what their next step could be within AXA.
This is not only informed by AXA's general commitment to the development of its employees, it's also driven by business reality and social reality. We increasingly have people in our company who are accustomed to moving jobs every couple of years. We want them to have fulfilling careers and stay longer with AXA, so internal mobility is a big piece of that.
What are some of the challenges that you're facing right now?
Nicole: I think we, like many companies, are trying to find a better way to have a more accurate picture of the employee life cycle. The challenge is that the data associated with all those different touch points reside in different systems. Being able to pull information on training, retention, engagement, and compensation to create a stronger picture of what works and doesn't work for employees, that's a real central challenge for most large companies at this point because most of us have somewhat inflexible legacy systems.
We're trying to move from these manual ways of looking at people data to more automatic and insightful approaches. There is a term "data janitor," meaning that you spend a lot of time trying to make sure your data is clean and that it can be read—our goal is to move from data point to decision-driver.
What advice do you have for the VP of HR of rapidly growing companies?
Nicole: I think there are a lot of terrific blogs available. Josh Bersin of Deloitte has a wonderful blog on HR technology. He picks leaders in a variety of HR tech spaces and provides information on their value and their relative strengths. So keeping up with industry trends through industry channels is a terrific way to stay informed. Frankly, that's how I got started.
The other thing we at AXA have found to be useful is networking with other companies like us – and those not like us -- just to get their experience with different software solutions . A number of our peers are testing new tools. Some of these solutions are going to work and some of them are not going to work, so we've been trying to create partnerships with other companies to create an info sharing session associated with tech in general. It's very helpful to all of us to continually share what we've learned.
About the Author: David Ongchoco is a student entrepreneur, avid storyteller and hustler from the Philippines studying at the University of Pennsylvania. He currently works as the Chief of Staff for people analytics startup Twine. He is also an investment partner at Dorm Room Fund, and previously scaled a non-profit organization called YouthHack to 8 different countries. It's David's goal to make an impact in the lives of as many people possible through technology and entrepreneurship. David can be reached at david@youthhack.net.
Twine is a people analytics software that helps Fortune 500 companies reduce employee turnover. Twine's employee recommendation engine algorithmically suggests current employees for new job openings. By doing so, Twine helps employees find more fulfilling roles and companies save millions by tapping into their rich pool of existing talent. Learn more here.
Calling all HuffPost superfans!
Sign up for membership to become a founding member and help shape HuffPost's next chapter
This post was published on the now-closed HuffPost Contributor platform. Contributors control their own work and posted freely to our site. If you need to flag this entry as abusive,
send us an email
.