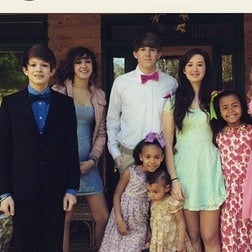 "But why do you do it? Why do you take care of so many children?"
It was a question I had been asked a great deal of late. Recently, I had been doing the rounds of radio and TV interviews while promoting my newest book, Faith and Foster Care. Like most people, many of the radio and TV hosts had very little knowledge of what being a foster parent is really about. I would imagine many of your own friends and family members don't really understand what you do, either. Additionally, they likely do not understand how your life has changed.
I have said it many times, in many places: foster parenting is the hardest thing I have ever done. It IS hard work. At the same time, it is also "heart work." It is the most important job I have done, as well. I have been able to watch the lives of over 50 children change while living in my home.
Yet my life has changed, also, in so many ways, in so many areas. Of the 50+ children that have come to my home, come to live with my family, each has made me a better person and has made an impact on my life in some way.
I have learned to love deeper, more openly, and without abandon. I have learned to love each child that comes into my home in an unconditional manner and without reservations. I am no longer ashamed to tell people that I love them. I cry openly now and am no longer embarrassed when it happens. The saying that "real men don't cry" is rubbish to me. I have become an emotional cripple in that manner, yet in a healthy way. In a way that I embrace.
Foster parenting has created a sense of urgency within me to make a difference in the lives of those in need. Perhaps it is due to the children's horror stories that I have been witness to and have watched come through my home. I now am able to see the pain and suffering in others and am better equipped to help them. To be sure, I have always been one who has wanted to help others, but since I have become a foster parent to children who have suffered from abuse, from neglect, and from being abandoned, all by those who profess to love them the most ― their birth family members ― I have felt compelled to help even more.
I have learned to forgive more. Love and forgiveness are two actions that are intertwined and cannot be separated. If we truly love others, then we need to forgive, as well. Without forgiveness, there is no love. When I was angry toward our foster teen's mother, I was in no way sharing love. Instead, my stomach was in knots, and I was one tense parent. I was shackled by my own inability to forgive someone, a prisoner to a debilitating emotion. Yet when I did forgive her, it felt like a weight was taken off my own shoulders. One of the amazing things about the act of forgiving others is that it allows us to better use our energies toward something that is more constructive, more positive. Forgiveness frees us from the forces of hate and evil and instead allows us to draw closer to others, and gives us more strength to do the work we are called to do. When we forgive the actions of our foster child's birth parents, not only are we showing love to them, and empowering ourselves, we are also honoring our foster children.
Foster parenting has transformed me into becoming a better parent to my own children, husband to my wife, and citizen to my community and the world. For each child who has come through my home, I give thanks. For each child who has allowed my family to grow, you will always be part of my family. For each child who spent time in the foster care system while living with my family, I shall always love you.
To my fellow foster parents, thank you for what you do. Thank you for making sacrifices in your own life to care for those in need. Thank you for loving children without abandon, and as family. Thank you for changing the lives of those in need. May your own lives be changed, as well.
Dr. John DeGarmo has been a foster parent for 14 years, now, and he and his wife have had over 50 children come through their home. He is a leading expert in foster care, and serves as a consultant, speaker, and trainer on many topics about the foster care system. Dr. DeGarmo is the author of several foster care books, including the inspirational best seller Fostering Love: One Foster Parent's Journey, and writes for several publications, including Fostering Families Today magazine. He can be contacted at drjohndegarmo@gmail, through his Facebook page, Dr. John DeGarmo, or at The Foster Care Institute.
Watch Dr. John and his family on Good Morning America!