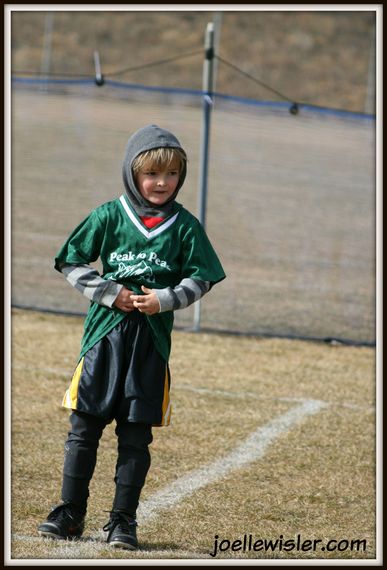 It was a beautiful Saturday morning. The sky was bluebird. It was one of those perfect days in the mountains where there is a just a little bite to the air that makes you wish for Fall and cuddling on the couch and making stew. My 8 yo son had a soccer game that morning. I won't ever forget that morning.
His team played great. Grayson is what I would call an uninspired soccer player. He tries hard, but you can just tell that the fire of competition does not beat strongly in his heart. He would rather be talking about multiplication tables or creating forts or riding his bike. He is willing enough, but one of these years the fire will either grab him, or he will just be done.
After the game, the four of us walked to the car, Grayson, our 3 yo daughter, my husband and me. As we crossed the parking lot to the car, Gray realized that he had dropped his water bottle, so he ran back to the sidewalk to get it. I held his sister's hand, his Dad was already unlocking the car. The parking lot was empty. We were 20 feet away.
As he stood up to turn around and cross the parking lot, he stopped. As long as I live, I will never forget the look in his eyes right before the enormous white truck drove between us. The truck had no clue that there was a little boy there because Grayson had been crouched down to grab the water bottle. If he would have taken one more step, he would have been crushed. I had no time to shout for him to stop. He made the decision to stop all by himself. He saved his own life.
And I can't help but think that we had spent his entire life up until that moment to prepare him to stop. To make his own choices. To think for himself. What if we hadn't made him do things for himself every single day? What if we had placed him out into the world needing to rely on us to make every decision for him? What if we hadn't given him thousands of struggles; putting on his shoes, getting a glass of water, writing his name, scooping ice cream, playing alone outside, getting himself ready for school, making breakfast? What if he hadn't experienced that 20 minutes of crying when he was 2 and he climbed on the bar stool and was too afraid to come down on his own, but I made him figure it out and then he was SO PROUD? What if I had done all of these things for him, always, and he didn't have the skills to THINK. To stop on his own.
I'm glad that we put the power of his life in his hands in small ways so that, when it counts, he will be able to make a choice that might save his life later.
This post originally ran on joellewisler.com