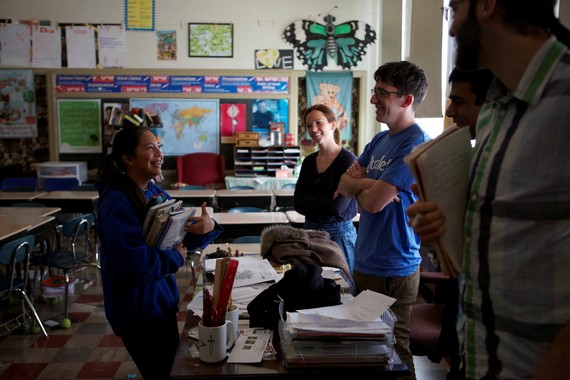 Ten years ago I was stuck. My dad was quizzing me on animal vocabulary words for an upcoming French test. He wasn't great at testing me, and I wasn't great at learning French animal vocabulary words.

So instead of suffering through any more quizzes from my dad, I coded a simple tool to help me learn the material by myself. And it worked. After a day of studying with the tool, which I named Quizlet, I got a perfect score.

In this moment, I realized that I had been studying ineffectively for a long time, and many of my friends were too. We were studying for a test without knowing which material to focus on. Or studying the right material, but not remembering any of it during test time. I wanted to re-think the way my friends and I were studying, and try to build a better tool to help us do it.

I shared Quizlet with my friends, they shared it with their friends, and it quickly grew in popularity. I continued to work on Quizlet throughout high school and college, and eventually left MIT before graduation to work on Quizlet full time.

Ten years later, I come to work every day thinking about improving how people learn on Quizlet. But now, the people using Quizlet aren't just a few of my friends, but 20 million people around the world every month.
My team and I feel a huge sense of responsibility to the students and teachers who use Quizlet. If we break it, even for a brief moment, thousands of people can't study until we fix it. But it's also an incredibly fun job; Quizlet employees frequently visit students in their classrooms to see how they're learning, and how we can help.

In the next five to ten years, I want to have an even greater impact on how students learn around the world. We are just beginning our expansion beyond the U.S., and we have a lot to learn about different education systems around the world.
We are also branching out from helping with basic knowledge and working on tools to help students apply what they're learning in the real world. In many ways, the world looks very different today than it did ten years ago -- think ubiquitous smart phones and incredibly fast data -- so we need to think how we can use advances in technology to make Quizlet's learning tools more advanced too. At the same time, classroom environments look very similar to how they did ten, or even 40 years ago, so we're thoughtful about those constraints as well.
Ultimately, if Quizlet can help everyone learn in a more engaging and effective way, I feel like I'll have done my job.

We think of Quizlet as a double bottom line company, which means we focus on both growing a successful business and having a large positive impact in education. If we succeed at doing one, without doing the other, then we haven't really succeeded. While we've had some success at that already, we still have a very long way to go...
Pioneers for Change is a seed-bed for innovative thought. An activator of personal potential. A catalyst for collective energy. A community to drive social change.
Our annual, international Fellowship is open to anyone aged 28 - 108 years old. We gather change-makers -- a business person, a community person, an investor, a thinker or doer -- who are willing to harness their talents, energy and resources as a force for good. Pioneers for Change is an initiative of Adessy Associates.
Adessy Associates believes social and business objectives are mutually reinforcing. We equip and enable organisations for a sustainable future, by focusing on benefit for people, planet and profit. Our bespoke services harness sustainability, innovation, consciousness and purpose. We are proudly B Corp certified.
About Andrew Sutherland
Andrew Sutherland is the founder and CTO of Quizlet, the user-powered learning platform used by more than 20 million students and teachers each month. Andrew founded Quizlet in 2005 while a sophomore at Albany High School in California, originally building a simple website to help himself study French vocabulary. He studied computer science at MIT, which he left after three years to continue working on Quizlet. As CTO, Andrew is in charge of building the technology that powers more than 125 million study sets and allows millions of students to learn more efficiently. In 2012 and 2013, he was featured in Forbes Magazine's 30 under 30 List for Education.
Related
Popular in the Community