Following the suicide bomb attack at an Ariana Grande concert in Manchester, people around the world have expressed their horror at the senseless violence, condolences for the victims' loved ones and fears the future.
Given that so many of the concert attendees were teens and kids with their parents, this tragedy has particularly hit home for parents. Among the first victims confirmed dead are 8-year-old Saffie Rose Roussos and 18-year-old Georgina Callander.
HuffPost spoke to several parents about their reactions to the tragic news and how they are talking about it with their children. Due to Grande's young fan base, kids are more aware of this concert attack than they might be of other major world events.
"As a parent, my heart was broken by the news last evening!" author Lyss Stern said. "I made sure to give my children extra hugs and kisses last night. I want to scream for the families hurt and affected by this act or horror."
Stern added that she and her husband spoke to their 9- and 13-year-old sons over breakfast after the boys saw news of the attack on TV.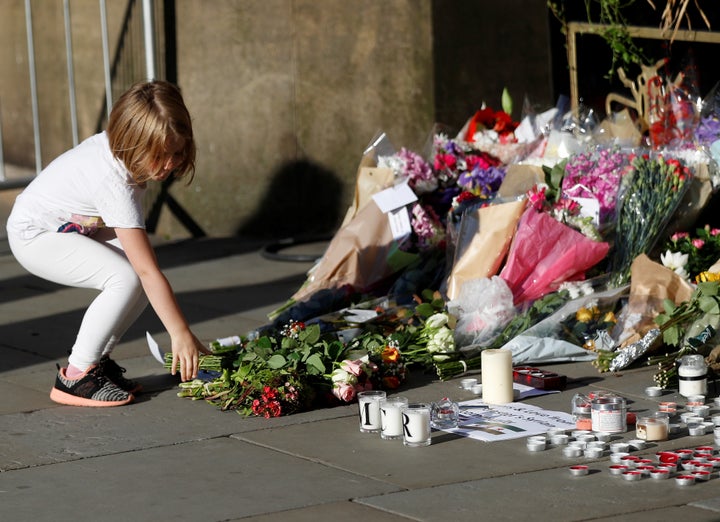 "I really wish we did not have to have these discussions with our children. But this is the new world we are living in and unfortunately, we need to have these open and honest conversations," she said.
"We talked about how there are angry and hurt people in this world, and they want to make others feel as they do," parenting blogger Adam Cohen told HuffPost. "It's a tough day all around as we try to explain the senseless to the ones who ask the most questions."
In the aftermath of the attack, many parents on social media shared a video with advice that has become rather iconic in times of crisis ― Mr. Rogers' "Look For The Helpers."
"Children can feel safe through the daily presence of one caring adult, no matter how dark and scary the world is," she told HuffPost. "The most powerful kind of protection is not about security walls, bulletproof vests, or staying out of harm's way; the most powerful kind of protection comes from daily offerings of presence, wisdom, acceptance, and unconditional love."
Stafford said she always tells her children the truth about the state of the world in a way they can understand and also reminds them that they have the power to "negate the bad." Said the mom, "Instead of worrying about harm that is beyond our control, we try to focus on spreading love, kindness, and positivity to the world through our words and actions. This approach gives my family hope, no matter what has happened in the world."
The circumstances of the tragedy felt all too familiar to many parents, especially those with young daughters.
"My daughter is 7, and she absolutely loves pop music and Ariana Grande," said blogger Heather Spohr, who has taken her daughter to large concerts in the past and has tickets to more upcoming shows.
"The Manchester attack really hits home for us," she explained. "Having lost a child myself, my heart is ripped open for the parents whose children were injured and killed."
Though Spohr normally tries to shield her kids from this kind of unsettling news, she didn't want her daughter to hear about the Manchester bombing at school first. "My husband and I kept it simple: We told her that someone did something very bad, and many people were injured and some even died," she said, adding that they didn't go in-depth but answered all of the little girl's questions as honestly as they could without oversharing.
"It's really hard, and devastating, and something I wish no parent had to try to explain to their children."
Jim Lin of The Busy Dad Blog was particularly struck by the news because he's planning to take his 7-year-old daughter to a big concert next weekend.
"I'd be lying if I told you it didn't cross my mind to reconsider when I heard the news. At the end of the day, however, violence (whether terror, crime, or random) is prevalent in so many forms that you simply cannot predict or avoid it," he explained. "What you can do as a parent is to explain to your children to the intellectual and emotional degree they can comprehend it that this stuff happens and it's going to affect them in some way directly or indirectly during their lifetimes."
Lin emphasizes giving kids coping mechanisms so that they can trust their gut and know how to make quick decisions in potentially dangerous situations. "I would rather my child walk around with a healthy distrust of this world than a naive assumption of security," he said.
Still, the tragedy has left many parents with a sense of uncertainty.
"Part of me is angry. The fact that there are people capable of targeting kids is unthinkable," said blogger Lauren Cormier. "Part of me is scared. I wish I could keep my kids in a protective bubble, safe from physical harm and the knowledge of all the evil in the world. But another part of me knows that if we let fear win, we've given the terrorists exactly what they want. I don't have any good answers on how to deal with something like this. I wish I did."
Author Ilana Wiles expressed similar sentiments. "Going to her first concert is something my 7-year-old has recently started talking about, and I was excited to have that experience with her. Now I am scared to take her to one," she said. "On the one hand, I think fear is the terrorists winning. On the other hand, this is our children, and obviously, we don't want to put them in any potential danger."
Ultimately, parents see their children as beacons of hope for a future of love and tolerance. Blogger Mike Reynolds affirmed his family's commitment to living life to the fullest and raising their kids to be a force for good.
"Our plan will be to continue to teach our daughters about the importance of trying to help people in ways they see they might need help and that while these events most definitely occur, there are more of us who want to help," the dad said.
"We'll also make sure we keep doing the things that bring us joy and bring us pleasure," he added. "So we'll dance in the kitchen and sing songs we make up to do our part to bring joy."