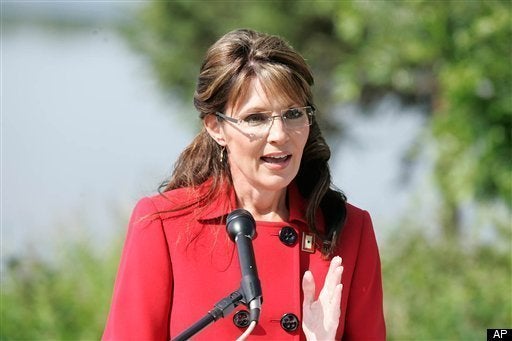 The news of Sarah Palin's resignation reached gamblers while they were mired in holiday traffic, vacationing in cabins without internet access, or at the shore with children in need of supervision. Still, somehow, they found time to handicap and place a flurry of online bets regarding Palin's future.

Scientific studies show that, historically, gamblers are the most accurate forecasters of political outcomes, more so than the best polls or most insightful analysts. As the famously successful Kentucky horseplayer Mike Maloney once told me, "Polls can be inaccurate. People may say what is politically correct, the questions may be leading, the pollsters may be biased. A pollster can still bill for an inaccurate poll. [Gamblers] must make an accurate line or they lose -- period."
Gamblers have another advantage that may come into play in wagering on Gov. Palin: Better intel.
According to Ray Paulick, a protégé of notorious oddsmaker Jimmy The Greek before becoming a handicapper for the Daily Racing Form, "Behind every race-fixing story or allegation is a gambler who gets information about what horse is or isn't 'live.' The shocking news is how little it takes to buy information."
His horse sense tells him that Palin's move does not augur scandal or criminal charges, however. "I just think she has a case of the size-ten hat," he says.
Gamblers the world over evidently agree. On Friday, the day of Palin's resignation announcement, Intrade's odds of her winning the 2012 Republican presidential nomination fell sharply (see live chart below). By Saturday, however, with no evidence of a looming Lakehousegate or another shoe about to drop, wagering yielded a 50% surge.
Intrade's CEO John Delaney told me, "This suggests to us that out traders think that her resignation may be to start building a base from the lower forty-eight states."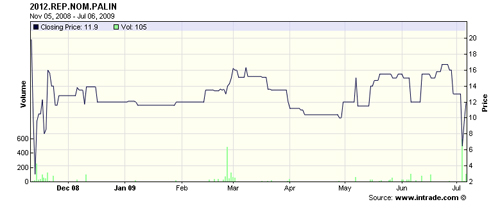 Palin's 2012 nomination odds have continued to rise since.
Koleman Strumpf, a University of Kansas economics professor who tracks betting trends, says, "It will be interesting to see if this holds."
Especially as new information trickles in, one way or another.
Calling all HuffPost superfans!
Sign up for membership to become a founding member and help shape HuffPost's next chapter