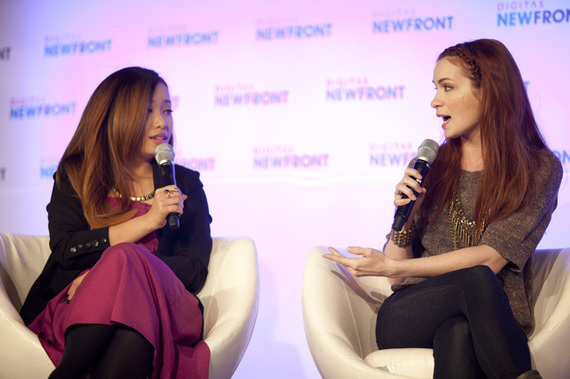 Generation beauty, a two day makeup event founded by Michelle Phan and her company, ipsy made its first debut in the city of Toronto on May 14 and 15. After running the event in the cities of Los Angeles and New York, ipsy decided it was time to go international. The Metro Toronto Convention Centre located in the heart of downtown Toronto hosted the event where hundreds of beauty enthusiasts came eager to see their favourite stylists and check out booths of popular makeup brands.

The event was filled with both attendees who were able to purchase tickets online and beauty creators who were invited by ipsy. Each individual was given a badge with their name on it in addition to a booklet which allowed individuals to go around to each makeup booth set up in the vicinity and hand over the brand's ticket in order to retrieve either a sample sized or full sized product depending on the booth.
The event also allowed attendees the opportunity to meet 12 of ipsy's stylists: Chrisspy (ChrisspyMakeup), Christen Dominique (ChristenDominique), Desi Perkins (DesireePerkinsMakeup), Jaleesa Moses (Leesbeans924), Karen Young (IAMKARENO), LustreLux (Lustrelux), Madelynn (LaMadelynn), Lex (MadeYewLook), Rachel (RachhLoves), Adelaine (C0OK1EMONSTER), Sondjra (Sonjdradeluxe) and Cyndee Black (Cydbeats) all throughout the two days as these stylists had a meet-up time set at a specific makeup booth where fans were able to say Hi and take a photo.

But what seemed to be the issue this past weekend was how Generation Beauty Toronto got the short end of the stick in comparison to the Generation Beauty events that take place in New York and in Los Angeles.

"I've been to the one in LA and this is nothing compared to it. I actually had fun in LA. The energy there was different, over here they don't give attendees that many opportunities to do things so everyone is just lining up to get their free products from all the booths or see one of their favourite stylists for a minute," said Rhea Sidhu, an attendee at Generation Beauty Toronto.

Besides the lack of interaction at the event, the amount of sponsors (Toronto only had 18 in comparison to a whopping 33 for LA) or the long line ups which was all anyone could see during the two days, the event had a severe lack of organization for the beauty creators that they had invited themselves.

Many beauty creators were left out of the loop in regards to a special concierge program provided which allowed them to go on tours, skip lines and meet with PR representatives from brands. According to ipsy, all beauty creators were sent out an invite prior to Generation Beauty however, a very small number actually ended up getting that coveted email which resulted in a lot of frazzled beauty creators getting irritated on the day of Generation Beauty as there was no difference between them or a regular attendee of the event nor did it give them the opportunity to network.

Overall, the best of Generation Beauty was the fact that individuals were given the rare chance to meet popular stylists who travelled from the States to come to Toronto. Along with the ipsy cocktail party (invite only), which was the biggest hit of the weekend as it was an intimate event which allowed beauty creators to speak to stylists and PR representatives.
Whether Generation Beauty returns to Toronto for 2017 is yet to be determined. While there was a mixed reaction from the public regarding Generation Beauty's Toronto debut, ipsy can definitely make a redemption coming back bigger and stronger if they decide to host the event again in Toronto. Hopefully next year, Michelle Phan, the founder of ipsy and Generation Beauty will be able to make an appearance as well since she was at Generation Beauty LA and New York 2015 but was absent at Toronto's debut.
Calling all HuffPost superfans!
Sign up for membership to become a founding member and help shape HuffPost's next chapter