It all started with a single Facebook post. Several years ago a friend shared the link to a charity organization called Samaritan's Purse and their Operation Christmas Child initiative. I clicked and read about the idea of packing a shoebox full of goodies for a child that would receive little (if anything) else on Christmas morning, finding it simply beautiful. That year I packed two shoeboxes, one from each of my two daughters, filling them to the brim with whatever personal hygiene products, school supplies and tiny toys I could find. Then I wrapped it with holiday paper (and love) before dropping it off at collection center near my home.
I don't remember where in the world those (trackable) shoeboxes went but I will never forget the feeling I had on Christmas morning thinking of the two little girls who would receive them. Though I'd like to believe my decision to participate in Operation Christmas Child was a selfless one, it's quite possible that I felt just as much joy as I'd hoped the kids would.
The following holiday season I'd hoped to donate tons of packed shoeboxes but my heart was bigger than my wallet. As a blogger, I decided to open the idea up to my readers. My plan was simple. If they'd help me fill the boxes, I'd buy plastic, reusable shoeboxes, pack them and pay the suggested donation for shipping. My daughters, then 3 and 5, were old enough to somewhat understand what I was doing and I looked forward to teaching them a bit about giving back.
Then reality set in. That season my girls wanted every gift that came through the door. Every doll was one they didn't have. Every puzzle was one they'd never seen before. Even the toothbrushes, which I couldn't get them to go near in my own home, they begged for.
One night my 5-year-old had a tantrum, refusing to go to sleep. "I don't want to go to sleep, " she said, "I want to stay up and make things for the poor kids." Though clearly a manipulation tactic at the time, I am now blown away by her change in attitude over the last 3 years of giving. Even their birthday party goodie bags are handed over without question. (Oh, how I hated those damn things before deciding to shoebox them.)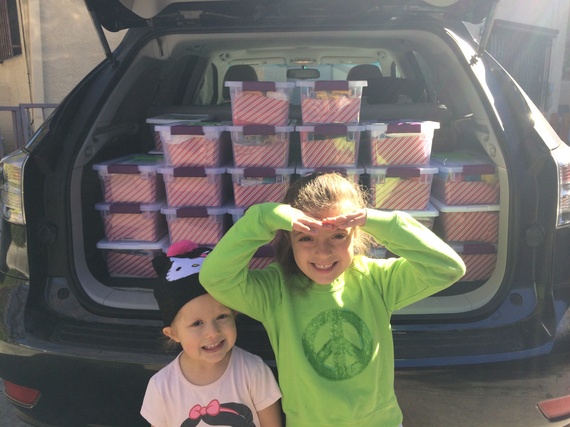 With the help of so many friends, friends of friends and even strangers, our current collection will be by far the largest, as I am preparing to pack at least 100 shoeboxes. Well, my family and I are preparing to do so together.
My husband and children have become an integral part of the process. My husband helps rearrange the spare bedroom and set tables to lay everything out. My daughters help me shop throughout the season (as we receive lots of monetary donations as well) and organize everything into categories. And I try, however hard, to put my unreasonable anxiety over a messy home aside until our big drop-off day.
In the last few years this project has grown from something that made my children into greedy scavengers and my husband complain about my putting one more thing on an already full plate to a precious part of our holiday season.
This weekend we will begin packing the actual boxes, each containing a handmade card from my children. A toothbrush, bar of soap and washcloth. Some crayons, paints and coloring books. A new shirt, some socks and flip flops. A jump rope, bag of marbles and deck of playing cards. A wish for peace. The (shoebox-sized) possibilities are endless.
My children will receive more presents on Christmas morning than I care to admit. But somewhere between assembling a dollhouse and discarding more wrapping paper than we'd need to wrap our home, I'll check my email. There waiting will be one of the most important emails I'll receive all year. It won't say that I've gotten the job, that I've been invited to a fancy party or that I've gotten a celebrity follow on Twitter. It will say which country we were lucky enough to gift with our shoeboxes.
As a family, we will think of those children and pray for them. Then I'll head right back to Facebook, the place where this all began, and share the news with everyone who contributed, hoping that they will take a similar moment of reflection.
At a time when our worlds, social media and otherwise, are filled with so much hate, my family has chosen to spread love. And yours can, too.