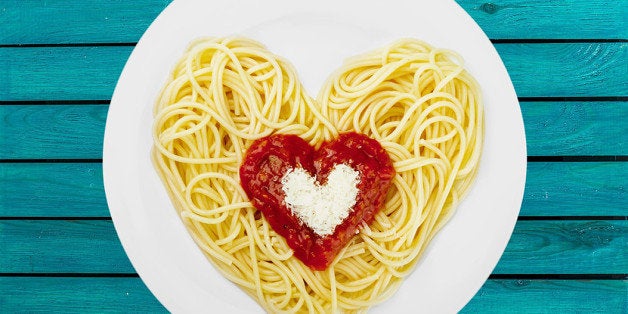 Growing up in the not-so-booming metropolis of Salineville, Ohio during the 1950s-60s, families struggled with the same challenges of spending time together that they face today. My father was a dairy farmer and worked very long hours. My mother worked full-time to help make ends meet. My brother was the captain of the football team, and I was the editor of the school newspaper. While we all had demands of our time and conflicting schedules, sitting down to dinner as a family was a requirement. It wasn't strictly the eating that was important, either. We would spend dinner discussing our days and talking about what was happening in each of our lives.
My mother would announce that the corn needed to be salted, so we passed the saltshaker around the table. Then we waited for my mother to pick up her fork, which was our cue to follow suit. This was not just an Emily Post moment; it was the nightly ritual that signified that we were beginning our meal together.
Other family rituals were equally important. Despite the chaos of preparing for our annual Christmas Eve party, my parents would pause to take a moment with the family before the guests arrived. We would sit together -- my parents with a cocktail and my brother and I with our Shirley Temples -- and each take a turn sharing something for which we were thankful. The ritual ended with a toast as we welcomed family and friends into our home to celebrate the holidays. Again, it was a way of beginning something important, a signal to us that the time that followed -- the time spent in the company of loved ones, connecting and enjoying each other's presence -- was meaningful.
During some particularly challenging years, after we opened our gifts on Christmas morning, my mother would ask us to pick out one of our toys and give it to the family up the street, who was less fortunate and could not afford Christmas presents that year. This kind of generosity was hard for me, as I imagine it would be for most kids. They were my toys and I wanted to keep them all, but I grudgingly complied.
I admit that as a teenager, I may have rolled my eyes once or twice; but as an adult, these moments of small but important ritual are the ones that I remember most fondly. I know that it would have been easier for my parents to keep on with the party preparations instead of pausing for a toast, or to let a structured family dinner fall by the wayside in favor of other obligations. But I'm glad they didn't. The importance they placed on stopping everything to spend time together was a gift, though I may not have recognized it at the time.
Back then, I didn't understand that the family dinners and the Christmas Eve toasts were all part of the same lesson in giving that my parents were trying to impart when they asked us to donate our toys. But now I realize that it's only because we felt loved, secure and valued through those everyday gifts of time and routine that we were able to give up our Christmas toys and trust that our parents' requests were the right thing to do.
Now that I'm an executive coach with a very busy schedule of my own, I'm still asked to give of myself, usually to various causes and charities. I've written checks to support many of them, to be sure, but it's often my preference to give in different ways. I've served on boards and committees, offered my time and talents, and now have dedicated my career to helping others grow into the best leaders they can be. Each time I see that someone else has achieved their goals because of the gift of my time, I realize that I'm living the example my parents set at their dinner table: Listen. Take time. Communicate. Be present. Those little moments -- a lifted fork, a raised glass -- are often the place where giving begins.
In recognition of the power of the dinner table as a place for nurturing giving, The Family Dinner Project invites families across the country to participate in a special initiative for #GivingTuesday. From November 25 through December 15, 2015, visit thefamilydinnerproject.org to download and share a special mealtime experience with friends and family, and to learn how your participation can benefit military families as part of the #familydinnerforward project.
This post is part of a series produced by The Huffington Post and the 92nd Street Y, founders of #GivingTuesday, a global day of giving that will take place this year on December 1. These stories highlight the work of organizations and people around the world who are committed to giving back and doing good this #GivingTuesday.
Related
Popular in the Community