How to contour your face. How to highlight your face. How to pluck your brows. How to color your brows in. How to make your eyes look bigger. How to make your nose look smaller. How to brighten up dark circles. How to darken your lashes. How to cover up blemishes. How to cover up freckles. How to cover up scars. How to cover up birth marks. How to cover up your skin. How to cover up your face.
The Internet seems to provide a tutorial on everything a girl needs to put her best face forward, yet a search for "How To Love The Face You Were Born With" delivers no results.
Because I work on camera, I am constantly caking on concealer, foundation, and powder to cover up my blemishes, my under eye circles, and those stupid scars from getting a little too overzealous with said blemishes (don't judge me, I know you pop those mofo's too). I am constantly painting my lids with different colors, gluing on lashes, and sculpting my cheek bones with whatever palette the latest Instagram model swears by. I do this every day. Caking, painting, gluing, sculpting...if I didn't know better, I'd think my morning makeup routine is some sort of science fair project and that it's just a matter of time until the homemade volcano erupts.
Well...this volcano has been a-boilin' and it's about to blow. Why is it that I can read thousands of articles and watch hundreds of YouTube videos on how to lighten my skin or darken my skin, but a tutorial on how to be comfortable in my skin is so much harder to come by?
This is not a diatribe against the beauty industry, by any means. I carry my Sephora VIB-Rouge card proudly and rarely leave the house without at least filling in my brows and swiping a coat or two (or three) of mascara on my lashes. Frankly, ever since I was 13 I've used makeup as a solution to my perceived imperfections...my eyes are too small and my zits are too big. But now, at the age of 25, I have finally realized that my imperfections are a part of my face. A part of who I am.
How did I get to this nuanced understanding? Well, I wore a sh!t ton of makeup.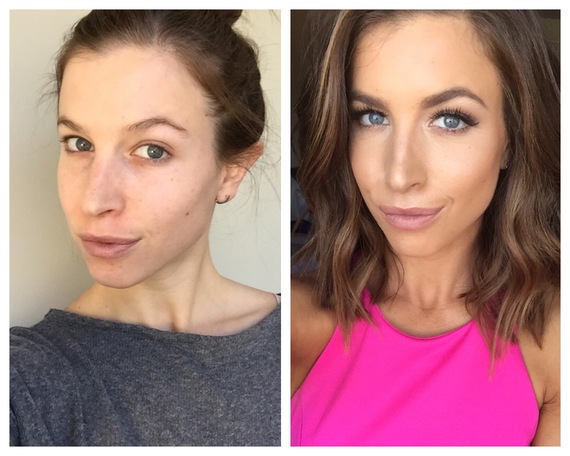 In fact, I wore so much makeup that I started looking in the mirror with awe and excitement, exclaiming, "OMG it doesn't even look like me!" I felt pretty and powerful. I was unstoppable with my new look. But it only took a few hundred (OK...thousand) selfies and way too many minutes washing my face off at the end of the day to finally look into the mirror with all that product on to see my painted face in a different light. With dread and distaste, I realized, "OMG it doesn't even look like me..."
I couldn't see my freckles or that little scar on my chin from when I fell as a child. I couldn't see my little blonde eyelashes or the lines around my eyes that have formed over the years from laughing so much. I couldn't see the woman I was used to waking up to and promptly hiding. And in that moment, I couldn't see why I wanted to hide her so desperately.
I understand that, for many girls, makeup is a means of showing their individuality. I too like experimenting with different techniques and products and I definitely won't be sporting my makeup-less face on camera anytime soon. But at the end of the day, when I wash off all the contouring, colors, and caking, I like what I see.
I like me. I want to look like me. I LIKE looking like me. And it only took learning how to cover up my face, to get a lesson in how to love my face, the face that I was born with.
REAL LIFE. REAL NEWS. REAL VOICES.
Help us tell more of the stories that matter from voices that too often remain unheard.