It took the stage version of Disney's The Little Mermaid quite a while to finally find its sea legs.
When the original Broadway production opened at the Lunt-Fontanne Theater back in January of 2008, the critics were not kind. Ben Brantley of the New York Times was particularly vicious, calling Mermaid an " ... unfocused spectacle" which saddled its cast with " ... ungainly guess-what-I-am costumes" and then forced them to perform in front of " ... a distracting set."
So when the Broadway version of The Little Mermaid closed on August 30, 2009 after a relatively short run of just 50 previews & 685 performances, the general consensus seemed to be that it was this show's creative decisions (EX: That most of Mermaid's sets would be made out of translucent plastic. Or -- in order to simulate swimming -- the bulk of the cast would skate around the stage on Heelys) that had sunk the show. Given that the audience still walked out humming the tunes that Alan Menken & Howard Ashman had originally written for Disney's 1989 animated feature ... Well, pundits placed the blame for Mermaid's misfire on first-time-Broadway-director Francesca Zambello. Who had taken what should have been a hugely successful screen-to-stage transfer and then muddied the water with a lot of operatic artifice.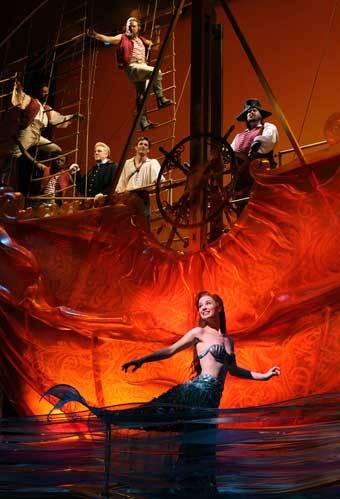 Enter Glenn Casale. Who -- thanks to a production of Disney's Beauty and the Beast that he staged up in Boston back in 2004 which then put a dark, romantic spin on this family musical -- had become Disney Theatrical's go-to guy when it came to reinventing / reimagining their shows. And given that the original Broadway version of Mermaid had tanked so spectacularly (which meant that Disney Theatrical then couldn't really send a clone of this show out on the road for a promised national tour), Glen was given free rein to reinvent this show for its Dutch production. Which opened in May of 2012 at Martini Plaza in Groningen.
And Glenn did in fact radically reimagine the stage version of The Little Mermaid. Casale not only ditched the bulk of Zambello's design conceits, he also made significant changes to this show's book and score. Doing things like tossing out Ursula's original introductory song, "I Want the Good Times Back," to make room for a new number, "Daddy's Little Angel." Which did a far better job of setting up the Sea Witch's back story / giving Ursula a far better reason to want to go after Triton (SPOILER ALERT: In the stage musical version of Mermaid, Triton & Ursula are brother & sister. And as the children of Poseidon, God of the Sea ... Well, Triton was the one who was ultimately chosen to rule the waves. Which left Ursula with some pretty significant Daddy issues).
Glenn also ditched all of the Heelys that the Broadway cast of Mermaid had worn. This time around, if any undersea creatures needed to swim, they were flown around & above the stage via wirework. These seemingly simple choices -- though they make look small -- resulted in a far more satisfying, much more popular stage version of Mermaid. So much so that the original cast recording for the Dutch version of this musical (which was produced by Stage Entertainment) actually wound up as the No. 3 best-selling recording on that country's Album Top 100 chart back in 2012.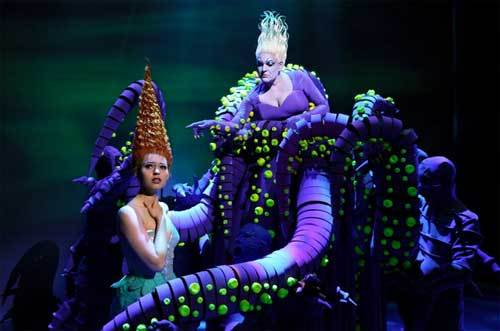 Which -- you'd think -- would then be the end of Casale's involvement with the reinvention of the stage version of Disney's The Little Mermaid. But that's where you'd be wrong. For in July of that same year, Glenn was hired by California Musical Theatre to direct yet another production of this show. And this time around, Mermaid was to be presented in the round.
Casale made further refinements to Mermaid as he worked with the cast at Sacramento's Wells Fargo Pavilion. And the Music Circus production of this show was so well received that -- less than a year later -- Glen found himself at the Paper Mill Playhouse in Millburn, NJ. Where he then directed a production of The Little Mermaid which went off on a mini-tour, spending May 29th - June 30th in New Jersey, July 9th - 21st at the Pittsburgh Civic Light Opera and July 22rd - 28th at the Kansas City Starlight.
And the best part of this story is that all of the big changes & small tweaks that Glenn Casale has made to The Little Mermaid have now been incorporated in the official version of this show that Disney Theatrical licenses for regional & professional productions. So from here in on, if you see a stage version of Disney's The Little Mermaid, it's not the Francesca Zambello version. You're seeing the Mermaid that Glenn cobbled together after mounting multiple productions of the same show. And this version of Mermaid actually plays down the idea that Ariel is some Disney Princess and instead makes this character a young girl who is different from the rest of her family. And to further complicate this situation / make this musical more relatable to modern audiences, the show then saddles Ariel with a single father who really doesn't understand her wants & desires.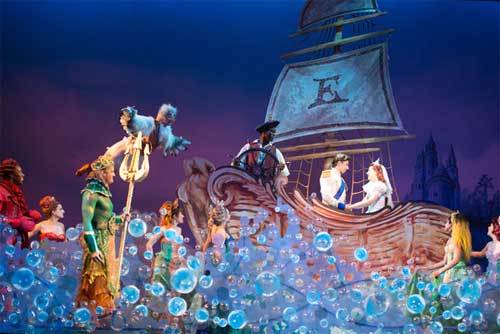 That seemingly simple readjustment of this musical's central story point -- making The Little Mermaid less about Ariel longing to be with Prince Eric and more about King Triton and his headstrong daughter. More importantly, how he learns to understand Ariel and finally support her dreams -- has made a world of difference when it comes to the way audiences now react to the stage version of Mermaid. "Fathers now come up to me after the show and tell me how moved they were," Casale admitted during a recent interview.
Unfortunately, all of the changes that Glenn made to The Little Mermaid have not made the stage version of this Academy Award-winning Disney film any easier to produce. Take -- for example -- what Bill Hanney, the owner of the North Shore Music Theater in Beverly, MA had to go through once he decided to make this show part of that theater's Summer 2014 season.
"Mermaid was a big production for us. And given that we do all of our shows here at North Shore in the round, we don't have the luxury that most proscenium theaters do. We can't use huge sets or props to set the stage, create Ariel's world. Otherwise half of our audience wouldn't be able to see this show," Hanney explained. "Which is why -- for our version of The Little Mermaid -- we decided to go all out on the costumes. Show the audience all of the fanciful & colorful sea creatures that are Ariel's friends. Kurt Algar designed some amazing outfits for this show. Which especially look great when we're flying Ariel & Scuttle right above the heads of our audience. And then when you factor in Howard C. Jones's clever sets ... Well, I guess that I like best about our version of The Little Mermaid is that the story is front and center."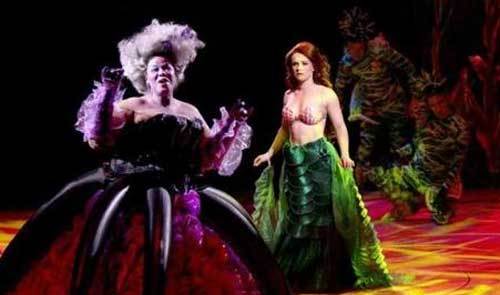 And clearly the critics up in Massachusetts approve of what Hanney and his team have done with The Little Mermaid. The Boston Globe called this North Shore Music Theater production " ... an engaging adaptation of the beloved film" while Wicked Local said that this show was " ... a visual and vocal feast."
Mind you, if you miss out on the North Shore Music Theater's production of The Little Mermaid (which presents its last performance on July 27th), not to worry. Thanks to Glenn Casale's hard work, there are versions of this once-troubled Disney Theatrical production popping up all over the country this year. In fact, yet another Glen Casale-directed version was presented at Atlanta's Fox Theatre earlier this month. And the Tuacahn Center for the Arts' 2011 production of this show proved to be so popular with Utah residents that -- just three short years later -- this theater brought Mermaid back and is presenting performances now through October 18th.
Of course, the version of this show that's currently being presented at the Tuacahn Amphitheatre is the one that Casale course-corrected. As was the version of Mermaid which recently closed in Moscow at the Rossiya Theatre. Not to mention the Japanese production which is still running at Shiki's Theatre Natsu in Tokyo.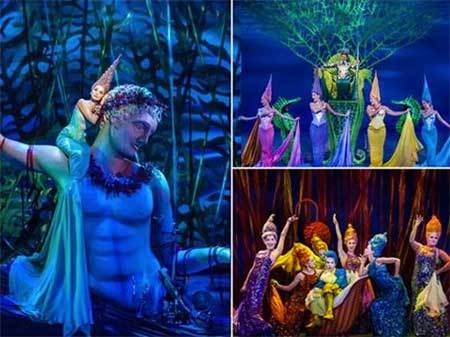 So on behalf of all the Ariel fans out there, I'd like to thank Glenn Casale for helping The Little Mermaid to finally find her feet after this show initially stumbled on Broadway.
Calling all HuffPost superfans!
Sign up for membership to become a founding member and help shape HuffPost's next chapter