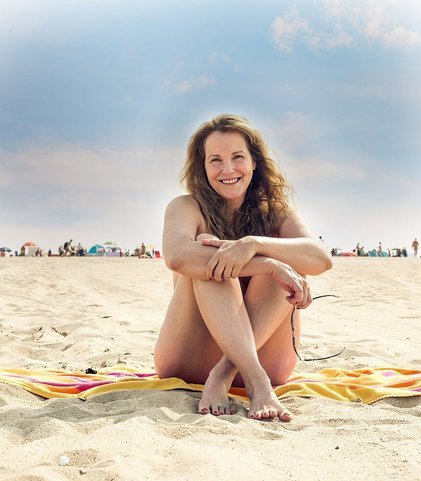 Photographer: Craig White
"I'm 59 years old--I am not going to a nude beach." Two of my close friends had been asking me to come with them to their favorite nude beach for months, and each time they asked, I gave them this same answer.
I had never been to a nude beach before, and I was happy to let that trend continue. It wasn't because I hate my body or am hung up about sexuality--on the contrary, I'm in good shape and when it comes to sexuality, I am more than willing to take risks and try new things.
A nude beach, though, just sounded uncomfortable. Getting soaked and naked with large groups of strangers was an activity I had no interest in whatsoever. Not only was I not willing to take the risk of exposing myself, I surely didn't want to be a witness of some naked guy bending over to grab a volleyball. I couldn't fathom why my friends wanted to have such experiences.
After turning down their invitations for months and months, however, curiosity got the best of me. I had to figure out why they loved it so much. And, because I regularly write and speak on topics like self-esteem, sexuality, and empowerment, I decided to bring along my photographer Craig White to document this first-time experience. I was willing to share my journey, whether it turned out positive or negative.
When we arrived at Sandy Hook beach, the first surprise was how calm and secluded it was. This was not the typical Jersey shore--there were no wild parties, no vendors, no blaring music, and no bling.
The second surprise was the variety of people present. On the whole beach, I could see only one supermodel-type, and the rest were just regular people with regular bodies, from their early twenties up in to their seventies. The majority were middle aged. Some people had tattoos, but most seemed pretty vanilla. This was not a beach full of wild, sex-crazed swingers or perfectly toned and tanned workout goddesses--these were just normal people, enjoying the sun, the waves, and the sand, just without bathing suits.
So I joined them.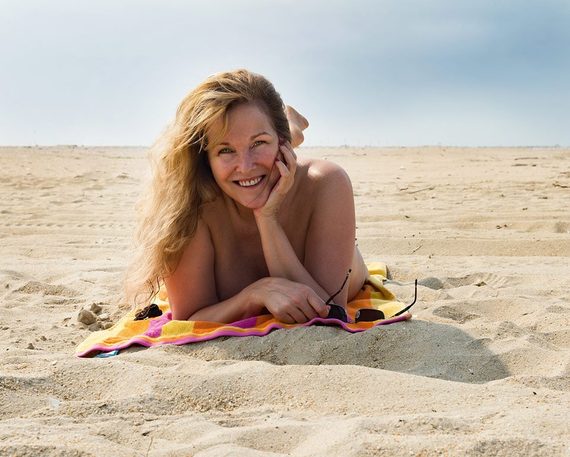 Photographer: Craig White
I stripped off everything and walked off toward the shoreline with my photographer. As he snapped off photos of me near the surf, I felt my insecurities about body image and exposing my private parts start to fade away. All the years of my misconceptions about what other people thought of my naked body disappeared. All my scars and stretch marks that told my life story took on a badge of honor, instead of the shame game I had been playing with myself all those years.
After the photos, we put away the camera, flapped out our towels on the sand, and sprayed on sunscreen like there was no tomorrow. At this point, I started looking around, taking in the people and the atmosphere of the nude beach. What I felt and saw in those minutes, relaxing on the sun-warmed sand, made me feel silly for worrying so much earlier that morning.
No one seemed uncomfortable. No one was staring at other beach-goers' bodies or rubbernecking to see if people were staring back at them. No one was trying to hide or flaunt anything, so there was no reason for anyone to gawk.
That day on the nude beach, though, no one was judging, even though many sunbathers there had stretch marks, aged skin, and cellulite.
The longer I spent on that sunny judgment-free afternoon, the more I felt light, free, and relaxed. I even chatted, still completely bare, with fellow sunbathers and a cute park ranger. No one else seemed interested about their bodies or mine, it was all about feeling free of the stigma of body image and enjoying the ocean, sun, and the wildlife.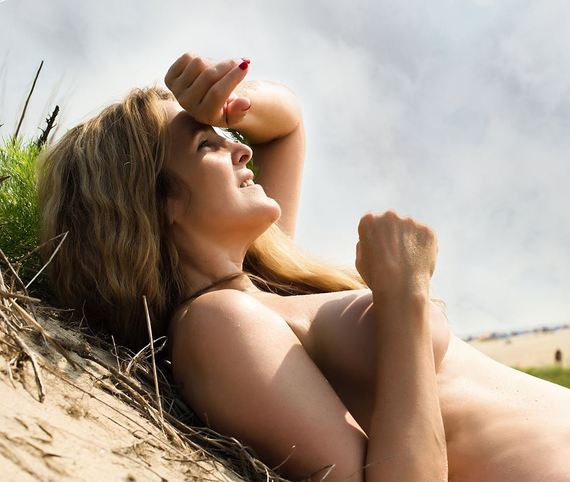 Photographer: Craig White
I was so sure that I never wanted to visit a nude beach before I tried it, but now feel like I never want to go back to a non-nude beach again. Allowing myself to be so vulnerable empowered me.
Support HuffPost
The Stakes Have Never Been Higher
Related
Popular in the Community