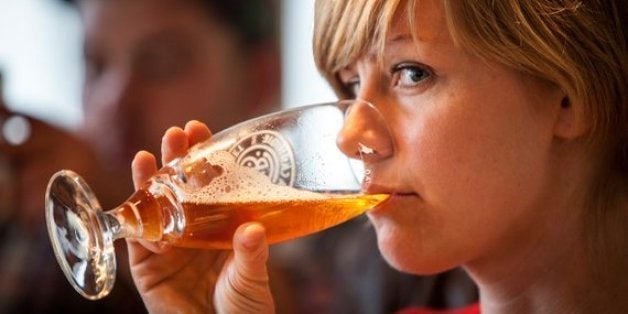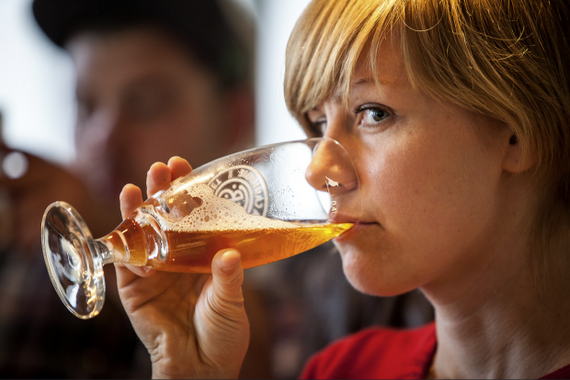 Welcome to Foaming at the Mouth, Joshua M. Bernstein's hopped-up adventures in the ever-expanding universe of beer. And yes, he would like another round, please.
If there's a poster kid for America's craft beer revolution, it'd be Southern California's Stone. Since its 1996 debut, Stone has cranked out unrepentantly hoppy IPAs and brawny brews like Arrogant Bastard. The intensely flavored anti-lagers have gained a rabid following, saturating the country so thoroughly that even my Brooklyn bodega, once a barren cave of malt liquor and Coors Light, now stocks Stone IPA.
That's hardly the most unlikely place to find Stone's brash beers. Today Stone co-founder and CEO Greg Koch appeared at a long-shuttered coal plant in Berlin to make a game-changing announcement: Stone is transforming the former factory into its first international brewery, producing its lineup of aggressively bittered West Coast IPAs and potent ales for distribution across Europe. (The project is set to take 14 to 20 months and will also include a restaurant.)
Thirty years back, the idea of a U.S. brewery opening in Europe would've been met with mockery. But these days, American-made craft beer is no laughing matter. "There's huge respect for what American brewing has achieved," says Will Hawkes, the current British Beer Writer of the Year. "People want that American hop flavor and they want breweries that are not afraid to experiment."
SEE MORE: 7 Fried Chicken Mistakes You're Making, and How to Avoid Them

It used to be that American craft brewers took cues from Belgium, Britain, and Germany. Now the industry has come full circle, and breweries worldwide are looking to the U.S. beer scene for inspiration. In New Zealand, 8 Wired specializes in highly bittered beers, and Australia's Feral Brewing utilizes U.S.-grown hops in its IPAs. Italy's Birrificio Toccalmatto produces hop-driven beers like the lemony Zona Cesarini IPA, and you can't throw a stone in Scandinavia without hitting IPA-crazed brewers such as Denmark's To Øl, Norway's Nøgne Ø, or Sweden's Omnipollo. As for Britain, says Hawkes, "some of the top breweries, like Siren and Moor, are run by Americans, while others, like Magic Rock and BrewDog, can seem like American breweries that just happen to be in the U.K."
Beyond influence, American beer has also become a hot export. Madrid's Irreale bar regularly serves beer from of-the-moment American breweries such as Westbrook and Against the Grain, while Copenhagen's Mikkeller & Friends (the brainchild of the U.S.-inspired gypsy brewery) often serves beer-geek faves such as Oxbow and Prairie. (Mikkeller is also opening the BBQ-focused Copenhagen brewpub War Pigs with cultish Indiana brewery 3 Floyds.) And when I was in Prague a few years back, I spent the afternoon at Zlý Casy, a winding bar offering lavishly priced stateside brews from Widmer, Flying Dog, Rogue, Alaskan, and Anderson Valley.
Underscoring the skyrocketing popularity, the Brewers Association trade group now counts 90 members in its Export Development Program, including Dogfish Head, Ballast Point, Jolly Pumpkin, and Colorado's Left Hand. Last year, craft-beer exports rose 43 percent, worth an estimated $73 million. "We're spreading the culture of craft beer around the world," says Left Hand president and cofounder Eric Wallace, who also chairs the Export Development Program committee. "The reason is flavor."
Problem is, these flavors don't always travel so well. The most popular style--IPA--is also the most fragile, as the intense aromatics rapidly diminish. "It's not the best idea to focus on beers that start to show it when they get a bit of heat and age on them," says Wallace, who mainly limits his overseas exports to sturdier beers like his porter and milk stout. The solution, he says, is for American brewers to ship refrigerated beer and instruct distributors, bars, and shops to also store it cold. "Quality is paramount for long-term American craft beer exports to be successful," Wallace says. (By brewing in Europe, Stone can ensure that continental beer connoisseurs will enjoy impeccably fresh IPAs.)
Brooklyn Brewery is well acquainted with the long-term benefits of export beer. It first shipped brews to Japan in 1989, and today more than 30 percent of its beer volume is distributed internationally, with key accounts in the U.K., France, Australia, Brazil, and Sweden. Especially Sweden. "It's our second-biggest market outside of New York City," says cofounder Steve Hindy. You might chalk that up to Brooklyn's cool factor, but an equally big reason is geography: Shipping beer across the Atlantic is easier than trucking brews to California. "It's a fact of the world of transportation," Hindy says.
Brooklyn is so popular in Scandinavia (where Sierra Nevada, Sam Adams, and New Belgium also have a strong presence) that the brewery partnered with Carlsberg to open Stockholm's New Carnegie this year. It's a European brewery with American verve, with releases like the J.A.C.K. session IPA and Lumens in Tenebris, a dark and fruity saison. Making Brooklyn-brand beer in Sweden is, however, off the table. "The Swedes want the beer from New York," Hindy explains. Nonetheless, within the next several years Brooklyn Brewery plans to join Stone and open a Berlin brewery, and plans are afoot to build a brewery in Asia, too.
I have mixed feelings about this move. Whether I'm traveling around America or the world, I hunt out local beer. Much as I skip chain restaurants, I want to taste what the natives have cooked up, how they've utilized indigenous ingredients and ingenuity to foster a unique beer culture. I don't want to eat McDonald's in Indonesia. Why would I want a Brooklyn Lager in Beijing when I could have Great Leap's Sichuan peppercorn-infused Honey Ma?
Thing is, I'm looking at the situation from a point of privilege. In Brooklyn, I have unlimited access to amazing beer. For folks attuned to the light lagers that still blot the worldwide beer landscape, imported American craft brews are a breath of fresh air. Brewers are not just exporting beer. They're exporting the idea of the craft beer revolution, with skirmishes staged wherever Heineken, Tsing Tao, and Kingfisher are sold.
Yes, Germany is known for its love of lagers. But craft brewers are already bubbling up in Berlin, a city known for its revolutionary spirit. "With a big American craft brewery opening a brewery in Berlin, most of Berlin's craft brewers are expecting glorious times," says Berlin's Nina Anika Klotz, who founded craft beer magazine Hopfenhelden ("Hop Heroes"). "Stone will make the idea of craft beer more widely known."
Popular in the Community