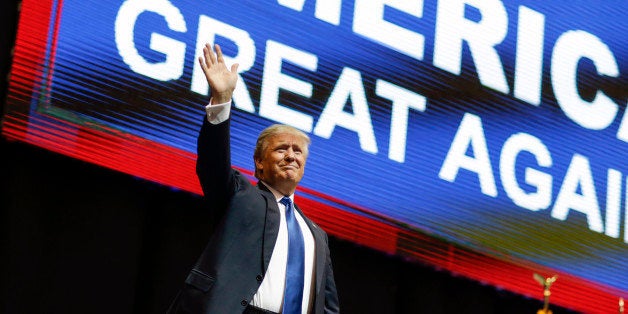 Early polling shows that Donald Trump's image with the general electorate is quite poor. But most analysts focus on national numbers and not the electoral college map. With early polling so un-predictive, are there any early metrics can we follow over the course of the campaign? Trump's unique celebrity provides an answer: his unfavorables in the states.

Donald Trump won last night's New Hampshire primary by as much as 20 points, as the last results trickle in. Yet Gallup's venerable Frank Newport has noted that Trump would be the least popular major-party nominee in that firm's long history of tracking such data. Some analysts have focused on these and similar poll numbers to highlight Trump's vulnerabilities.
In my view, there's one weakness to these analyses: they use national numbers to gauge Trump's chances. But as long as presidents are chosen by the electoral college, we need state-level data. Given Trump's unpopularity as a Republican candidate, which states does he actually put in play for the Democrats?
An Old Pollster Saw About 100% 'Fav/Unfav'
When I first came into the polling business, I learned an old pollster rule of thumb about the 'favorable/unfavorable' or opinion rating question. If a candidate's favorable/unfavorable number pushes 100%, a candidate's unfavorables will set a ceiling on his horse-race number.
So if Donald Trump's unfavorable number is 60%, he won't exceed 40% on the ballot.
The logic runs like this: When everyone has an opinion about a candidate, those who don't like him aren't voting for him, full stop.
It's rare for the entire electorate have opinions about a political figure. Often, this is limited to presidential candidates in the final stages of a general election, and to governors. (Working campaign pollsters have to deal with this fact every cycle. Their state legislature clients are always chagrined to find that their name ID's are quite low, even if they've been at the State House for decades.) Otherwise, when candidates are not well known, voters rely on party labels or other cues to make their choices. Polling the 'generic ballot' is one such example.
To illustrate, consider the latest Marquette poll of Wisconsin general-election voters from January. Nine-in-ten (89%) voters had a favorable or unfavorable opinion about Donald Trump. Yet the same survey found 20% of voters had no opinion about Paul Ryan, one of the most prominent American political figures of the decade and a congressman from their own state. Notably, Trump's unfavorables (59%) in Wisconsin are a full 20% higher than Ted Cruz's (39%) or Marco Rubio's (32%).
Trump in the States: 51% Unfavorable in Florida His Best Showing
Over the past 10 weeks, pollsters have asked general-election registered voters about Trump's 'fav/unfav' in eight (8) states: Florida, Iowa, Michigan, Minnesota, New Hampshire, North Carolina, Virginia and Wisconsin. At least seven of those are expected to be swing states in November. These numbers come from pollsters PPP and Marquette, as well as Mason-Dixon, EPIC MRA, Florida Atlantic University and Roanoke College.

Among these surveys, Trump's best (lowest) unfavorable is 51%, from Florida Atlantic's survey. Trump's worst (highest) rating came in New Hampshire, where Tom Jensen's PPP team reported him at 64% unfavorable (!) in their January survey.
If our rule of thumb is accurate, Trump is set to lose all seven swing states, since his unfavorable number is over 50% in each. In 2008, John McCain lost all these states. In 2012, Mitt Romney won one (North Carolina). So based on this (very incomplete) data, Trump may do at least as well as John McCain.
Can Trump Learn From The Last "Most Unpopular Nominee"?
Can Trump right the ship before election day? To answer that, consider the last candidate to be Gallup's most unpopular GOP nominee in twenty years: Mitt Romney.
In 2012, Romney had led the Republican field through the bulk of the primary season, and consequently was the chief target of most negative campaigning. By Super Tuesday (March 6 of that year), Romney was almost a dozen points upside-down (36% favorable-47% unfavorable in the general election HuffPollster average). The following week, PPP reported a Trump-esque 56% unfavorable number, or 25 points upside-down. Romney's numbers stayed low well into September.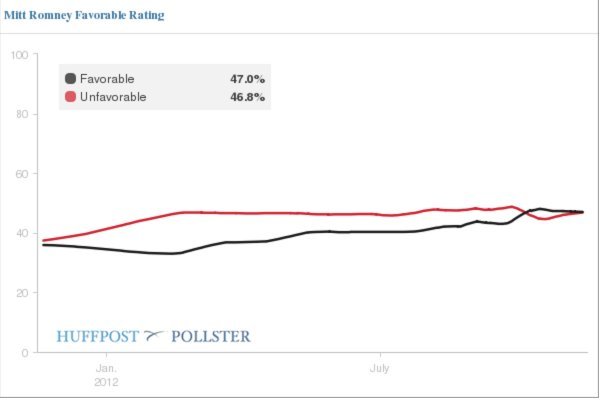 The fall campaign, however, changed Romney's image completely. His numbers started to rise following the GOP convention, and then jumped after he won the first debate. Most pollsters had Romney right-side up in their final surveys before election day. For PPP's part, Romney was at 47% favorable-48% unfavorable in their final survey, essentially even.
Romney lost, but he had a formidable public opinion rating on election day, and remains a popular figure in the Republican Party. For better or worse, Romney's strategists have never gotten credit for plotting what's probably biggest turnaround in a candidate's image in modern American history.
The Whole Party Would Have an Interest in a Popular Nominee Trump
Trump may be able to right the ship like Romney did, or he may not. Like Romney, he'd have several months of opportunity to do so. The party conventions, in particular, serve the purpose of positioning a candidate before a national audience.
We can't forget that Trump won't be the only Republican on the ballot, too. For the Republican National Committee, along with each one of the 5,000 Republicans on the ballot in November, their own campaigns would to varying extents depend on repackaging Trump as an acceptable Republican standard bearer.
This is all another remember that February polling is not destiny, even for a candidate as sui generis as Donald Trump. Yet Trump's high unfavorables may give us some clues. As more pollsters conduct general-election surveys in the states, the picture will improve.
Matt Dabrowski (@MattDabrowski) is a political analyst and pollster. He was Citigroup's political analyst in New York.
Calling all HuffPost superfans!
Sign up for membership to become a founding member and help shape HuffPost's next chapter