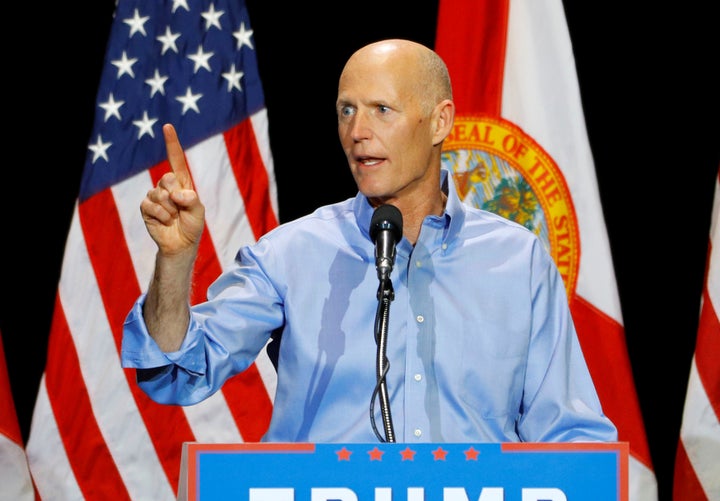 Co-authored by Mitchell Colbert
When California legalized marijuana for medical use 20 years ago it was a radical move. Voters passed a one-page initiative that simply stated marijuana was legal for anyone who used it medically. There was no explicit regulation written into the bill. In the two decades since, the state has grown to be the booming multi-billion dollar global epicenter of medical marijuana. Patients have flocked to California from all over the world to find relief using the state-legal herb and their stories are reshaping how many doctors and researchers look at plants, medicines and drugs.
American citizens are demanding safe access to medical marijuana in every state and now it seems legislatures are responding directly. But are state legislatures legalizing for the patients or for personal profit? In Florida, the motivations couldn't be more transparent: it's just business. And with disgraced former Hospital Corporation of America (HCA) CEO and current Governor Rick Scott at the helm, it's truly business as usual.
In 1997 Scott was forced to resign from HCA after a federal investigation found that he had overseen one of the largest Medicare frauds in United States history. Under Scott, the company billed Medicare for procedures, medications and visits that never happened. HCA settled for $1.7 billion and in the end was only forced to pay $840 million in fines. Scott resigned in disgrace and received a $300 million "golden parachute" on the way out. Taxpayers ate the difference.
After HCA, Scott worked as a successful venture capitalist until 2010 when he spent $75 million of his own money to defeat Democratic opponent Alex Sink and become the governor of Florida. Now in his second term, Scott is no stranger to scandal, regularly using nepotism and back room business dealings to further promote his own personal financial interests.
In the case of marijuana, Scott was a staunch opponent in 2014. That same year Scott narrowly won his bid for reelection against Charlie Crist 48-47. Also in 2014, Amendment 2, a more robust citizen led medical marijuana bill, failed to meet the 60 percent supermajority required for passage in Florida's constitution by just three points. Amendment 2 was polling towards victory all year, until a $5 million donation to the opposition campaign by local billionaire Sheldon Adelson shortly before the election.
With medical marijuana easily more popular than Scott, Scott had to become a champion for medical marijuana. With Amendment 2 back on the ballot again this year (and looking good to pass) Scott-the-profiteer had to get ahead of it. In state legislative sessions from 2014-2016 Republicans pushed through regulations that shaped Florida's cannabis industry into a for-profit pharmaceutical research lab controlled by six wealthy and politically connected groups. Given Scott's history of fraudulent health care dealings, it should come as no surprise that he would ensure Florida's program was designed to work for him and his friends, as the patients who need it most are left waiting.
In 2013, 27-year-old Laura Bax became Governor Rick Scott's judicial appointment coordinator. Prior to working in the governor's office, she had worked as a sales associate at Nordstrom while completing a bachelor's degree in hospitality at the University of Central Florida, in 2012.
In 2015, Bax (now Dane by marriage) helped coordinate the appointment of her brother, Christian Bax, to the position of Director for the Office of Compassionate Use (OCU). The OCU was tasked with designing the regulations for the new medical cannabis legislation as well as reviewing the applications and awarding the lucrative vertically integrated licenses. Temporary director Patricia Nelson praised the decision, and touted Bax's alleged experience, in an official Florida Department of Health press release.
"Previously, Bax co-founded CBK consulting, a company with expertise in navigating medical marijuana regulation in Nevada and Washington. The department is confident his education and professional experience make him the right choice to get this product to children with intractable epilepsy and people with advanced cancer as safely and quickly as possible," Nelson wrote in the statement.
Under Bax's tenure at the OCU, five licenses were initially awarded. As information about plagiarism, fraud and faulty scoring processes have become public all the licenses have become mired in scandal and only two have begun dispensing any medicine at all to a very limited patient base. Bax has not been held accountable because the state still has not recognized its negligence or wrongdoing in the matter.
According to the "alternative resume" his sister Laura submitted for him (made public by Sunshine Law requests) Christian's only prior experience in cannabis was as a Boston-based consultant operating under the name CBK Consulting from 2014-2015. At CBK, Bax claims to have secured multiple licenses in both Nevada and Washington state. In attempts to verify the validity of that claim, Bax was contacted via the phone and email listed as the only public information on CBK's website and licenses during the years in question were examined in Nevada and Washington. No reasonable connection was found. Requests for comment by email were unanswered and the phone number listed, a Boston-area cell phone, is no longer in service. No business was ever filed in any jurisdiction that backs up the existence of a functional CBK Consulting firm.
CBK's website is and has always appeared simply as a single logo, a phone number and email address. It was first created in November 2014, eight months before Bax became the state director of the entire program based off his "expertise navigating medical marijuana regulation" in Nevada and Washington in 2013.
Christian and Laura likely fabricated Christian's experience with medical cannabis in order to support and justify his being awarded the title already designed and designated for him.
Christian, who is just two years older than his sister, completed an MBA at Babson College in Boston in 2015 shortly before being awarded the appointment. Since graduating high school in 2002, Christian has earned a bachelor's in Alabama, a juris doctor in Florida and an MBA in Massachusetts. Bax is only licensed to practice law in Florida and Massachusetts, so claims on his resume that he "secured licenses to grow, process, and sell marijuana for various clients in the states of Nevada and Washington" are still unlikely. Furthermore, neither Florida nor Alabama has or had a functioning medical cannabis regulatory system now or at the time, and Massachusetts only currently has a small handful of licensed shops three years after voting to license and regulate them. Besides watching from the sidelines as a student, Bax could hardly have the knowledge or qualifications to consult on marijuana licenses in other states, let alone oversee an entire state's regulatory process on his own.
But despite not necessarily having the expertise, Bax and his family have the motivation and connections. Laura and Christian's fast rises to positions of power in the Florida state government are of no surprise to those familiar with the Bax Family. Earlier this year Governor Scott appointed their father, 80-year-old James A. Bax, to the Public Employee Relations Commission, a government agency that manages state relations with public unions.
James Bax is the owner of several companies, many in oil and energy, has served in various roles in the state government and national Republican party and was the White House liaison to the National Governor's Association.
Bax has significant political and financial power in Florida and the nation's Republican party. Not only is he well known as a major GOP fundraiser, a drug testing company Bax owns has an exclusive contract with the state. During his long career, he has a history of receiving convenient appointments to government positions that directly affect his own bottom line.
Today, with his sons James Jr. and Christian, Bax is a partner in Bax Enterprises LLC, an online retailer of "legal cannabis CBD" oils and vaporizer pens sold in all 50 states for use with cannabis extracts and flavored nicotine liquids.
Florida's medical cannabis legislation is "smoke-less", not only are patients not allowed to grow their own, they can only purchase oils extracted for oral use or in vaporizers, not raw flower buds. Nearly every patient in Florida's system that needs to inhale their cannabis will likely be purchasing oils in pre-filled disposable vaporizers.
It's easy to win when making all the rules.
Shady Dealings in the Sunshine State
When legislatures in the midwest and east draft cannabis legislation, they often point to California as an example of "Wild West" business gone bad.
California's original medical cannabis law was passed by voters and did not create sales and production regulations, license businesses or collect taxes. It did not create big business opportunities, but instead encouraged a cottage market to thrive. What emerged was a small mom-and-pop fueled industry that proliferated both genetic and product diversity. Patients who came to California for relief found success from the plethora of cannabis strains and raw buds available on the market alongside endless brands and variations of extracted products like foods, oils and tinctures.
California's free market propelled knowledge and research about medical cannabis by creating diversity. Prices also went down and more people started growing and breeding at home.
Unlike states back west, Florida has opted to take what it says is the more measured, cautious approach to medical cannabis. Although cannabis is treating and has treated a host of mental and physical conditions throughout history without any recorded deaths, the state recognizes that its reintegration to mainstream society is dangerous business and must be handled by responsible professionals and heavy regulations must be in place to ensure safety, quality and efficacy of products (not raw flowers) extracted from cannabis.
Florida's attempts at creating safe access to cannabis medicines so far have not only been ineffective, they have put the state's backroom deals, nepotism and profiteering politicians at the forefront.
Florida's legislation, passed by state Republican legislators and enacted by Christian Bax, has created a cartel-like system that seriously restricts the market to pharmaceutical research and development and corporate profiteering. No small or minority-owned businesses allowed.
In awarding a license to Surterra Therapeutics, Bax was not just grossly negligent but irresponsible. But, considering Surterra's ties run all the way to Governor Rick Scott's office, New Jersey Governor Chris Christie's office and even GOP presidential candidate Donald Trump's top pollster Tony Fabrizio, it's unlikely coincidental.
Jeremy Daw and Ellen Holland contributed to the reporting of this series.
Popular in the Community