AMBITUDE. Definition: Am-bi-tude - (verb) to be in a state of grace; the collision of ambiance and gratitude.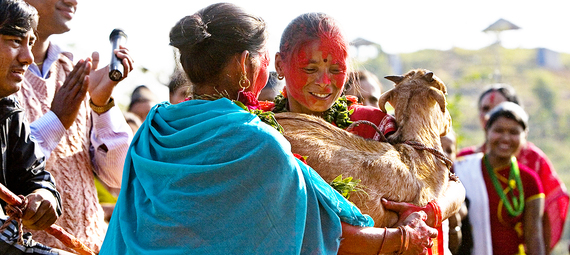 At a Passing One The Gift ceremony in Shaktikhor, Nepal, an original Heifer International participant (in green) donates a goat to another woman from her community (in red). Photo courtesy of Heifer International.
There has been much written about the amazing act of giving and what it can do to impact happiness and purpose. I am, by profession, a marketer and a fundraiser. But as I reflect on this time of year, I feel more like the connector between our donors (nearly half a million strong), our employees (more than 800 globally), our volunteers (more than 350) and our recipient communities that we serve at Heifer International. I am filled with abundance and gratitude at the generosity of our global community and I feel like I have been given the gift of this responsibility.
As a nonprofit ambassador, I know the benefits from both sides. The act of giving allows purpose and passion to collide in unexpected and impactful ways. To witness gratitude transform into generosity is powerful, and it happens in very unexpected ways. I have seen people access cancer screenings and treatment as a result of the brave and important work of those who serve in the medical field and in organizations and nonprofits that raise funds for research to finding cures and enabling greater access for all.
I have also witnessed brave families in the heart of the communities where we at Heifer work around the globe, unite and gather around creating new opportunity, joining in solidarity for an entire community to be lifted from hunger and poverty. The mindset and physiological shift of moving from gratitude to generosity fascinates me. According to the John Templeton Foundation, people who feel grateful give, on average, 20 percent more time and money to charity.
The spirit of giving can be seen everywhere in acts big and small.
Someone dear to me recently asked me what my gifts were... I am not certain I had ever been asked this question so directly, and I was caught off guard. I answered with the following:
"I can't be someone I am not, and I am learning the value of truly understanding what that means. I am trying hard to be the person I was intended to be and the most comfortable version of myself. I feel at my best when I am creative and inspiring people. Those who know me would say I am not at all detail oriented, but that I pretend to be. The Maya Angelo quote often sits on my heart: 'I've learned that people will forget what you said, and people will forget what you did, but people will never forget how you made them feel.' I enjoy inspiring others and connecting them in ways that enable people to feel more emotionally fulfilled than they were before. That fills up my heart."
I remember as a young girl (age 12), my mom volunteered me to take care of an elderly lady in our community. She was a fixture in the community, the pillar of one of the families in our small town of less than 200. Ms. Angie wanted to live at home and not be forced to live part of her elderly life in an assisted living facility. But she was not able to do all of the things that allowed her freedom. However, with a little help, she was able to live independently and with a deep sense of pride.
I was "volunteered" to spend my mornings and evenings with her on most days. It meant that she could spend the rest of the time free to be at home. I didn't know what to think at first. This meant that early mornings before school and late evenings after sports were spent helping care for her from the time I was 12 until I left for college at 18. (I ended up getting paid for my time - financially, spiritually and emotionally).
I know it changed my life. I got as much out of that amazing experience as Angie did. And I know we will be forever connected in the universe in ways that I still feel deeply today. I loved her unconditionally, and she shared that same kindred kindness and love for me. And we both benefitted exponentially from the gifts we extended to one another. I hope to pass on that same sense of purpose, gratitude and grace to my daughter.
I know without a shadow of a doubt that I am in the exact right place. I am living in a state of grace, helping hold the bridge between generosity and need. Everyone, everywhere has something to give. We see it in our work all of the time. You see those with the least amount of resources welcome you with all they have. You see patients enabling glimmers of hope and wisdom to those with whom they might spend their last days. All are profoundly changed in the interactions created and the gifts they share.
It has taken me some time to embrace that sense of purpose, to understand my gifts and how they can be used. And it comes in the most unexpected ways. But your heart and mind must be open to the idea that giving is as good as receiving and passing it on is only the beginning of deeply understanding the powerful transformation that is possible. For me, it represents the collision of ambiance and gratitude.
During this holiday season, I want to say thank you to all donors everywhere. The world would not be the same without the generosity and spirit of those who give of their time, talent and treasure. Every little bit matters, and when it all adds up, with each and every act, we change the world.
We need your generosity and your willingness to be change agents. Your commitment to the things you believe in, and your trust in the organizations and people striving every day to improve the lives of others. Together, we can build a better world that unites and connects us all.
Related
Popular in the Community