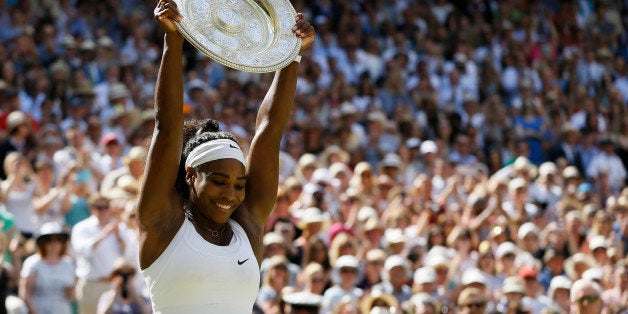 Is Serena Williams the greatest women's tennis player of all time?
I'm quite certain we could have hours of debate. Using a combination of conjecture and statistics, to challenge the question with the names such as Martina Navratilova, Chris Evert, Steffi Graff, Margaret Court, and Helen Wills Moody.
But if I asked: How great is Serena Williams? That might be more difficult to answer because all we have is conjecture. We really don't know how great Williams is, it's possible she doesn't know.
I say this not as a criticism toward Williams, but rather an observation. She has been unquestionably the most dominant player in her era, arguably of any era, but she has been largely without a rival.
This does not diminish her record, Williams is charged with only defeating the opponent on the other side of the net. Or should that be revised to read that the only person who can defeat her is on her side of the net? Only Serena Williams can defeat Serena Williams.
Even on those occasions when she is not at her best, especially in Grand Slam tournaments, does not necessarily mean victory for her opponent.
Her current dominance, at a tennis age when players begin thinking about retirement is unprecedented, reminiscent of Muhammad Ali before he was stripped of his title due to his refusal to be drafted to Army service.
That version of Ali was, in my opinion the greatest heavyweight of all time. At 215 lbs., with middleweight hand speed and cat-like quickness no challenger possessed a chance of defeating him.
But the true greatness of Ali emerged after his return to the ring from a 3-year exile. His skills somewhat diminished produced some of the greatest fights of his career. He had three epic fights with Joe Frazier, and his 8th round knockout of George Foreman, who at the time was believed to be invincible, cemented his greatness in boxing lore.
Williams possesses no such rival. There is nothing in Williams illustrious biography on par with Bjorn Borg vs. John McEnroe, Navratilova vs. Evert, Pete Sampras vs. Andre Agassi, or Rafael Nadal vs. Roger Federer.
In the decade that began in 2000, Williams won 10 Grand Slam championships, followed by Justin Henin and Venus Williams with 7. But in the current decade, that has four years remaining, Williams has collected to date 11 such championships, followed by several women at 2 each.
A true rival possesses the uncanny ability to bring out something in the other player they did not know they possessed. The 1980 Wimbledon men's final between Borg and McEnroe makes this point.
In what many view as the greatest match at Wimbledon, Borg already had four consecutive men's single championships in tow, when he faced the brash young McEnroe. After losing the first set 1-6, he came back to win the next two sets 7-5 and 6-3. His 5th Wimbledon title was well within his sights.
But he and McEnroe played a fourth set for the ages. McEnroe won the 18-16 tiebreak. Borg prevailed in the final set 8-6 to win his 5th consecutive, and without question his most memorable, Wimbledon championship.
In 1956 Duke Ellington and his orchestra played at the Newport Jazz Festival in what jazz promoter George Wein described as the greatest performance of Ellington's career.
Toward the end of the performance Ellington called for is 1938 classic "Diminuendo and Crescendo in Blue" that included a saxophone solo by Paul Gonsalves.
Sensing the mood of the crowd, Ellington and the rest of the orchestra prodded and encouraged Gonsalves to go within himself to unearth the genius that had been lying dormant in his soul.
Gonsalves was caught in the vortex of crowd exuberance, Ellington's urging, and the orchestra's support vocally and rhythmically.
"Come on, Paul -- dig in! Dig in!" can be heard on the recording. The result was 6 minutes of near perfection. In the case of Gonsalves, his main rival became himself at the behest of Ellington.
Unlike Gonsalves, no one to date has pushed Williams to that next level. For as great as Serena Williams has been and continues to be, we may never know how truly great she is.
Calling all HuffPost superfans!
Sign up for membership to become a founding member and help shape HuffPost's next chapter