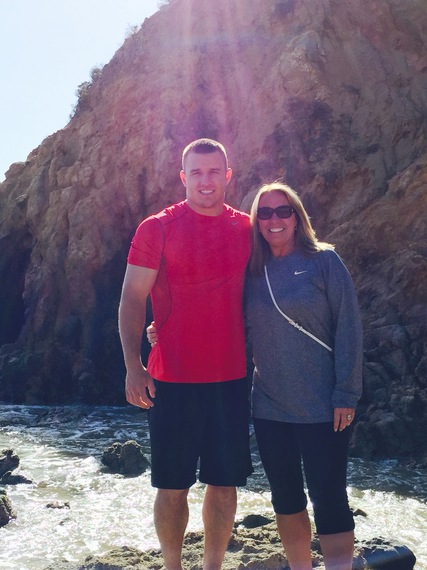 In my practice working with families and teens, I'm on a continual quest to find out what values best prepare teens to become healthy, well-adjusted adults. Last week, I had an incredible opportunity to talk with Mike Trout and his mom, Debbie, to learn a little bit about what Mike's parents did to raise him to be the successful, down-to-earth adult he is today.
Mike Trout, the Los Angeles Angels of Anaheim's centerfielder and the 2014 American League's Most Valuable Player, is one of baseball's rising stars. But there are two stars who have had a big hand in the 24-year-old's success - two stars you don't hear about that often. They are Mike's parents, Debbie and Jeff Trout. Here is what I learned about how Debbie and Jeff contributed to Mike's success.
Mr. and Mrs. Trout did an all-star job of parenting Mike and his two siblings. They taught the children to have balance in their lives, to treat everyone with respect, and to put victories and losses in perspective. They instilled in Mike the values that have made him what he is today - a hard-working, honorable, and still-humble adult who, despite his $144.5 million contract, is thrilled each and every day to be playing big league baseball. It's worth examining how the Trouts raised their budding athletic star to be a responsible, level-headed young man who hasn't let success go to his head.
"We told him, be a good person, and everything else will take care of itself," Debbie Trout said in an exclusive interview. "You be kind, and you be respectful. We have friends that Mike still calls 'Mr. and Mrs.' He still calls them that, and you don't hear that very often these days."
The Trouts had rules for their children, but they never forced them to participate in sports or other activities they didn't enjoy. As long as they were being respectful, they wanted their children to enjoy themselves. Jeff had been a minor-league ball player in the Minnesota Twins farm system, before an injury cut his career short, but he never forced Mike to play baseball.
"We let them be kids," Mrs. Trout said. "A lot of these parents take promising kids and don't let them have a life beyond baseball. We let them go out with their friends and go fishing and play other sports. Some parents don't let their kids put down a ball all year round and that was not what we did at all."
"If we had to put their uniform on them, drag them out to practice - that wasn't for them, obviously."
Luckily, the Trouts didn't have that problem with Mike.
"He slept in his uniform when he was in T-ball," Mrs. Trout said. "The day of the game, he would have it on right after school and after that he would go play and he would sleep in it."
Letting Mike choose what to do made a big difference - a difference Mike appreciates to this day.
"I can't ask for better parents. From day one, my dad told me if he had to force me to do something, he didn't want me to do it," Mike Trout told me. "I just always wanted to play baseball. I wasn't that cocky kid, I just went out there and played. I had fun playing. You just go out there and play the game every day."
The Trouts also taught Mike to have a "Plan B" in case baseball didn't work out. Before Mike was selected in the 2009 Major League Baseball Draft, he committed to play baseball at East Carolina University, and he was prepared to go to college.
"Plan B was to get an education," Mike said. "I wanted to become a teacher like my parents."
The importance of leading a balanced life, in terms of family and even nutrition, as well as sports, was something that Jeff and Debbie Trout taught Mike, his sister Teal and brother Tyler. The Trouts would cook a healthy meal for their children when they sat down to dinner in their home in Millville, N.J.
"We ate dinner together at least five nights a week," Debbie Trout said. "Even if it was on the way to baseball game and practice, and it's pizza in the car. Make sure dinner with your family is always together. And we would talk. Just talk to your kids... if you want to have healthy kids. To this day, on Thanksgiving, you have to put your cell phones in a box when you walk in the door."
Mike, of course, can't eat dinner with the family when he's on the road during baseball season, but he has retained the lessons he learned from his parents about the importance of good health and good nutrition - and balance in his training.
He works out in the offseason, doing strength, stretching and agility exercises and other activities that don't involve a baseball and a bat. He also works during the season to stay healthy.
When you're on the road during the grueling 162-game baseball season, he said, it's important to "keep your body in shape. Eat good foods, make sure you're eating your greens." Trout said he tends to get dehydrated, so he needs something to keep himself hydrated. "I cramp up a lot. When I started up with BodyArmor, it was probably the best thing I'd ever done. On and off the field." (Mike Trout is an investor in and has an endorsement deal with BodyArmor sports drinks.)
One of the few times Mike's parents had to coax him into a specific behavior when it came to sports was, ironically, because he was so competitive. Mike was 8 or 9 years old and was pitching for the town championship. His team lost, 1-0 and he didn't want to go out and accept the second-place trophy.
Debbie said she looked at Mike and said, "If you don't go out there, you are not playing baseball ever again. I meant it, I was so embarrassed. He went out there (to accept the second place trophy) and stomped back."
But Mike learned a valuable lesson. "I think deep down that was a moment," Debbie Trout said. "He knew he had to hang with it, that you come in second place sometimes."
Mike had learned that in order to succeed, one has to take the wins with the losses and keep moving forward.
In addition to the role his parents played in his life, Mike is the player - and the man - he is today because of several role models and mentors from the world of sports.
As Mike was growing up, a major-league role model was Derek Jeter of the Yankees, not only for the way he played, but the professional way he handled himself. Albert Pujols and Torii Hunter, two Angels stars, were role models and mentors to Mike after he joined the Angels.
Despite his great talent, Mike Trout is still practicing what his parents taught him about respect, especially with the more experienced ball players he meets.
"Being respectful is huge in life," he said. "Not just in baseball just in general in life. If you respect someone, they'll respect you back."
When he first made it to the big leagues, he said, he earned the respect of the veterans by being humble.
"I think it would have been different if I had come up and been this cocky little kid, talking smack to people," he said.
Despite being one of baseball's biggest stars, Mike Trout is still that humble and respectful young man today, thanks to the lessons his parents instilled in him.