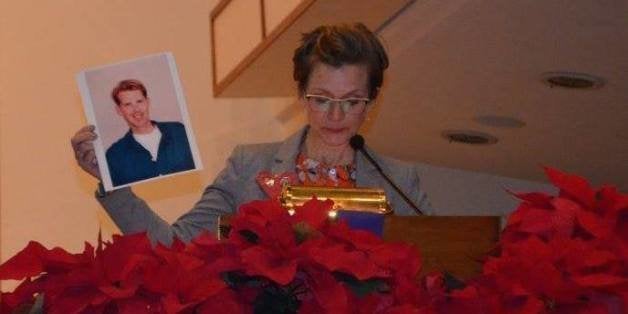 It gets me every spring. Every time.
You might think that after 17 years I'd learn to expect it, but it still takes me by surprise.
For the past 13 years I've been living in New York City after having spent most of my life in Atlanta. Spring in New York can be especially amazing when you aren't used to northeast winters. So when it finally comes and I pack up my dirty full-length down coat and bust out sandals again, it's a pretty great time -- until I remember.
In my short-sleeves and sunglasses enjoying the blossoms, I feel a slow funk come over me. It's hard to explain but it's sort of like being really depressed for no reason along with an empty pit in your stomach. It takes me a few days to figure it out as the funk grows -- oh yeah, it's almost April 24. Even if I try to forget, my body won't let me.
Four days after the Columbine massacre, on April 24, 1999, I was on a date with my friend Philip in Atlanta when we were robbed by a teen with a stolen gun. He shot both of us and Philip was killed. That event changed my life and many other lives, too. One reckless robbery by a 17-year-old set off ripples of grief and misery for so many people. For Philip's family, his students, me and now my own family. And every spring, no matter how hard I try to enjoy the season, I'm reminded of that night. I can smell it.

One reckless robbery by a 17-year-old set off ripples of grief and misery for so many people.

I moved to NYC in 2002, got married and had kids. I had gone to loads of therapy so I figured I was all good for a new city. In New York, no one really knew what had happened to me so I kept it that way. It was nice to leave it all behind. I was supposed to contact the prison where my shooter now resides if I ever changed addresses, but I didn't. I wanted to forget it. I wanted to believe that what happened to Philip and me was random and done. I had a few PTSD incidents but managed to get through them with help. I continue to see my therapist to this day.
I'll never forget the moment I found out about the shooting at the elementary school in Sandy Hook. It was probably like when my dad found out JFK had been shot. I was standing in my living room with my then four-year-old son preparing to leave for an outing, putting on gloves, jackets, scarves. My daughter was sitting in a first-grade classroom.
I had a PTSD episode that rocked me to my core. Like previous ones I had the usual symptoms of sweaty palms, a racing heart, nauseated stomach, and a feeling to flee, but no ability to move. I was terrified because I had never had one so intensely. And this one came on while caring for one of my children -- and unlike previous PTSD episodes, where I re-live what happened to me, this time, the day Sandy Hook happened, the gun was on my daughter's head.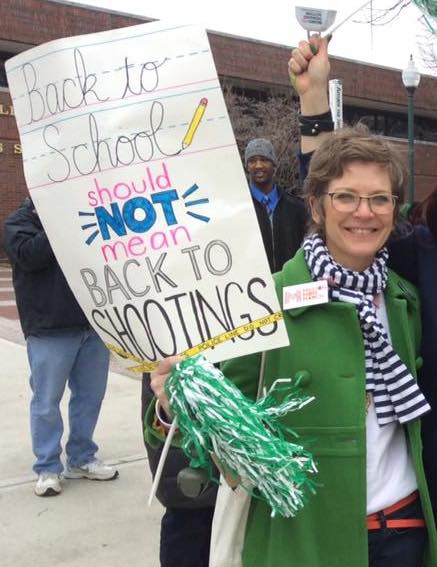 After that incident, I no longer felt like my story was random and didn't matter. I was scared and I was angry. I immediately jumped into action and helped to found an organization of mothers fighting to prevent gun violence, now called Moms Demand Action. I started telling my story to anyone who would listen. I had never done anything like this before -- I'm a former graphic designer and stay-at-home-mom -- and suddenly I was on MSNBC, CNN, Fox & Friends, speaking at rallies on a jumbo-tron for freak's sake, meeting with politicians, and attending conferences at the White House.
Now, whatever it takes --- I'm in. I haven't stopped since that day and I won't stop until we decrease gun violence through stronger legislation and cultural awareness. I now work with the Brady Campaign to Prevent Gun Violence where I continue to rabble rouse.
My work can be pretty depressing. I'm often side-by-side with mothers who have lost their children in Chicago, a movie theater in Aurora, or from an unintentional shooting by another child; women who were shot by their husbands; adults who as children lost a parent to suicide with a gun; a parent who lost a child to suicide by a loved one's gun; a father who lost his son in a random shooting spree, and on an on. I attend legislative meetings with survivors like Tom Mauser who wears his son's shoes that he had worn the day he was killed at Columbine High School.
The work takes a toll every day, and then out of nowhere we have another shooting that requires a rapid response. Last week it happened in Ohio -- eight dead just like that.
This is all to say: the work is incredibly hard. And I wouldn't change it for a thing. I have no choice, actually. And every spring, I remember exactly why.
Kim Parker Russell is a Regional Organizing Manager at Brady Campaign & Center to Prevent Gun Violence. She is helping organize Fun Lovers Unite!: an evening of music, comedy and gun sense, May 11, 2016, at the Highline Ballroom in NYC. Performers include Yo La Tengo, John Hodgman, Janeane Garofalo, Jon Glaser, and Dolly Wells and Emily Mortimer of HBO's Doll & Em. Plus Special Guests! All proceeds to benefit the Manhattan Chapter of the Brady Campaign to Prevent Gun Violence.