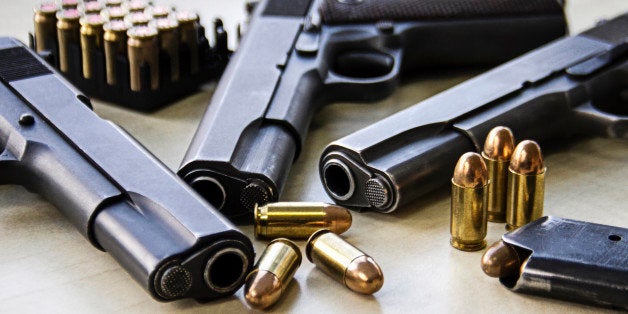 A David Axelrod tweet now carries the same authority as white smoke emanating from a Sistine Chapel Papal conclave. Last month Axelrod authoritatively declared a new piece of political conventional wisdom; Gun Violence Prevention is a winning political platform.
So ended over 20 years of collective strategic advice and mythmaking from lesser political consultants and former officeholders. A confident Axelrod, now a CNN Senior Political Commentator, among many post-Obama Administration roles, tweeted on the April 26th Democratic primary night that Democratic Presidential primary candidate Hillary Clinton had drawn significant advantage over competitor Bernie Sanders among voters concerned about gun policy. This, after reviewing statewide exit polling of Connecticut, Maryland and Pennsylvania's Democratic Presidential Primary voters.
Some may wonder just how many Americans had to die from gun shots before political consultants would pronounce it safe for campaigning candidates to make gun violence prevention a central part of their platforms. The answer sadly is thousands. Children. Wives. Sisters. Daughters. Parents. Sons. How many school shootings, one might ask have occurred since 1999s horrific Columbine High School shattered Littleton, Colorado and our country? Hundreds.
How did the standard political conventional wisdom become so ingrained and accepted? What did it take to overcome the myth?
This issue became very personal for me on April 19th 1999, when as a brand new Congressional candidate and small business owner; I learned that one of my small business employees had purchased 3 of the guns used by the Columbine High School student/shooters. I was more than two-steps removed from the traumatic violence and loss of life, yet through activism ever since have become friends with many family members of gun violence victims including those who lost loved ones in the hundreds of mass shootings since. That's a tragic way to make new friends.
The myth-making on the political toxicity of gun violence prevention has its roots way back in President Bill Clinton's first term, more accurately in the wake of the disastrous 1994 mid-term election results where the Republicans gained their first House majority in 40 years by switching 54 seats. It isn't hard to imagine a shell-shocked Democratic president and his political advisors casting about to identify causes. One convenient and easily blamed target was the passage in 1994 of the Federal Assault Weapons Ban, said to stir up the NRA, a part of the Crime Bill which had passed both House and Senate with bipartisan support. But the myth/conventional wisdom really took hold after Al Gore lost his home state of Tennessee and his 2000 presidential campaign.
Even though the 2000 presidential election results are widely remembered for hanging chads in Florida, and Bush v. Gore US Supreme Court decision, one can find any number of news articles pinning Gore's loss to his strong support for gun violence prevention legislation. One can't separate however, Gore's 2000 campaign from the 1999 national trauma centered in Littleton at Columbine.
"It has been a horror show," the late ABC News anchor Peter Jennings declared on April 19, 1999 news broadcast coverage of shootings at Columbine. Quoting a Colorado County commissioner, Jennings endorsed her shocked sentiment, "perhaps now America will wake up to the dimensions of this challenge...if it could happen in a place like Littleton." It was widely and repeatedly said, "This changes everything." And when the investigation revealed that the Columbine shooter's guns had been purchased by their friend (my employee) at a local gun show from an unlicensed dealer without a background check, politicians sprang into action.
In the final stretch of that 2000 election though, candidate Al Gore was perceived as tapering back his campaign rhetoric on gun laws. In that highly charged and closely watched final few weeks, Gore campaign advisors were quoted referring to "last minute strategic adjustments" which were most apparent in the second Gore/Bush nationally televised debate Oct. 11, 1999. "Let me say," said Al Gore, "that the governor and I agree on some things where this subject is concerned. I will not do anything to affect the gun rights of hunters or sportsmen. I think that homeowners have to be respected, and the right to have a gun if they wish to."
National media were also watching my 6th Congressional District campaign against first-term incumbent and staunch "gun rights" advocate Tom Tancredo. We never hesitated to highlight and take Republican Tancredo to task for his support for expanding gun rights and protecting gun manufacturers even while representing Littleton Colorado. Tancredo had in early 1999 co-sponsored the first introduction of the gun manufacturer's immunity bill (Firearms Heritage Protection Act of 1999), later passed and signed into law by Pres. George W. Bush in 2005, with the support and vote of then Congressman Bernie Sanders. Would that vote have become one of Hillary Clinton's campaign critical talking points, separating her from Sanders, were it not for traumatic gun violence in community after community?
It's not the repeated episodes of gun violence since 1999 however, which have toppled the conventional political wisdom; it is the sea change in citizen activism as a response to the continued mayhem over the past four years that has really made the difference.
Three most significant galvanizing episodes were the January 2011 Tucson Arizona shooting of Congresswoman Gabby Giffords, the December 2012 death of 20 first graders and 6 adults, mercilessly shot in their classroom at Sandy Hook Elementary School in idyllic Newtown Connecticut. And a few months prior in August of 2012, a gunman clad in body armor entered the mid-night movie premier in Aurora Colorado wielding stun grades, smoke bombs an assault rifle with a 100-round magazine, killing 12 wounding 70 others - stunning Colorado yet again. These national traumas revitalized gun violence prevention activism utilizing a new grassroots social-media platform. Average people, never previously involved in political activism found each other and connected, demonstrating a heightened sense of urgency - throughout the country. "This" really has changed everything.
Now Americans won't wait for Washington politicians to respond, they began organizing creating public pressure with methods not technologically possible in 1999. Besides the new communications technologies, the demographics of new gun violence prevention political activists is also in sync with the social media platforms.
Probably the best known exemplar of this synergy is Shannon Watts, founder of a Facebook page in December of 2012 which became the portal by which hundreds of thousands connected to form Moms Demand Action for Gunsense in America - now a branch of a national umbrella Everytown for Gun Safety.
Everytown, which was founded in NYC Mayor Michael Bloomberg's office as Mayors Against Illegal Guns and headed by former top mayoral advisor for strategic planning and criminal justice John Feinblatt, has transformed well beyond its initial focus on big city mayors.
Gabby Giffords upon her recovery, along with her husband astronaut Mark Kelly, founded a more traditional political action committee Americans for Responsible Solutions (ARS). These new organizing entities joined well established Washington-based gun violence prevention long-time advocates like the Brady Campaign, Violence Policy Center, States United to End Gun Violence (with 30 state affiliate organizations), California-based Law Center to Prevent Gun Violence and relatively newer but significant progressive force Center For American Progress.
President Obama's personal commitment for prioritizing gun violence prevention and the good fortune of having VP Joe Biden's focus and dedication (Biden was an author and Senate Judiciary Chair, sheparding passage of the 1994 Crime Bill) has given the activists a champion in the White House with the highest media profile available.
All of this activism has engendered significant interest from traditional media outlets - which in turn has helped attract more activists. For example the February 2016 issues of major women's magazines Glamour, Cosmopolitan and Marie Claire all ran simultaneous feature stories on the issue and movement of new gun violence prevention activists. Cable networks have also discovered a greater audience interest HBO "Requiem For The Dead" and "Gun Fight", CNBC "America's Gun: The Rise of the AR-15", PBS "After Newtown: Guns in America" and CNN "Guns in America Townhall". Independent documentary film makers have also produced and distributed major feature length films such as the currently touring "Under The Gun" co-produced by Katie Couric.
Still with all this activism and media coverage, wary Democratic politicians and consultants sometimes counseled candidates to maintain a low profile in campaign platforms for gun violence prevention initiatives. Conveniently, the Democratic presidential primary process provided a readily available contrast between Sanders and Clinton which Hillary Clinton boldly exploited. In a happy coincidence, the demographics of many new gun violence prevention activists correlate with a critical Clinton campaign target audience.
Sophisticated political calculus isn't the only factor taken into account by the Clinton campaign. When the October 2015 Umpqua Community College shooting took place, traumatizing the Oregon community, Clinton took on Washington Republicans and the NRA, not Bernie Sanders. Again this past December when San Bernardino became the most recently traumatized community, Clinton tweeted that she "refused to accept this as normal, we must take action to stop gun violence now."
Many observers and activists have noticed over the years an "intensity gap" which described the contrast between the way right-wing gun rights supporters defended gun laws on ideological grounds while gun violence prevention activists framed the debate on practical ideas which should be tried and might work to reduce gun violence. Clearly the intensity of gun violence prevention activists has ramped up with their numbers and their determination to be heard by national and state politicians. At the very least, the 2016 election campaigns dramatically show that the political ground has shifted. Cue the white smoke.
Calling all HuffPost superfans!
Sign up for membership to become a founding member and help shape HuffPost's next chapter