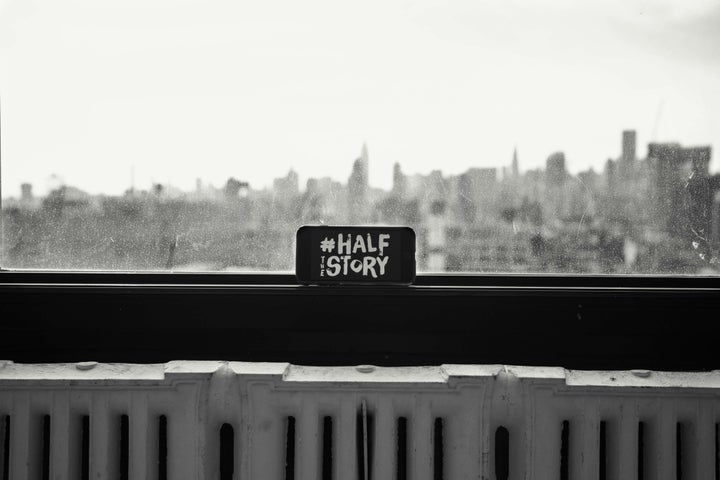 Social media is often far from an accurate depiction of reality, and #HalfTheStory is determined to change that.
Larissa "Larz" May started #HalfTheStory when she was a senior at Vanderbilt University. She was struggling to juggle two lives — while most people knew her as a top student, she was also full-time fashion blogger and entrepreneur covering NYFW for highly respected media outlets. Larz had a lot on her plate, and she was also experiencing debilitating depression and anxiety. The pressure to succeed and transition seamlessly was heightened due to social media.
Larz decided to share the other half of the story with her peers and realized she wasn't alone. They all felt similar pressures from social media, and it was having a negative effect on their mental health. Finding this common ground, Larz decided to narrow the gap between social media and reality.
Participating in the movement is simple — Instagram and Facebook users download the #HalfTheStory graphic from www.halfthestoryproject.com and make a post sharing the unfiltered side of life that is often overlooked in the perfect realm of social media.
"I was able to share why I think social media is hurting us as a culture by making everyone's life seem so picturesque and unrealistic. The cool thing about #HalfTheStory is that it connects people in the way that technology ought to," said Chris when asked about how participating impacted him.
Seeing a man participate in a campaign like this is so important because while there is a huge stigma on people being authentic on social media in general, there is an even bigger stigma on men sharing their feelings.
It was also empowering to see model @autumnisreal participate in #HalfTheStory:
"Mental health issues aren't always so obvious, there's often another side of what's being shown on the outside, especially on social media," said Autumn when asked about how the movement impacted her. "Through sharing our stories, and being authentic, we connect with others, and that's really what life's about."
The fashion industry is extremely cutthroat and edited, so seeing a member of the industry speaking out and sharing their struggles really creates a lot of hope for the future. It shows that the modeling industry isn't what it appears on its face, and we are all so much more alike than it seems.
In addition, Christina Grasso, who also works in the fashion industry and participated in #HalfTheStory, agrees that it is very important. "For me, participating in #HalfTheStory was a great reminder that social media is often fictional, and I think we are all aware of that to some extent," she said. "But, acknowledging and talking about this very thing, and sharing pieces of ourselves that might not seem Instagram worthy, are ultimately what fosters community. Our vulnerabilities make us strong."
Instagrammers @justine_king_ and @logaanpyee shared that #HalfTheStory has helped them to feel less alone in their struggles with mental illness. "To be able to read others stories shows me that I am not alone," Justine said. "May the whole world one day be a live version of this page."
"They're not trying to glamorize [mental illness] but make people aware of how hard it is," Logan added. "Taking part in something that is so honest and true was really eye opening to me because I got to share in the experience with others that are brave enough to show their unfiltered lives!"
Instagrammers @ximevd and @mehaes shared that #HalfTheStory provided them with feelings of healing and empathy. "Even though my vulnerability was way out of my comfort zone I say it was a big win," said Ximena. "I wish the organization would personally be more connected with its participants."
Maggie added, "What I found and see in the community of Half The Story is a community of empathy: for imperfection, for nonlinear healing, for honesty. I hope Half The Story continues to broaden its community to those of intersecting identities in order to form a truly inclusive collaboration."
This movement is also becoming an in-person campaign on college campuses. By holding workshops on college campuses, Larz and other members of the #HalfTheStory team are helping young adults transcend the stigma of mental health and explore how social media impacts it. "These workshops are immersive experiences to discuss the role that social media plays on campuses, highlighting both positive and negative effects of the platforms," Larz said.
So far, the workshops have ranged from intimate gatherings of 30 students to amazing groups of nearly 200 students. The safe, judgment free environments allow students to dig deeper, discuss their struggles openly, and build new connections. The team also provides participants with important mental health resources for further support.
"Larz's story is so relevant in today's society and touched each and everyone of the international students in my class at Parsons Summer Open Campus," said Suzanne Clandon, Professor at The New School.
These workshops are important because social media is a huge part of today's college experience, and it has the power to either be very detrimental or very beneficial. This type of movement is what technology should be used for — uplifting and uniting instead of shaming and dividing. This campaign shows how important it is to share our whole story, not just the "Insta-worthy" parts.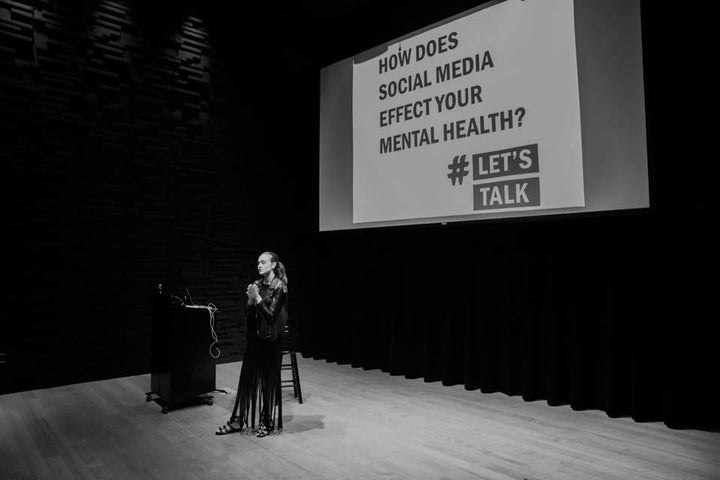 Watching the growth of the movement has had a huge impact on Larz. "The platform was built out of my own struggles with mental health and social media, which has lead into a global community united in transparency," she said. "It's an incredible reminder that behind every picture is a unique story, and it is the stories we don't often tell that unite us."
The wide array of stories shared by thousands of people on social media through #HalfTheStory has really built a feeling of community. With people sharing stories of eating disorders, debilitating depression and anxiety, battles with self-confidence, living with chronic illnesses, suicide awareness, and so much more, the movement is giving a platform to real life instead of social media's typical highlight reel.
Seeing how #HalfTheStory has impacted the social media users who have participated, the viewers, and the team behind the movement makes me confident that it will continue to grow, become more inclusive, and spread the transformative power of vulnerability.
Hopefully one day all of "real life" is filled with vulnerability and authenticity. But, for now, it's pretty awesome that it's happening on social media. From starting with a few boxes of stickers, an Instagram page, and an $800 grant, to now sharing thousands of inspiring stories and making a global impact — #HalfTheStory really is changing the world one Instagram post at a time.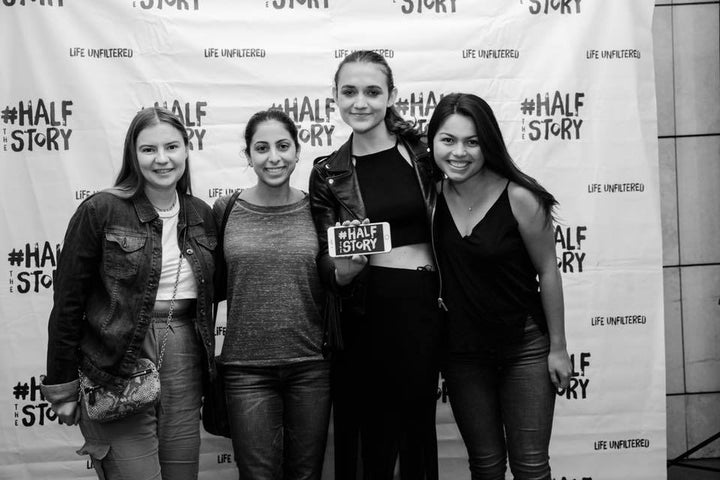 Support HuffPost
The Stakes Have Never Been Higher
Related
Popular in the Community