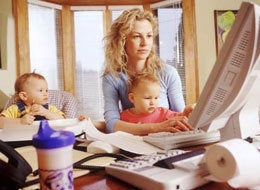 Right now, with all the financial distress going on round the world, many of us need all the help we can get in our working lives and in the next two weeks help comes from my direction by assisting you to make the layout of your office space more effective and draw in new energy in to your business. This week we will focus on the home office, although if you tend to work at an outside office you will also find these tips very useful. So here are the first five very simple changes that can potentially help make you more effective and change the atmosphere of your working environment for the better.

Tip 1: Have less stuff! It's true that some creatives thrive in a messy environment, but they really are in the minority. Most of us need to clear up our clutter. I have always been of the mind that if you haven't used something in the last 6 months or year at the most, then get rid of it. In the case of an office if it is too messy, then it is very hard to think freely, have new ideas or make space for new business to come in when you are surrounded by mess. Be extra careful if you have too much furniture in there as well, as we tend to put bits on any free surface. A good layout means that you can freely move around the room.

If you're home office is clear, your head will be clear. You are getting rid of the old, to make way for the new. If you find it hard to start, then visualize what it would look like if it were clear and imagine how you might feel when it's done, then put time aside to do it. If you're still kicking and screaming, tidy up in stages or do one bit of clutter each day.

Tip 2: Take Control. Your desk is like your bed in your bedroom, you need to have it in the commanding position, which means as far away from the door as possible, either at an angle or with your back to the wall so that you don't feel overwhelmed. Make sure that the desk faces out towards the door, so you have the widest possible view of the room and can see anyone who is coming in or out. You'll find that you work much better in this position. If, for some reason, you can't face the door, put a mirror up so you can see the door by glancing up and looking in to the mirror. If one side of your desk is up against a wall, pull it away so that you can flexibly get in and out on both sides from behind the desk.

Tip 3: Clearing your head. The office is a hot bed of electrical equipment and EMFs. One way to absorb some of it is to have a large plant in the room. This also helps to soak up any poisonous construction materials and formaldehyde if you have carpets.

Tip 4: Light Up Your Room. Make sure you have proper lighting in the office. It's really good to have a bright light on the desk as the pool of light helps you to focus on that area and also, please, no fluorescent lights in the office or anywhere really as they can they cause headaches. It is better to use full-spectrum, energy saving light bulbs, which replicate natural light.

Tip 5: Turn off the TV. If you have a TV in the office, it will distract you, as it is brighter and stronger than your desk lamp. Nine times out of ten you will be tempted to turn it on when you really want to be focusing on your work. If you have no other place for it, except for the office, then cover it up when you are working to reduce the temptation.

That's it for this week, next week there will be 5 more office layout tips with our focus on the office outside of your home, but also some additional very useful tips for the home office. In the meantime, if you want to contact me please do so at sophie@howhappyis.com.