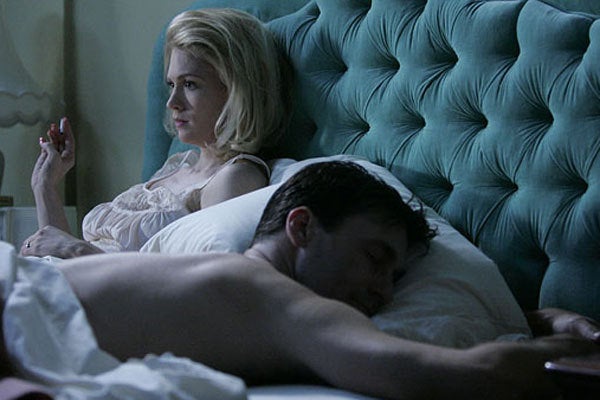 Some people complain of too much sleep and not enough sex and others, too much sex and not enough sleep.
A client of mine, Jim, wanted to have as much sex as possible, with as many women as possible. His bed was the main feature in his house. It was positioned slap bang in the center of the bedroom, surrounded by a high wooden stage, which covered the whole bedroom, so you had to step up on to the platform when you entered the room and the window was positioned a foot behind his head. He did indeed, get lots of sex, but very little sleep.
Then there's Leslie, another client, who had just moved to a beautiful new house and had decided it was time that she and her husband upgraded from a queen size bed to a king size bed. But for some reason she and her husband started to have way less sex than usual and a hell of a lot more sleep! In both these particular cases the clients' problems and solutions lay with the size and location of the bed. So this week's tips are about your position and choice of bed.
Do you remember how important I said the entrance was to the house? (If not, click here.) Well, the master bed is also one of the major power points in the house, as it is where we are nourished on a physical level.
TIP 1. Make sure the head of your bed is against a wall. This will make you feel secure when you sleep and help you have a good night's kip. When Jim built his bed, he obviously wasn't interested in having much sleep. However, it had come to the point where his lack of sleep, due to the lack of safety he felt from the bed's position, was affecting all areas of his life negatively. He was so tired during the day that he couldn't concentrate at work. He obviously had to be convinced that getting rid of his platform and putting the headboard against the wall wasn't going to cramp his pulling power!
TIP 2. Make sure that when you're lying in your bed that you have the widest possible view of the room and can see the door easily. This commanding position will give you a sense of feeling in control. If the only place for the bed is on the same side of the door, then put a mirror up on the wall opposite the door, so that when you're in bed you can easily see reflected in the mirror anyone who might be coming in through the entrance, without feeling like someone is creeping up on you.
TIP 3. The problem with king beds in America is that they are so big, that the box spring comes in two pieces and that creates a hidden split in the lower layer of the bed and can possibly affect our relationships. Now, you can remedy this in a few ways. Firstly, you can go out and buy a queen size bed or even easier, you can get a red sheet and put it between the box spring and the mattress and visualize the two box springs merging together and unifying your relationship on all levels. Then imagine lots of action! See if that works. In this case, it actually did work for Leslie who is in a very happy marriage.
TIP 4. If you are single and want to be in a relationship, make sure you have two bedside tables on either side of the bed, no matter which side you are on, and enough pillows for someone else to sleep with. By doing this you are psychologically making the space ready for someone to enter and inhabit it.
TIP 5: Getting a new bed can symbolize a new start in life. It's a very powerful symbol of drawing in fresh opportunities. A good time to get a new bed is when a long-term relationship has ended, when one of you has been very ill in the bed for a long period of time, when you are getting married or even when you move house. If you have a bed that has been handed down, in many ways that bed carries the energy from the last person who used it. So when you're ready to splash out, get one of your own.
The last thing that I wanted to say as an added bonus tip this week, which is nothing to do with your bedroom, is if you have a guest come to stay and you have the luxury of choice, try to have the guest room at the front of the house, because if it's at the back they might get too cozy and outstay their welcome. I mean, why leave if you're that comfortable? I went home to London for a few weeks five years ago, and a friend asked me to stay with him. It was meant to be for ten days, but lo and behold, his guest room was at the back of his house and I ended up staying for three months. Now, it so happened that, in this case, it was meant to be, as in that extra time I met my husband, Oliver. Now my friend has moved house and we joke that his guest room is called 'Sophie's room.'
With the bedroom foundation strong, we are now ready to move from the physical aspect of the bedroom to the more emotional aspects of our relationships. Next week: What do you do if your partner's snoring keeps you up all night?
Remember, these tips aren't for everyone, but they might be for you!
If you would like to contact Sophie you can at sophie@howhappyis.com