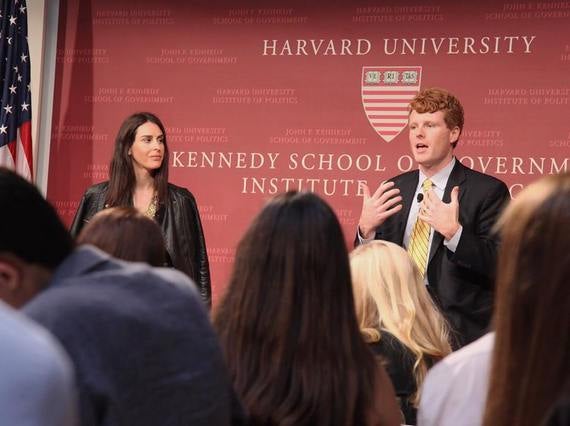 This post was originally published 10/06/2015 10:33 am ET
"Millennials should have a huge impact on every election across the country." - Congressman Joe Kennedy III (D-MA), speaking with Rock the Vote President Ashley Spillane in the JFK Forum at Harvard's Kennedy School of Government.
On the last weekend of September as the leaves began to turn brown, the Harvard Institute of Politics hosted over a dozen of its consortium partners at the Kennedy School of Government for the 2015 National Campaign Conference to brainstorm plans for increasing voter registration and political action at their respective schools.
The Harvard University Institute of Politics, well known for its polling data on voting patterns, created the National Campaign back in 2003 to explore ways to translate Millennial buzz around social justice and service into more tangible civic and political outcomes.
Millennials have long been a political enigma. In many ways, they are the generation most civically engaged. A look at the front lines of those movements pushing for fundamental change to our nation's systems is often a glance at a cross-section of American youth. Yet, a look at the voter turnout statistics in recent years reveals that this civic-minded generation - pioneering the nation's shift toward social liberalism, institutionalizing radical thought in higher education, getting involved in more service projects than any other group before it - has not been consistently active at the polls. According to Tufts University's CIRCLE (Center for Information & Research on Civic Learning and Engagement), in the 2012 presidential election around 49% of Americans ages 18-29 voted. In the last two congressional midterm elections, however, when President Obama has not been on the ticket, millennial turnout hovered around 22%.
Nearly 78 million Americans were born between 1980 and 2000. The Pew Research Center defines "adult Millennials" as those born between 1981 and 1996. This means Millennials have now overtaken Baby Boomers as the most populous demographic. "But young people are not capitalizing on that power [they have] in numbers," says Nancy Thomas director of Tufts' National Study on Learning, Voting, and Engagement.
The Harvard IOP and its partners have updated their attempts to bolster turnout levels through tool sheds of the information age like TurboVote with whom they collaborate. TurboVote aims "to bring the awesomeness of the Internet to the process of democracy," by mailing users the voting forms they complete online (with an addressed, stamped envelope) and by giving users text and email reminders about electoral info, dates, and voting deadlines. The organization, which began in 2010, claims over 250,000 people have signed up since 2012.
The growth of TurboVote and the triumph of many consortium schools' voter registration drives in 2014-15 were happily championed. And multiple success stories were touted during 'share-outs' aimed at measuring the efficacy of last year's initiatives to promote campus dialogue on voting rights/accessibility in college towns. Still, the student ambassadors as well as the administrators running the conference sessions found solutions for broader issues, such as how to increase likeliness to vote, to be less straightforward.
Student civic leaders from Geaux Vote at Louisiana State University claimed to be struggling to reach their peers because their registering activities are restricted to the campus' Free Speech Alley, which Kaylin Parker says is notorious for "the religious protester people telling you that you're like, going to hell."
Jon Torres from the University of Oklahoma said that their efforts to promote political discourse were greatly aided by the enthusiastic support they received from the president of the student body - who he says has a loyal following of over 3,000 students on Twitter.
National Campaign, which professes that it is nonpartisan, continued last conference's theme of bipartisan engagement. Ashley Spillane who served as a moderator during a panel discussion in the JFK forum with Congressman Joe Kennedy (D-MA) and Congresswoman Elise Stefanik (R-NY) is in her first year as President of Rock the Vote, the iconic youth organization that came to prominence during its partnership with MTV in the 90's.
Spillane has tried to reinvigorate Rock The Vote's impact by partnering with popular culture favorites. The organization has put out a "Turn Out for What" campaign with the help of Lil Jon and Lena Dunham and paired up with Kendall Jenner for a PSA on National Voter Registration Day.
At the conference, Spillane called on the student ambassadors to support her in making the act of not just protesting, but voting cool again.
Mo Elleithee, executive director of Georgetown's newly formed Institute of Politics and Public Service, said he got involved with the Harvard IOP's National Campaign in order to "learn from students."
Elleithee condemned the school of thought that only validates lecturing from professionals: "Everybody agrees politics sucks. It's true, everybody says politics sucks right now and they are right. But, politics is great, when it's done right. So maybe what former practitioners of politics like me should do is listen to you all. Maybe you all have some better ideas for how to make this thing work."
This post was originally published 10/06/2015 10:33 am ET
Popular in the Community