Love lasts forever. But what if it doesn't? What if we have it and it goes away? What if we have it and it turns into something hurtful? What if we think we have it only to discover that it was never love at all?
Most of us can relate to one of those scenarios. Which means heartbreak -- the intense pain science says has powerful effects on our emotional and physical health, and that can even cause death -- is a pretty universal experience. Yet we often are willing to love again. Why?
To understand how men and woman let heartbreak -- or the fear of it -- dictate their lives, San Francisco Bay Area artist and author Veronica Napoles and I started the "Gravity of the Heart" project.
We were inspired in part by French conceptual artist Sophie Calle's "Take Care of Yourself," an exhibit based on the responses she received from 107 of her female friends to an email her boyfriend sent dumping her, and that was the talk of the 2007 Venice Biennale.
Then one day as I was cleaning out a closet, I came upon dozens of love letters my former husband had sent to me when we first met, in pre-Internet days, and when we lived on opposite sides of the country for six months. More than a decade out of that marriage, with no ambivalence or regrets about the decision to split, I questioned what I should do with them -- destroy them? Leave them for my kids as proof that, yes, their parents once love each other passionately?
As two divorced women who believed in the "until death do us part" narrative, Veronica and I hoped to create a dialog about loss, which then became a multimedia exhibit -- the first exhibit, and the first juried exhibit, to explore heartbreak. And while the loss of romantic love often comes to mind when most of us think of heartbreak, we wanted the project to explore all sorts of loss. And it does.

Artist Mary Southall (above) created three mixed-media works that speak to three sudden deaths — a motorcyclist friend killed in an accident and buried on his 34th birthday, leaving behind a wife of just one year; a nephew, 17, taken off life support by his parents after the car he was a passenger in was struck by another vehicle that ran a light; and a teen starting high school along with her son who was fatally stabbed on a street corner.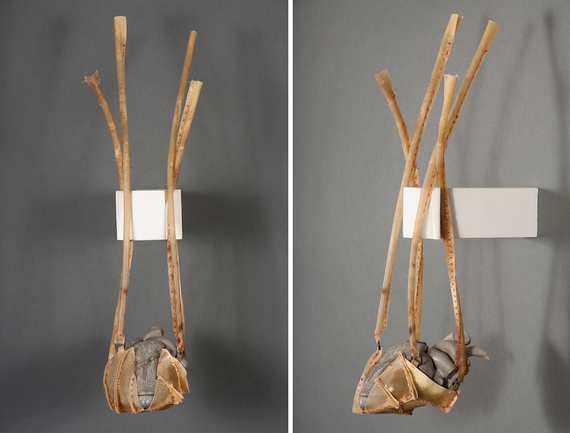 Francis Baker III's heart sculpture of concrete, rawhide, thread and wax (above) is engraved with the names of the teenaged soldiers "who have died as a result of the United States' recent wars" while Sandra Rubin's painting (below) speaks to the plight of refugees.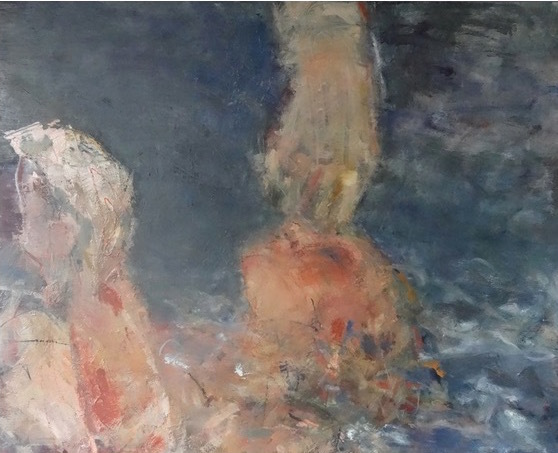 For BJ Thrailkill (below), the death of a sparrow she stumbled upon was a reminder of "how quickly things can change in our lives; loved ones can leave suddenly and sometimes for good."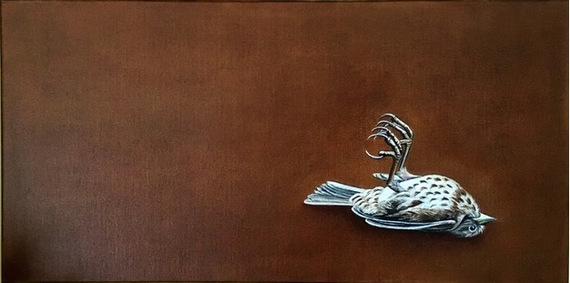 Although her parents divorced years ago, Stephanie Thwaites (below) says it was her first heartbreak, and whenever she has experienced loss since "I become that little girl again."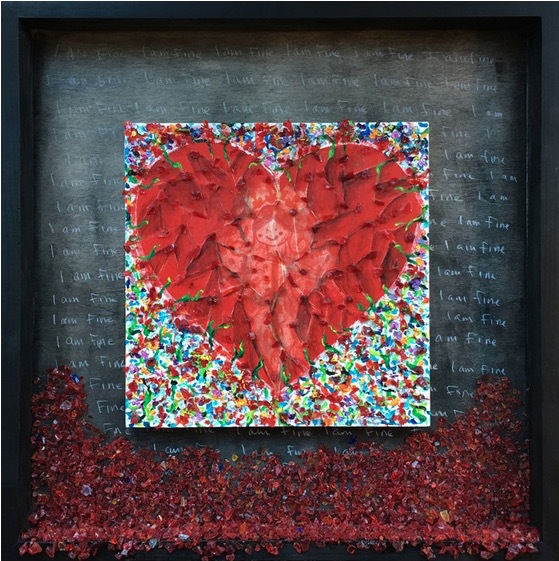 But just as many artists expressed their anguish over romantic love -- whether lost, anguished, smothering or incomplete love.
While "Gravity of the Heart" will be on exhibit from Feb. 12 to March 4 at Art Brokers Gallery at 425 Irwin St. in San Rafael, California, we plan to continue the exploration of heartbreak after the exhibit ends. We hope you join us.
The "Gravity of the Heart," juried by longtime gallerists Donna Seager, co-owner of the Seager Gray Gallery in Mill Valley, California, and David Coyle, owner of the Art Brokers Gallery in San Rafael, California, will be on exhibit from Feb. 12 to March 4, at Art Brokers Gallery at 425 Irwin St. in San Rafael, with an artist reception from 6 to 8 p.m. Feb. 12. Learn more at our Facebook page and at ArtBrokers
Related
Popular in the Community