"How 'Heealthy' - A medical tourism startup from India is revolutionizing healthcare by identifying , managing & solving complex and costly medical cases at fraction of cost!"
High-need, high-frequency patients over utilize acute care services, a pattern of behavior associated with many poor outcomes that disproportionately contributes to health-care costs. Interest in high-need, high-cost (HNHC) patients has intensified in recent years as health-care systems increasingly focus limited resources on high-risk patients to prevent the unnecessary use of costly services. To meet the needs of HNHC patients, many organizations(Read Hospitals and Government Organizations) are developing specialized intensive management programs, offering enhanced clinical access, care coordination, medication reconciliation, support during transitions from hospital to home, and referrals to social and community services.
The most complex HNHC patients have a constellation of chronic disease, psychiatric diagnoses and substance use disorder. Patients in this group are often duel eligible, having both Medicare and Medicaid, and they represent one of the highest cost groups in the health-care system.7 The complex needs of the population are often beyond the management capabilities of a typical primary care practice. Stabilization in the population requires an integration of disciplines traditionally separated by specialty and regulations that divide medical, psychiatric, and substance use information into disconnected documentation systems. Heealthy a medical tourism company has taken this up to make sure that the HNHC patients get the result based treatment at minimal cost using the platform HealOS.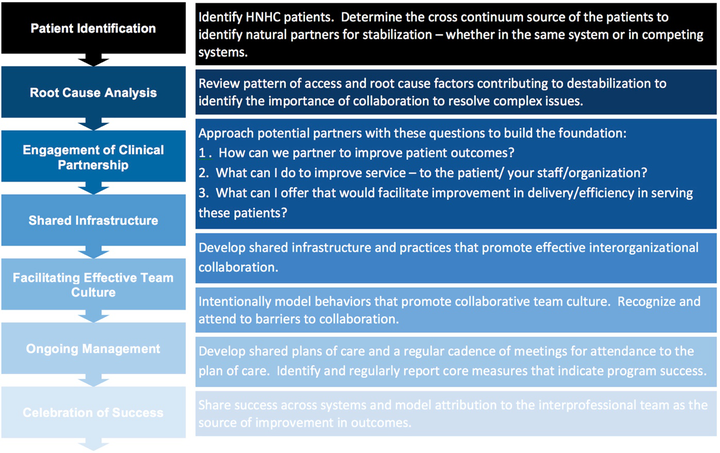 Collaboration and coordination with treating physicians to mitigate shortcomings of health care delivery systems:
Vertical and horizontal twin integration strategies for communication flow within Physical Hospital Organizations, Primary Care Physicians creating Integrated delivery networks.
Coordinated care is paid for and, considering the esteem, conveyed.
Individuals are enrolled and instructed to know their breaking points, to put stock in the framework and their partners, and to expect consummate aggregate execution or rectification with every disappointment.
Care is coordinated around populaces, and the care conveyed is ideal for the person through methodical utilization of proof.
Embedded expert second opinion for significant improvements in care quality and an improved provider/patient experience:
Better leverage of cross unit opinion into an integrated system for eliminating error
Cloud based recording system for ease of access to experts all over the world.
Geographical barriers dissolves and the cost of treatment lowers down.
Highly innovative and successful approaches to identify and manage complex and costly cases to unlock cost containment in unexpected places:
Data analytic approach towards vaccine manufacturing.
Artificial Intelligence to explore the disease the history of a patient and create an opinion over the current disease and subsequent recovery.
Low cost lab and image diagnosis.
Understand how collaboration between providers, care managers, Best Doctors specialists and others is critical to obtain the right diagnosis and the right treatment:
Each time a patient gets a misdiagnosis or deferral in analysis, it takes a mental and financial toll.
Coordinated effort yields noteworthy change therapeutic care and part encounter.
Specialists clinicians work with treating doctors to guarantee the patient gets the best care, so the patient doesn't need to leave.
Lowers cost
Analytics to determine the root cause of a disease.
Hear about the positive impact and outcome for patients (members) and providers:
Patient satisfaction prompts client loyalty
Associations are less defenseless against price wars. There is adequate proof to demonstrate that associations with high client dedication can order a higher cost without losing their benefit or piece of the overall industry.
Expanded staff spirit with decreased staff turnover additionally prompts expanded efficiency
Discover where data and analytics fit into this approach to identify highly complex, high cost cases:
Predictive modeling to bring down steady loss and create a less fatty, speedier, more focused on R&D pipeline in medications and gadgets
Statistical tools and calculations to enhance clinical trial outline and patient enlistment to better match medicines to singular patients, consequently lessening trial disappointments and speeding new medications to advertise
Investigating clinical trials and patient records to distinguish take after on signs and find antagonistic impacts previously items achieve the market.
Learn how and where a service like this finds cost containment in unexpected places:
By digitizing, consolidating and successfully utilizing enormous information, medicinal services associations going from single-doctor workplaces and multi-supplier gatherings to expansive clinic systems and responsible care associations remain to acknowledge noteworthy advantages.
Potential advantages incorporate identifying infections at prior stages when they can be dealt with more effortlessly and successfully; overseeing individual and populace wellbeing and recognizing human services misrepresentation more rapidly and proficiently
Certain advancements or results might be anticipated as well as evaluated considering tremendous measures of recorded information.
Gain insight into how a service like this will be changing health care delivery to improve outcomes and reduce costs:
The patient safety will be increased by manifold
Scientific evidence backed healthcare will increase the effectiveness of the treatment.
The treatment will be more time oriented utilizing critical moments before the situation goes out of hand.
The treatment will be more patient centric.
HealOS, 'Heealthy' block-chain based collaboration and process driven platform makes sure that the patient is now accessible through one gate to multiple stakeholders in different times. Collaboration between neighboring competing health systems and stakeholders that share a select group of complex patients is an effective way to stabilize care, decrease healthcare system over-utilization, improve healthcare delivery, and reduce the costs of associated care. Our intervention model provides a framework for inter-organizational collaboration in healthcare. In health systems around the world, the focus of current reform efforts is to achieve higher quality, more cost-effective care.
Popular in the Community