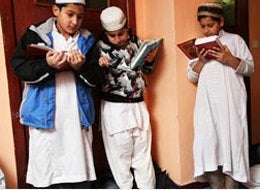 In 2007, the Robert Sterling Clark Foundation awarded a $200,000 grant to the Brooklyn Academy of Music, the Asia Society and the Center for Dialogues at NYU to help support an Islamic Festival accompanied by an academic conference in New York City in the spring of 2009. This project was considered for support as part of a new Foundation initiative to explore the possibility of developing a grants program to promote global understanding through international arts exchange. Recognizing the power of art to bridge cultural divides locally and internationally, it was our expectation that the Festival would serve as a significant demonstration of the power of art as a tool of public diplomacy.
The objective of Muslim Voices: Arts and Ideas was to create greater understanding between Western and Muslim Communities through the unique power of cultural exchange. Ultimately, the project proved to be the largest multi-venue celebration of Islamic culture ever presented in the United States, reaching a total live audience of more than 23,000 people. Further, a three day academic conference was held by the Center for Dialogues that brought together over 40 scholars, artists, government officials and cultural practitioners from the U.S., Europe and across the Muslim world to discuss how cultural exchange can contribute to establishing a relationship of respect and mutual understanding between east and west. In addition to the three sponsoring institutions, both the Metropolitan Museum of Art and the Brooklyn Museum mounted extensive exhibitions of Islamic Art drawn from their Islamic collections. And while BAM and the Asia Society presented the work of Muslim performing and visual artists, the New York Public Library joined Festival sponsors by hosting presentations and discussions of contemporary Muslim literature. Muslim Voices received global press coverage originating from as far away as Egypt, Pakistan, Taiwan and Saudi Arabia, as well as from some 45 communities throughout Europe and the United States. Now, nearly five months after the presentation of Muslim Voices, participants and others continue to participate in conversations begun at the Festival. The artistic programs are currently being installed on the Asia Society website where they will be presented in their entirety to global audiences. Further, the academic conference proceedings have now been published on the Center for Dialogues' website. Because of the demand for hard copies of the proceedings, the Center is currently planning on publishing and disseminating a hard copy version of the report.
Muslim Voices: Arts and Ideas exemplifies how cultural exchange can promote dialogue that elevates discussion and understanding of our shared aspirations. By any standard this undertaking has been a magnificent success creating fissures in the hard lines of the landscape between the Muslim World and the West.