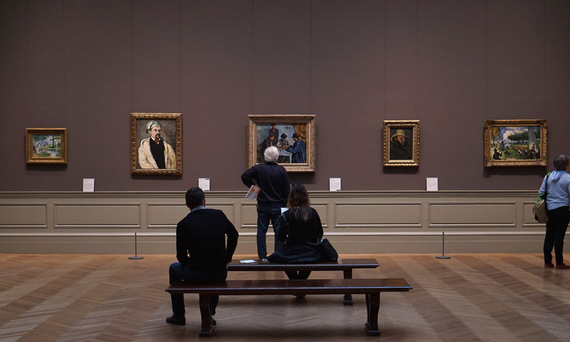 Perhaps no other American author has had his writing style more widely examined, more often imitated, and more intensively deconstructed than Ernest Hemingway. No one seems able to get their head around the intricacy he brings about via such simplicity. Hemingway used only the most necessary words, then pared them down even further. He employed understatement to suggest depths of drama and emotion. He left the most important things out and made them all the more compelling for it.
Swaths of writers who came after him, from Jack Kerouac to Raymond Carver to Joan Didion, developed their own writing identity only after copying his. We, like them, wonder where did he learn it, and from whom. But Hemingway didn't aspire to write like any other writer. Instead, he wanted to write the way Cézanne painted. In service of understanding this influence more viscerally, I ended up at New York's Metropolitan Museum of Art one sunny afternoon this spring.
I was, incidentally, following in Hemingway's very own footsteps. He came to this museum in 1950 with his son Patrick, his wife Mary, and the New Yorker writer Lillian Ross, who wrote about the outing for the magazine. He did not much care for New York City -- "This ain't my town," he said -- and took pride in never having lived here. He stayed at the Sherry-Netherland, caught up on some shopping needs, and like any schmuck, made a date to see an old friend while he was passing through. That the date was for champagne and caviar with Marlene Dietrich did not change the fact that Hemingway was a tourist in this town.