A $10,000 wig. A squandered "First Wives Club" reunion. The last-minute addition of Rihanna's joints. A lot can happen when Hollywood producers cast the summer's biggest ensemble comedies.
From "Tag" and "Ocean's 8" to "Sorry to Bother You," "Book Club" and this month's much-anticipated blockbuster "Crazy Rich Asians," 2018 has been an eventful year for large comedy showcases. In this summer's releases, carefully chosen troupes pretend to be lifelong friends, synchronistic criminals, corrupt co-workers, legacy-obsessed relatives and Fifty Shades Of Grey disciples ― all with the kind of lived-in chemistry it takes mere mortals decades to develop.
But how does one plumb the depths of the entertainment industry to construct such ideal casts?
I asked the folks behind five of the season's major movie releases for some insight. The hiring process for these films involved a great many things: a pricey hairpiece to ensure Tessa Thompson's availability, the realization that Goldie Hawn and Bette Midler might not be the best members of an erotica-focused book club, and a character tweak that allowed for more, well, blunts.
So if you were wondering how someone like "Crazy Rich Asians" casting director Terri Taylor oversaw a global selection process to fill the movie's 80-some speaking rolls, read on.
"Crazy Rich Asians"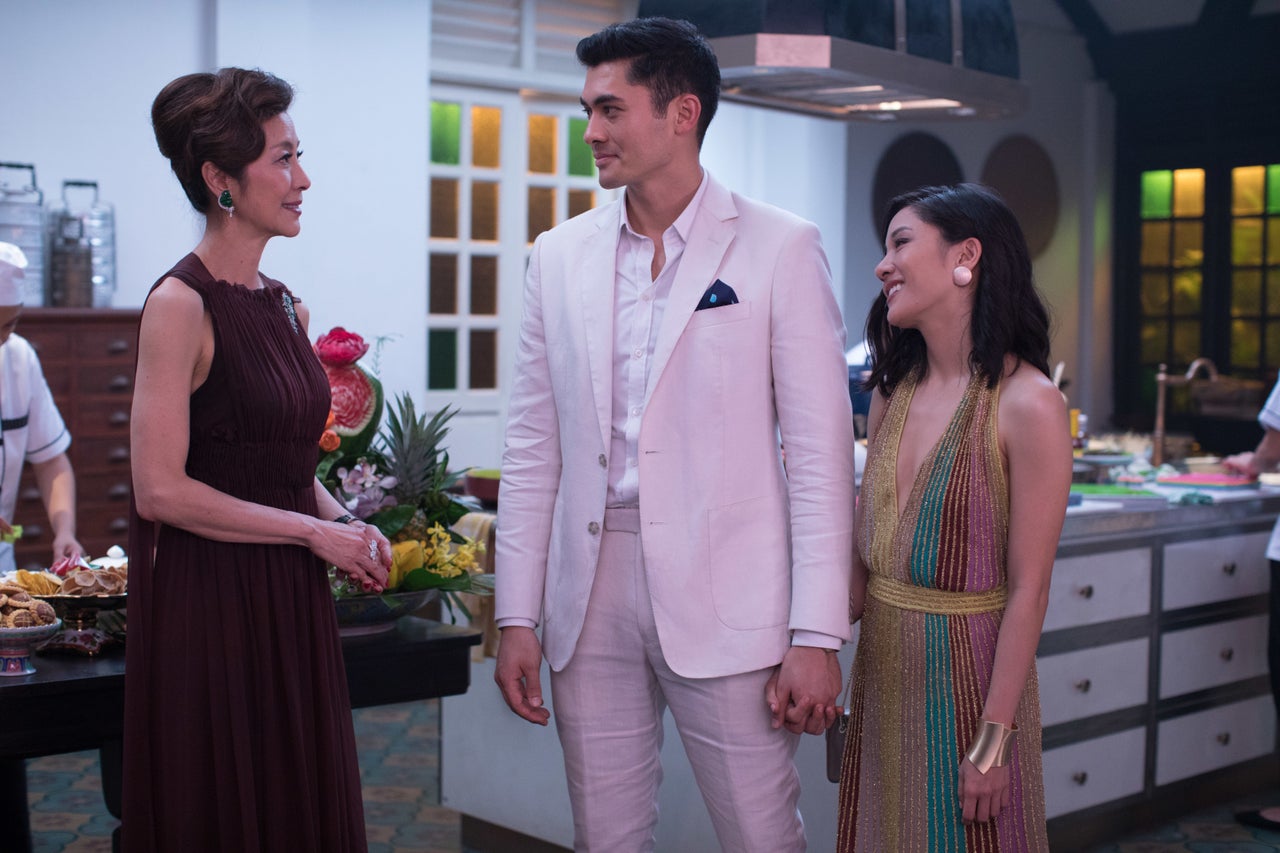 Summer's final frothy blowout, "Crazy Rich Asians," has 80-some speaking rolls, according to casting director Terri Taylor, who oversaw a selection process that spanned the globe.
Taylor had worked with the movie's director, Jon M. Chu, on "Step Up 2: The Streets" and "Jem and the Holograms." Channeling Kevin Kwan's best-seller, they settled on two certainties: Constance Wu (for the role of New York-based economics professor Rachel Chu, who travels to Singapore for her wealthy boyfriend's friend's wedding) and Michelle Yeoh (for the role of said boyfriend's rigid mother). Together, they represent two generations of Asian popular culture; after all, this is the first Hollywood studio movie to revolve around Asian-Americans since "The Joy Luck Club" 25 years ago.
Every piece of the casting puzzle was built around Wu, with the exception of Yeoh, a fixture of Hong Kong action films who found stateside success with "Crouching Tiger, Hidden Dragon" and "Memoirs of a Geisha." No one else was offered either role, according to Taylor. In fact, the shoot was postponed by five months so it wouldn't conflict with Wu's "Fresh Off the Boat" schedule.
For the role of Rachel's studly boyfriend, Nick Young, Taylor and Chu wanted to find a relative unknown who could capture what Kwan had presented in his novel: "the fantasy version of a man" so beautiful he "can walk between the raindrops," as Taylor put it. After an exhaustive search, they narrowed the gig down to three potential suitors, each of whom had to prove his chemistry with Wu. In the end, Henry Golding ― a TV host recommended by an accountant in the production's Malaysian office ― proved to be their special guy. But Taylor and Chu liked one of the other two finalists, Remy Hii, so much that they cast him to play Nick's cousin, Alistair Cheng.
In addition to Wu and Yeoh, two other actors didn't have to audition. For the role of Rachel's best friend's father, Ken Jeong ("Community," "The Hangover") was a no-brainer. And Chu's close relationship with "Step Up" alum Harry Shum Jr. easily won him the part of Charlie Wu, the former fiancé of Nick's famous cousin Astrid Leong.
Taylor said she had no pressure from Warner Bros. to cast other famous folks, partly because the roster of Asian actors with marquee value is depressingly short. The goal, instead, was to strike a balance between ridiculously beautiful people who could slide into a satire about wealth and materialism, à la "Secret Diary of a Call Girl" regular Gemma Chan, and eccentric character actors who could bring pizazz to peripheral standouts, à la "Silicon Valley" regular Jimmy O. Yang.
As for the movie's jackpot? That would be Awkwafina, summer's biggest scene-stealer. She'd been cast as one of the eight in "Ocean's 8," but her profile was still relatively low when she sent in a tape for the role of Rachel's kooky college BFF. Taylor and Chu thought she seemed young, but they had her read for the part in Los Angeles anyway. She was too "hilarious" to pass up.
"Sorry to Bother You"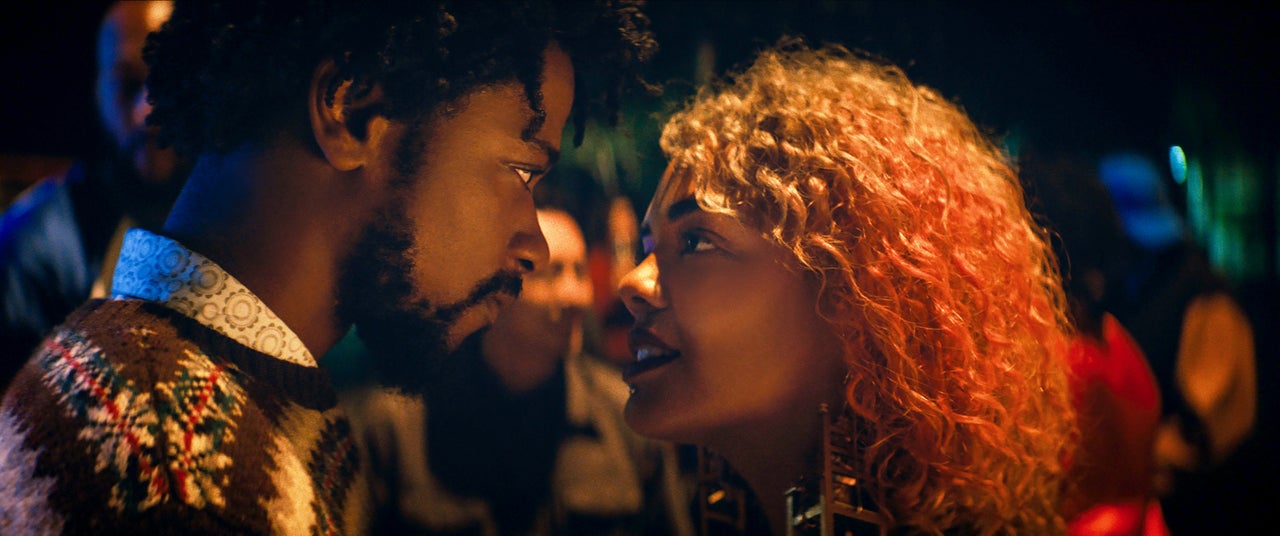 And now, the case of the $10,000 wig.
While shooting "Sorry to Bother You," the surreal firestorm that became one of this year's breakout Sundance hits, Tessa Thompson spent her weekends doing "Thor: Ragnarok" reshoots. Here's the glitch: For "Sorry to Bother You," made in summer 2017, Thompson dyed her short curls neon orange. But "Ragnarok," which had wrapped its principal leg of production the previous October, required long, flowing dark hair.
In order to do the movies concurrently, writer-director Boots Riley said, Disney had to make Thompson a wig that cost ― wait for it ― $10,000. The Marvel parent company was apparently none too happy about the situation, even if that sum is tiny in light of "Ragnarok's" reported $180 million budget. Riley later apologized to "Ragnarok" director Taika Waititi, who insisted he was cool with it. "He was like, 'It's not my money!'" Riley said.
(A representative for Disney did not respond to a request for comment.)
The wig predicament capped off what is easily the best-cast movie of the summer: an avant-garde experiment about a hard-up striver who lands a job at an Oakland telemarketing agency with a penchant for indentured servitude. Riley, best known as the lead vocalist for the hip-hop group The Coup, had seen "Short Term 12" and one episode of "Atlanta" when he considered Lakeith Stanfield for the lead, wanting someone who isn't blockbuster-famous. Worried at first that Stanfield looked too young, he quickly learned the perpetual oddball was a "very old soul" more interested in craft than fame.
When Riley approached Thompson's agents about the role of Stanfield's activist girlfriend, they said she was "offer-only," industry lingo exclusive to veteran actors who no longer audition. "I don't care how famous someone is," Riley said. "I want to see the chemistry read." Thompson, who apparently didn't know her representation was insisting on offer-only, hopped on Skype to do a scene with Stanfield. Riley was convinced he wouldn't be sold on a digital try-out, but he was wrong. "There was fire on that laptop screen," he said.
The supporting cast is, in hindsight, a stroke of genius, as many of the actors have become more famous in the year since they made "Sorry to Bother You." Armie Hammer is electrifying as a rapacious corporate overlord because it's so different from his soft work in "Call Me by Your Name." Omari Hardwick sheds the intimidating demeanor he brings to "Power" to play a stylish telemarketer climbing the ladder. And for the role of a biting office manager, Riley wanted absurdist stand-up Kate Berlant so badly he told the movie's producers, who were pushing him to find someone more famous, that he would pay her salary out of pocket.
"Tag"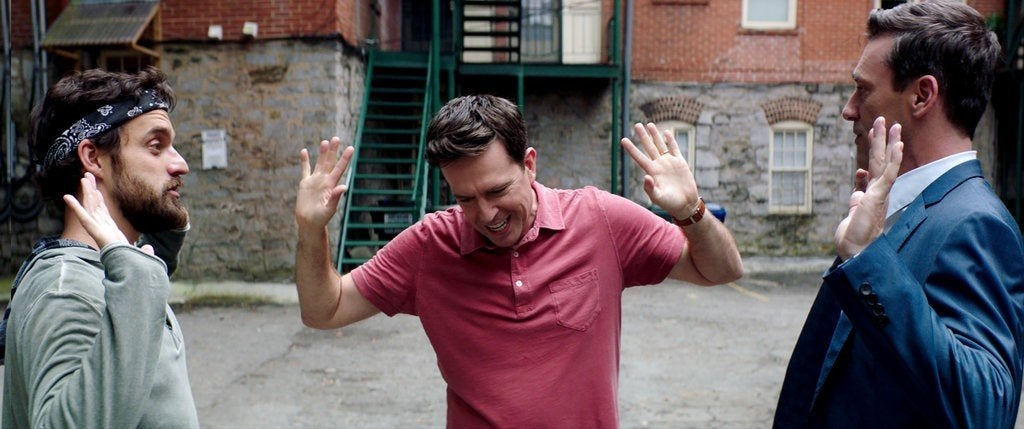 The movie that went through the most dramatic casting evolution was "Tag," a comedy that somehow stretched its premise about a group of adult friends playing tag into a feature-length film.
After The Wall Street Journal profiled the clique's real-life counterparts in January 2013, an unlikely bidding war broke out, with more than half a dozen producers angling for the rights to their story. By mid-February, they struck a deal with New Line Cinema, and by April of that year, "Step Brothers" co-stars Will Ferrell and Jack Black were attached to the lead roles.
But landing a working script was slow-going. In 2015, New Line hired a new writer to rework the material, and Ferrell and Black exited the project shortly thereafter. When Jeff Tomsic ("Broad City," "Idiotsitter") signed on to direct the following year, he pinpointed Ed Helms ― a studio-comedy superstar if there ever was one ― as the movie's anchor point. Tomsic cast Helms as a "more ridiculous" version of himself: the affable goofus "lost in his own heartfeltness" and working to keep the friends' decadeslong tag tradition alive. Tracy Morgan, whom Tomsic said was "super gung-ho," also signed on alongside Helms ― but when production was delayed to 2017, Morgan had to back out so he could start his TBS series "The Last OG."
Which character Morgan would have played is unclear even to Tomsic, as the script continued to evolve with each casting. James Marsden was in talks to play one of two polar-opposite characters: the cocky CEO or the divorced stoner ― roles that would eventually go to Jon Hamm and Jake Johnson, respectively. And when Hannibal Burress came aboard to play a sardonic man seeking therapy to improve his well-being, the character was updated to be a "super-smart cyber conspiracy theorist." The only characters that didn't significantly change were those of Helms and Jeremy Renner, who plays the movie's de facto antagonist, a fitness guru ready to terminate the ritual.
After seeing the movie, one extremely Hollywood question lingers: How could Buress, 35, have been childhood friends with Hamm and Renner, who are both 12 years his senior? Tomsic, of course, said it was all about the group's "chemistry."
"Hannibal, honestly, was skewing close to too young, but I knew him well enough and knew his personality and knew he would be able to play a 40-something-year-old," Tomsic said.
So if Buress passes, at what point is young too young? "I think Bieber would've been too young," he said.
"Ocean's 8"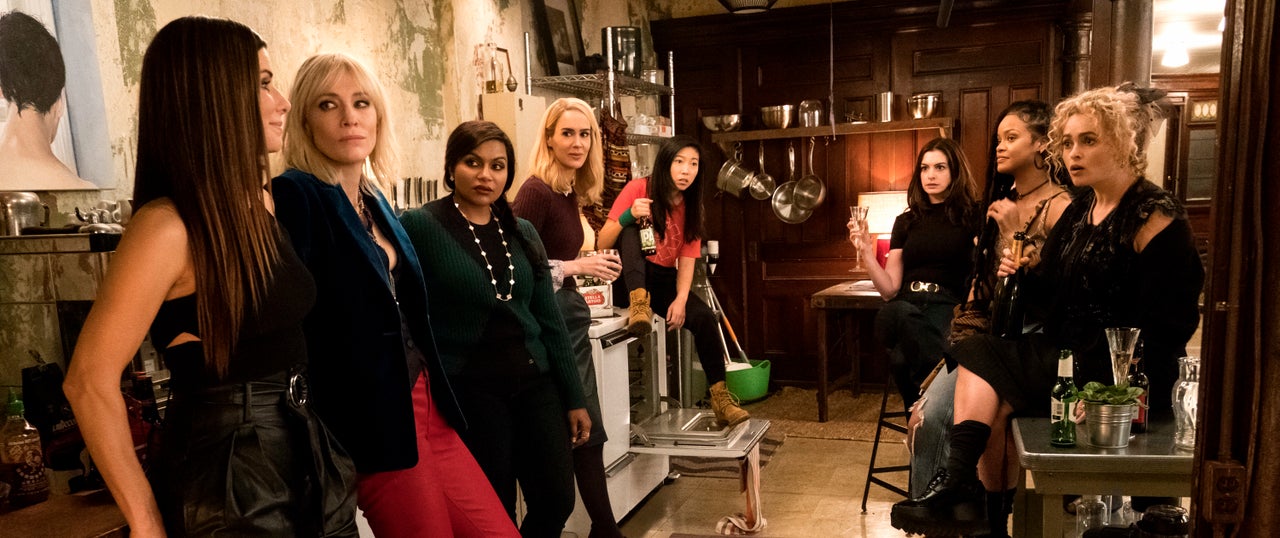 The fat doobies in "Ocean's 8" weren't there until Rihanna came along.
Yes, the all-female heist reboot-sequel was somehow jointless until screenwriters Gary Ross and Olivia Milch thought to cast the pop star as a member of the collective that steals a coveted Cartier diamond necklace at the security-clad Met Gala. Ross flew to Sweden to meet with Rihanna, whose character was then rewritten as a Caribbean hacker so talented she can smoke thick blunts in fancy gowns at the same time she infiltrates historic buildings' surveillance cameras.
Rihanna was one of a few "Ocean's 8" cast members whose characters were more generic before they were hired. When Mindy Kaling signed on, Ross stationed her backstory in Jackson Heights, a neighborhood in Queens that boasts an Indian community with a thriving jewelry industry. When Anne Hathaway joined the team, Milch and Ross had the ingenious idea to satirize the actress' polarizing reputation: They cast her as a Hollywood prima donna whose obsession with her own image is a fulcrum for the theft.
But long before Rihanna and company came aboard, there were two names at the center of the project: Sandra Bullock and Cate Blanchett.
At the time that Ross approached longtime friend Steven Soderbergh about updating Soderbergh's "Ocean's" trilogy with women, Bullock and George Clooney were promoting "Gravity." The world ate up the A-list pairing's charming sibling dynamic, and it dawned on Ross to use their movie-star bona fides to unify the "Ocean's" series: Bullock would play the sister of Clooney's titular mastermind, who is now said to be dead. But why have once central powerhouse when you can have two? Ross desperately wanted Blanchett, so he and Milch initially named Bullock's partner in crime, simply, Cate.
"At one point, she called me and went, 'Ya know, we've gotta change the name at some point,'" Ross said. "She was very, very polite, but she said, 'I don't really think this is a great idea.' She was so kind to us, but it was like, yeah, I guess it's the moment that we should find another name for your character."
With Bullock and Blanchett as anchors, Ross and Milch rounded out the rest of the cast with what they say were their first choices, including Sarah Paulson, Awkwafina and Helena Bonham Carter. It was Soderbergh who'd recommended eight principal players. That way, a potential trilogy could end without risking two movies called "Ocean's Eleven."
"'If necessary, you can do 8, 9 and 10, because, trust me, you won't want to do a fourth,'" Soderbergh apparently told Ross.
"Book Club"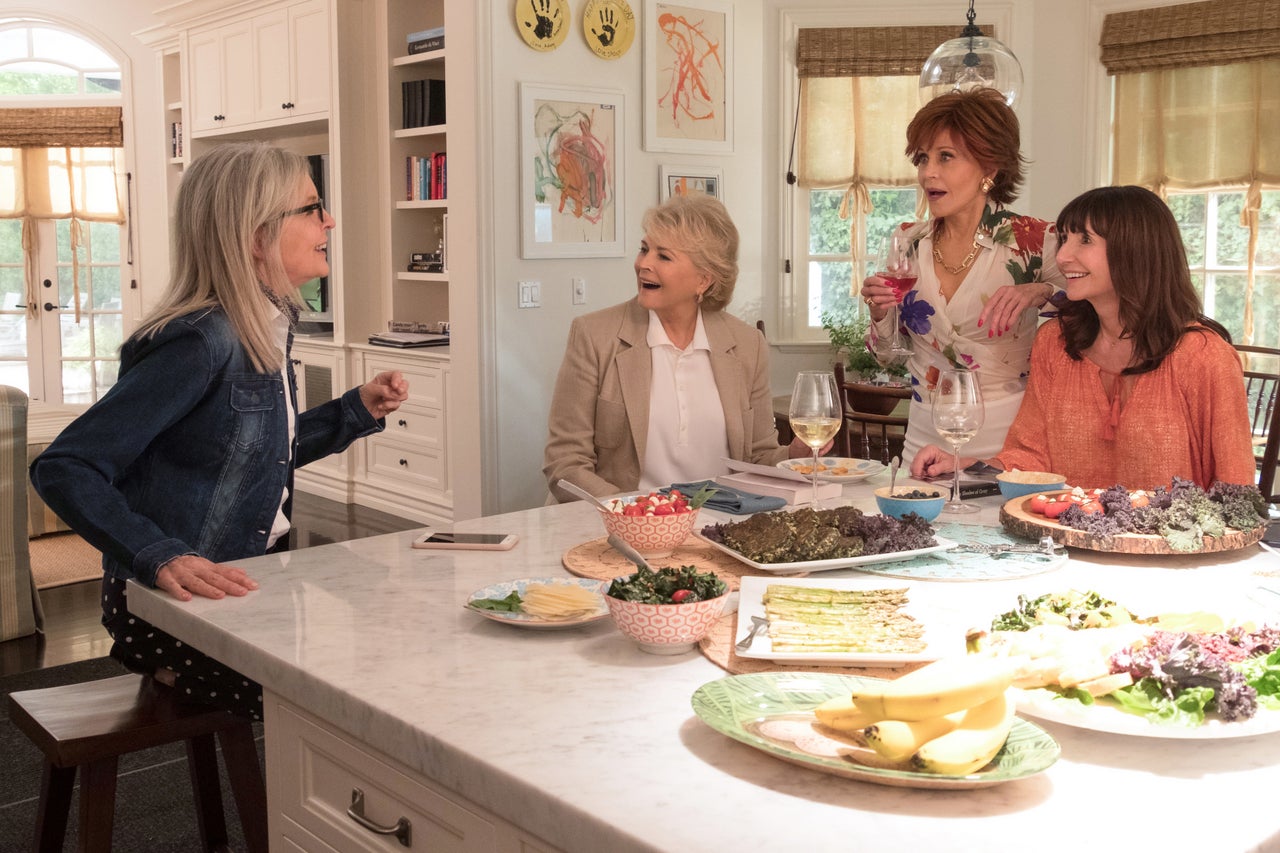 Four women, one book. Endless O-face potential.
In 2012, about a year after the S&M trinket Fifty Shades of Gray became a cultural leviathan, producer and aspiring screenwriter Bill Holderman needed a Mother's Day gift. So he sent his mom a copy of E.L. James' R-rated novel ― an "insane" thing to do, his producing partner Erin Simms insisted.
Naturally, Simms sent copies to her mother and stepmother, too. And then it dawned on them: What if we write a movie about women in their 60s and 70s rediscovering their sexuality via Fifty Shades?
While concocting a story about four book-club friends in various states of romantic drought, Diane Keaton was the first actress who came to mind. Holderman and Simms wrote the widow character specifically for Keaton and considered targeting Goldie Hawn and Bette Midler for a "First Wives Club" reunion. But they didn't want to make too many gay dreams come true ― or, rather, they didn't want to draw too many comparisons to a '90s classic ― so the duo dropped the Goldie-Bette pipe dream in favor of Jane Fonda. They wanted her so badly they originally named the book club's ringleader Jane, just like Ross and Milch had done with Cate Blanchett while developing "Ocean's 8."
Holderman and Simms made the movie without studio funding ― Paramount Pictures later acquired it ― and some production companies that considered backing the project in its early stages tried to talk them into casting younger or using a more generic erotic novel, thinking they'd never get clearance from E.L. James' camp. But they weren't having it. They wanted to write for older women who don't net the type of roles that go to Meryl Streep. Once Candice Bergen's name sprung to mind, she became a must-cast; Bergen hasn't had a lead role on the big screen since "Rich and Famous" in 1981.
Keaton, Fonda and Bergen signed on, and in May 2017, news of the movie became public, leaving us to wonder who would occupy the fourth role. Holderman and Simms sought approval from each of them before casting Mary Steenburgen as the missing literary lioness. "It was a unanimous yes," Simms said.
James' team also saw the announcement and asked to read the script ― a vital step in the development process, as the production needed her permission to show the cover of Fifty Shades. Holderman and Simms were "excited and daunted" to hear her reaction.
"Luckily, we deal really respectfully with the books and what her intentions were, and so she really responded positively to the script," Holderman said. "She immediately told her publisher, 'Let them use the covers,' and she became really supportive and was a great advocate."
None of the women, who have 13 Oscar nominations among them, had worked together before. Each authorized the casting of her respective love interest, letting Fonda work with longtime friend Don Johnson and Keaton reunite with "Godfather Part III" co-star Andy Garcia.
Had Holderman and Simms written a fifth lead, their first choice would have been none other than Barbra Streisand.
Popular in the Community