Houston is a truly American success story and a fascinating city. Houstonians are among the warmest and friendliest urbanites of the Americas, and their city breathes boundless entrepreneurialism, openness and optimism. It is the fourth largest city in the U.S., the oil capital of the world, the most diverse metropolis in the nation and home to more Fortune 500 companies than any city but New York.
Rain caused an estimated $180 billion in damages (America's prior costliest natural disaster, Hurricane Katrina, caused $160 billion in damages). Much of the wreck might not be covered by insurance policies, as a large number of properties were not located within a 100-year floodplain (with a 1% chance of a flood occurring on any given year). Hence, they did not mandatorily have to be insured against flooding, creating the potential for landlords to be left holding the bill. And an estimated 300,000 homeowners could become delinquent on their mortgages due to the overall economic disruption Harvey created.
Houston was founded by two New York real estate entrepreneurs in the 1830s and has grown tremendously since, overcoming a hot and humid climate prone to natural disasters. Just since 2000, it gained 1.8 million additional inhabitants. While it has always had developer-friendly land use regulation, much of the city's success is attributed to it: Harris County has been one of the most affordable large urban areas of the country, and affordable housing has been one of its main assets.
There is certainly a point. Zoning sets the important rules needed to create the environments we live in. It can protect us from harm's way (hurricanes for example), but also create or hinder prosperity, an aspect of housing policies oftentimes underestimated and misunderstood. For instance, it can promote the development of businesses by clustering some geographically. It can foster tourism by protecting the architectural character of specific areas. And if well thought, it allows workers to easily move to cities where companies need to hire them, at a cost of life they can afford.
Among real estate investors, Houston is known to be the sole large city in America with pretty much no zoning. That allowed it to develop West dramatically over the past decade. If zoning is to be debated, it is important that it not impedes Houston's recovery and more than that, its overall growth trajectory –especially at a time Southeast Texas still has to get over the oil price crash of 2014-2015.
Houston's building code and land-use regulation have become gradually more restrictive since the 1990s, and the city appointed its first 'flood czar' last year. But given Harvey's scale, it is tough to draw zoning conclusions. It would have devastated any major metropolitan area.
Knee-jerk land use policy reactions should be avoided. The flooding question is certainly central to the city's future. Any adjustment in urban policy should be mindful not to slow down economic growth. Prairie lands have now been built and these won't return to their prior state (except if the local or federal government buys flood-prone homes on a large scale, but that is difficult to do). So policies should be forward-looking. Public debate should focus on improving drainage and pumping systems, building new ones and reinforcing overall flood-protection infrastructure. Not to mention updating flood maps.
Houston will overcome Harvey just like New York overcame Sandy. It is too much of an economic powerhouse and Houstonians are too impressive to be held back. With the right public debate, Harvey will only serve to strengthen Clutch City. Houston, we have no problem.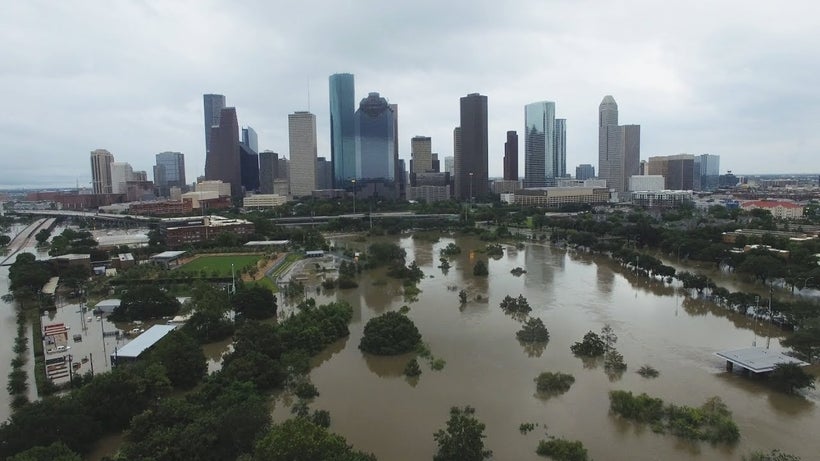 Calling all HuffPost superfans!
Sign up for membership to become a founding member and help shape HuffPost's next chapter
This post was published on the now-closed HuffPost Contributor platform. Contributors control their own work and posted freely to our site. If you need to flag this entry as abusive,
send us an email
.