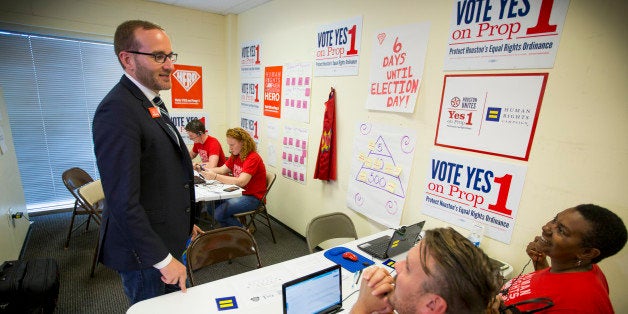 Political strategists warned LGBT activists in the days ahead of the vote: There was little Spanish-language outreach, no big ad buy in Spanish-language media -- in a city that is 44% Hispanic -- countering the lies of the opposition, who'd certainly been doing their own outreach. Monica Roberts, a long-time African-American transgender activist, warned of little outreach in the black community, which makes up 24% of the city. There was little emphasis by the LGBT rights coalition on the terrible economic impact that a "no" vote to equality would have on the city -- something else that political strategists warned was lacking in their campaign as well. And no ads by LGBT rights proponents held the equal punch that the nasty hate ads embodied. Instead, they overwhelmingly ran nicey-nice ads about good neighbors and equality and human dignity.
And so, it wasn't a shock, really, that the vote wasn't even close last night. LGBT rights were clobbered, hammered, devastated in the city of Houston by voters, as the Houston Equal Rights Ordinance (HERO) was repealed.
Make no mistake, though HERO protected 15 classes of people against discrimination in housing, employment and public accommodations -- groups from African-Americans and women to veterans and disabled people -- the ordinance was always cast as a gay rights measure. That's because it included LGBT people and was spearheaded by Mayor Annise Parker, a lesbian who signed it into law in 2014, and anti-gay opponents, who've always demonized Parker in ugly ways, latched on to that. And in recent months those opponents recast HERO specifically as "The Bathroom Ordinance," via television ads, narrowly focusing on transgender equality and the right of transgender women to use a public rest room, but preying on public fears and misinformation.
That recasting -- that control of the message on a budget that was a quarter of that spent by gay groups -- was so effective that, as so many in Houston and outside reporters have told us, many average people interviewed on the street thought the ordinance was all about allowing "men" to use women's rest rooms.
LGBT activists argued until they were blue in the face that every other major city in Texas had such a broad ordinance, as did 200 other large cities across America -- and Houston is the fourth largest city in the U.S. -- but that argument held no weight against the lies of the "bathroom" ads. The opposition ran a hideous but enormously effective attack campaign warning people that their daughters would be molested by men dressing as women in public rest rooms.
LGBT rights groups were led later in the campaign by the Washington-based Human Rights Campaign, whose president, Chad Griffin, told Dominic Holden of Buzzfeed that this was the group's biggest foray into a local ordinance, with 34 staffers on the ground. The coalition HRC led, Houston Unites, which also included the ACLU of Texas, with all of its money and star power, never effectively hit back against the lies with a powerful, biting rejoinder exposing the haters. They didn't even respond in a clear way to the bathroom lie itself, running only one ad to counter it.
The first problem of course -- and some in the coalition, on the defensive, are relying on this as their post-loss spin -- is that equal rights should not be on the ballot. That was something forced by the Texas Supreme Court-- all elected right-wing Republicans -- after opponents of HERO took it to court when they didn't get enough signatures to get it on the ballot. It was a horrifying example of judicial fascism, like something out of Iran.
That said, similar efforts to repeal ordinances, both state and local, can put measures on the ballot in many other places in even easier ways. LGBT activists have been successful -- or perhaps lucky -- in a few recent attempts in the past. But the Houston win by anti-LGBT forces puts the wind at their sails. They will take these ads -- including the one depicting a man following a little girl into a bathroom stall -- on the road, and maybe even try to use them in a push at a federal law, just in time to use it to drive religious conservatives to the polls in a presidential election year. The so-called First Amendment Defense Act was introduced in Congress this year by Republicans specifically to allow for religious exemptions to LGBT rights, and you better believe Republicans in Congress and around the country are looking at the effectiveness of the Houston anti-LGBT campaign. Tony Perkins of the Family Research Council in fact heralded the Houston vote as a win for religious freedom: "Houstonians' religious freedom, freedom of speech, and the right to petition their government have won the day, but much more work remains to be done to safeguard these freedoms across the nation."
So, we had better break out of victory blindness -- that hazy, heady whirl people are experiencing after one man on the Supreme Court sided with us (while he sides with the right on issues of equality for other groups), making us believe we've arrived when in fact we're still hated by enough people for this to happen. We've got to stop making the same mistakes over and over again. What happened last night is reminiscent of the battle over Proposition 8 in California. The anti-gay side focused on harm to children, activating irrational fear deep inside people's brains regarding homosexuals. There was no counterpunch, as in Houston, where ads did not powerfully take on the hate mongers. And there was no outreach to specific communities of color that the opponents were hitting with distorted hate messages.
So Houston was very much Prop 8 redux. LGBT rights activists spent 3 million to 4 million dollars -- while opponents spent about a million dollars -- bringing in people like Sally Field to make appeals, and using other Hollywood celebrities in ads. They got President Obama and Hillary Clinton to speak out, and thought that was going to clinch it. It had the feel to many of a top-down, elite campaign -- outsiders swooping in to tell Houston what is good for it -- instead of being deeply embedded on the ground, in the communities that were voting, including in their media, where the opposition surely was doing their dirty work. There's only so much Sally Field can do, though we all love her and thank her for the help. Right now we need new leadership, and a better plan, or we're doomed to see this again.
Support HuffPost
Every Voice Matters
Popular in the Community