In 1995, I was an average 13- year-old teenager, with ambitions to one day play professional football. I did well in school, but academic aspirations weren't my top priority at the time. After experiencing some joint pain and swollen lymph nodes, I was diagnosed with acute lymphoblastic leukemia (ALL), a type of blood cancer, and traveled to St. Jude Children's Research Hospital for treatment.
It was a late Friday night when I arrived at the hospital, anxious about what was to come. I understood I was going to be away from my friends and family, and I wondered, "Why me?"
The more time I spent at St. Jude, the more interested I became in medicine. Every treatment piqued my curiosity and my interest in human physiology. After two-and-a-half years of treatment, I made the important transition from cancer patient to cancer survivor. My experience made me realize that I wanted to be a doctor and help children through their cancer journeys. I had walked in their shoes and thought that my personal experiences would allow me to be a compassionate and empathetic physician. Most importantly, I wanted to be part of an institution that finds cures and saves children.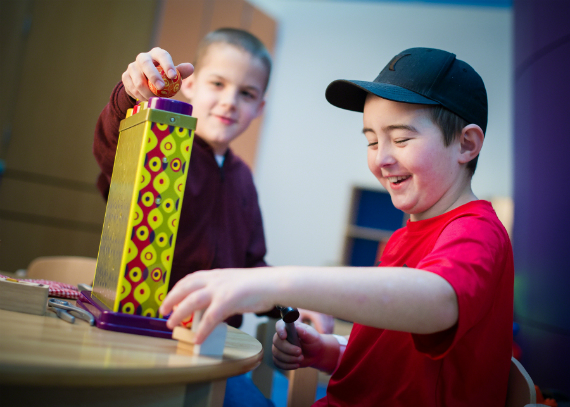 Photo submitted by St. Jude Children's Research Hospital. Pictured are: Oscar Young (left, patient sibling to Pyper Young) and Trevor Tredaway (right).
After graduating from college, I attended both med school and graduate school, earning both an MD and a PhD. Then I returned to St. Jude as a Hematology/Oncology fellow. While I may be on the other side of the white coat these days, at St. Jude I will always be a patient through the St. Jude LIFE study. This unprecedented research project brings long-term childhood cancer survivors back to St. Jude for regular health screenings throughout adulthood. To date, more than 3,000 survivors have undergone comprehensive health evaluations through St. Jude LIFE, tracking a wide range of health issues by measuring cardiac, reproductive, neuromuscular, neurocognitive and psychosocial function, among others.
The findings from St. Jude LIFE are helping survivors like me learn more about our individual health needs. The study is also giving clinicians and researchers -- like me -- insights into the late effects of cancer therapy. The hope is to improve quality of life for today's survivors while designing better treatments for tomorrow's patients.

St. Jude is also the coordinating institution for the Childhood Cancer Survivor Study (CCSS), a study exploring the late effects of childhood cancer from patients treated throughout the United States and Canada. Data from that study helps our researchers determine how factors like intensity, duration and timing of therapy affect the risk for late effects.
CCSS researchers presented encouraging news a few months ago at this year's American Society for Clinical Oncology meeting in Chicago. In a study led by St. Jude oncologist Greg Armstrong, M.D., investigators measured more than 34,000 childhood cancer survivors and found that changes in childhood cancer treatment have reduced deaths from the late effects of cancer treatment and have extended the lives of childhood cancer survivors.
I still don't know the answer to my question, "Why me?" but, I do know the answer to, "Why St. Jude?" That's because of the hospital's commitment to every child with cancer worldwide.
Each child deserves the highest quality of life and the ability to live a long and healthy life. And if any of those children choose to become future doctors -- like me -- that's an added bonus.
This blog post is part of an annual series produced by The Huffington Post and St. Jude Children's Research Hospital in recognition of Childhood Cancer Awareness Month in September. To see all the other posts in the series, click here. For more information about St. Jude Children's Research Hospital, click here.
Calling all HuffPost superfans!
Sign up for membership to become a founding member and help shape HuffPost's next chapter