I had never pictured myself working at a global professional services company like Accenture and working for my own non-profit organization at the same time. Would I even dare to ask if I could work four days per week? No problem, sure I could, as it turned out.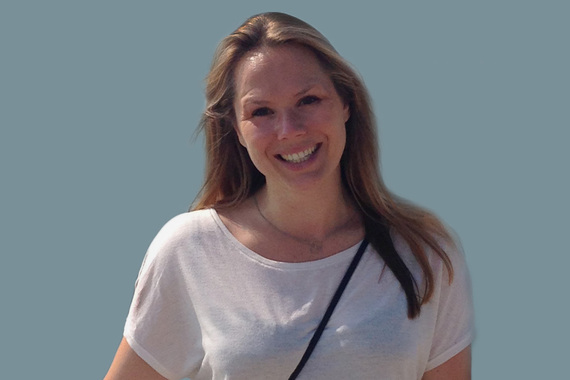 Even though I'm only 31, change has been a recurring theme in my rather tumultuous life.
I grew up in the rural eastern part of the Netherlands, in a small town called Lichtenvoorde. My childhood was fantastic, but I always knew I wanted to leave and live in a big city. When I was 18, I left to study in Groningen. I kissed my mom, dad, and my two sisters goodbye and set off into the great wide world. It was a fantastic adventure and great chance to make new friends, discover myself, and to become an adult. And there was the occasional party here and there, of course.

The day that forever changed my life

Fast forward to October 27, 2008, the day that changed my life forever. I was 24, lived in Amsterdam and had just started my first real job at the marketing and communication department of DFDS Seaways, a ferry operator offering routes from Europe to the UK. I was diagnosed with breast cancer. Just 10 months before, I had lost my mom to the same disease. I was in shock and disbelief, yet I also experienced some sort of mental sky-high phase: I was absolutely determined to win this battle.
I worked until the day I was admitted to the hospital for my operation--December 5, 2008. A year later, after 18 chemotherapy sessions and 35 radiation sessions, I was "clean." Although I had to undergo immunity therapy for another year and hormone treatments for another five. My contract had kindly been extended for a further year, so it was then I started the reintegration process at work.
The mental high I went through when I heard I had cancer faded when treatments were over, and I was able to take control of my life again. Friends, family, colleagues, myself--everybody was over the moon that I was "clean" again. Yet I didn't know that one of the hardest parts was about to begin.
Picking up my life turned out to be far more difficult than I had anticipated. While still celebrating the good news, a mental breakdown waited for me around the corner. I knew then that my life would never be like it was before.
How did other women deal with this? Were they able to regain their energy and find their balance in life back? Did they manage to get back to their "old selves" at work? How did they feel about having kids? I had all these questions--yet I couldn't find answers anywhere.
Starting our own foundation
Soon, I realized that I needed to start over again. That's what cancer did to me: I felt the strong urge to redefine what I wanted in life and act upon that need.
Since an after-care program for young women recovering from cancer did not exist yet, together with Sharon de Beer, who is a life coach and my neighbor, we decided to start our own foundation. Early in 2010, we started Belle & Balance.
Through yoga, meditation, coaching, mindfulness and massages, Belle & Balance assists young women recovering from cancer to regain balance in life and reintegrate in their work environment. But most of all, we want to make the reintegration process a less lonely one. Going through this with other young women facing the same challenges and dilemmas is the most powerful aspect of the Belle & Balance program.
Starting Belle & Balance wasn't the only thing cancer did to me. I also decided to quit my job as a marketer to go back to university and get the master's degree I had always dreamed of. I realized I was still interested in business administration but wanted to focus more on the human aspect of business instead. And so, in 2011, at the age of 27, I enrolled at the Free University in Amsterdam to study culture, organization and management. It was the best decision I could have made.
It was during my master's when Accenture came into my life in 2013. I was looking for a company where I could research my thesis, when a friend working in the HR department suggested I apply for a role there. After my thesis was finished, I applied for the position of change management consultant. Hence, the human side of the organization. It's the position I still have to date, and one I enjoy greatly.

Corporate citizenship award
I only work four days a week, but I don't have children. The reason I mention that I do not have children is that most people at Accenture who work four days a week have children. During my first interview, I said that I wanted to devote one day a week to Belle & Balance. Not only was this request accepted, but I also felt very much encouraged and supported when I was granted the Accenture Corporate Citizenship Award last year. It is the ultimate recognition my colleagues could have given me.
REAL LIFE. REAL NEWS. REAL VOICES.
Help us tell more of the stories that matter from voices that too often remain unheard.