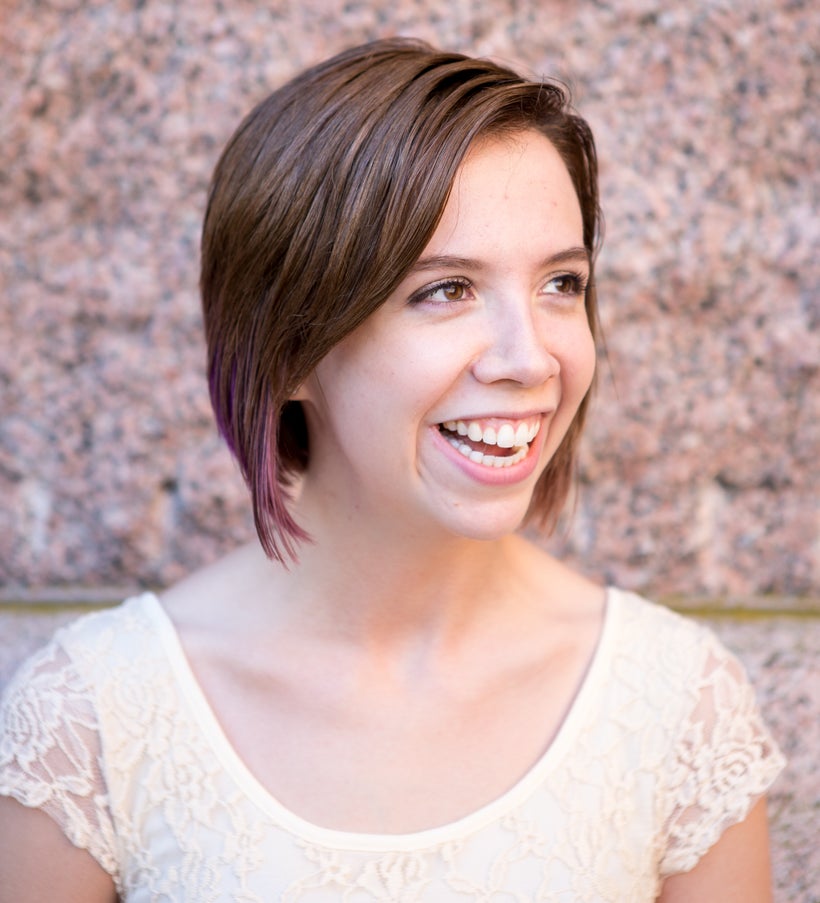 I was a mess. At 19 years old, I sincerely hated my life.
I was in nursing school, full time; and working at McDonalds to pay my bills.
Beyond that, I was in a household where my dad, a non-denominational pastor, put rigorous rules on his family: my sister and I never wore pants, never listened to rock music, never wore open-toed shoes, weren't allowed to wear shirts that didn't have collars, and the list went on and on. If we failed in something like folding our socks over correctly, he'd yell at my sister and I for more than an hour about how we were rebelling against him, going straight to hell, and more along similar lines.
In a nutshell, there you have it. An accurate portrait of what my life was like; why I hated it.
But before I turned 20, a voice broke out in my head: and it couldn't be shushed by anyone.
I didn't have to be stuck with the direction I was going in life.
It was my life, after all, right?
The realization of this came when I woke up one morning at 19 and asked myself what do I love to do. The answer was simple: I loved to write. This passion of mine went way back. I came up with weekly story plots at 9 years old, complicated worlds full of colorful characters. I wrote a 200-page book at 12. By 13, I was getting ready to publish it via Lulu, with lots of encouragement from fans of my book on Writing.com, where I found an early supportive writing community. It was a medieval fiction. Devastation came when my 3½ floppy disk failed. Total devastation. I rewrote it, and still have the massive book on file, but it was never the same; and I've moved on to other fiction plots I plan to publish one day.
In tandem with writing, I loved the Internet and all the technology, capabilities, and opportunities there. I saw my parents hook up to the Internet at 8 years old. My dad was given an old IBM Windows PC by a friend, and I watched as we dialed up for the first time. I was hooked on the Internet since that day. It was the only thing my parents didn't monitor in my life. I learned how to buy domains and launch a website before I was 12. I taught myself everything I could learn about the computer, and I started three companies before 16. One was helping elderly people around town with their computers, and I genuinely loved that (all my clients were referrals). (My other companies failed: a cleaning company that went nowhere, and a mostly-spammy Internet survey pyramid scheme that I ditched early on.)
I Did Something With My Passion
I was in nursing school and working part time at McDonalds when I started diving into teaching myself freelance writing.
Finding out how to make money doing something I loved started with a simple thought. I'm going to get online and see how to make money as a writer.
Then, hard work followed. I signed up to Elance, oDesk (now Upwork), and read, read, read everything I could get my hands on about online writing. My goal was simple: earn enough income to quit McDonalds. That was my only goal. I achieved that three months after I sat down to teach myself online writing. The day I quit McDonalds because I was earning more as a writer—after five straight years of working there—was awesome.
Next, I had to figure out nursing school and this budding writing business of mine. Since my parents were fixated on nursing, and even though they never said it, I knew they'd frown on me if I quit it outright.
By mid-2011, while still in nursing school, at 20 years old, I started Express Writers.
Here's how it happened: it was a 5-minute business idea, totally and completely born from a need. I simply couldn't write all the content requests I was getting in by myself. My one business aim? To hire writers who had at least as good skills as me. I wanted my clients to not even know I switched them to a writer I'd employed under me. I threw myself into it. I thought if I didn't work like crazy, I wouldn't make money. (And in 2011, content marketing was not as valued as it is today.) I spent $75 on a website theme and domain, coded my site inside a weekend, and launched it the next week. I sent over a hundred cold sales emails per day and posted daily ads on Craigslist. I was my own manager; salesperson; writer; and editor.
My mind was breaking, because I was balancing this with nursing school. And the balls were starting to drop. I had angry clients since I wasn't meeting deadlines, but I never had enough time to study for school tests. Add to that my dad, always yelling at me if my skirt wasn't long enough.
Life gave me a welcome nudge. I was thrown in the right direction when my clinical teacher flunked me out of nursing school, at 20. Granted, I knew in the back of my mind I would probably never make it to be a nurse—I just didn't like it at all—but I was given that direction much sooner when my clinical teacher said you're out. She said she could tell I didn't have the passion for nursing, but when I talked of the freelance writing business I was starting, I did have passion. Very gently, without even letting me feel like she was actually making any decision for me, she said—why don't you try doing that instead? I've never been able to reach Mrs. Plunkett, but the day I do, you bet I'm giving her a big thank you.
That day, you bet I was broken and feeling like a massive failure. My parents thought so, too; my dad wouldn't talk to me for a month. I had to email him while we lived in the same house: I wasn't allowed to talk to him, even if we passed each other in the hallway.
I Achieved Success Quickly
But magic happened. I hit $50k for 2012.
And that year, I left my parents. It was a decision prompted by me meeting my future husband. Funny story: we met when he hired me from oDesk in 2012 to write his content. The minute we talked on Skype, instant connection. I broke down and told him in the middle of a business meeting what was going on at home, and he was really there for me. Two months after we met, I left my parents in the middle of the night and went straight to meet him, five states away. My parents were controlling my sister and I to a point where I was worried they'd steal my car keys or lock the garage so I wouldn't have been able to go, if I told them I was leaving. I left with my sister near midnight in September 2012, and we didn't look back. My parents have since told me in a letter that they've disowned me. It was hard, so hard back in the beginning, right after I left; I was so close to mom, and still miss her. But I'm learning time heals all wounds.
My company revenue grew over 200% every year the next three years, after my initial $50k full year. In 2015, Express Writers earned over $600,000 gross. Today, my company serves more than 1,000 clients worldwide, and sometimes we create as many as 300 pages in one week. I have over 70 writers in my team, and a full-time management staff. 2014 was a great year, because I became a mom to a little girl that amazes me every day. She's turning 2 this year: smart, hyperactive, and such a mommy's girl. I'm speechless at the incredible gift (and yet, burden) that motherhood is.
I'm only 25. But I feel like my road path is getting stronger and brighter daily—even though I'm in a crazy world where the future is unknown (entrepreneurs will relate).
5 Life Lessons (How to Break the Mold & Make Your Own Success Happen)
1. Identify what you love doing.
First step: find out what you love to do. Go back to your roots—way back. What subject did you gravitate to in school?
If you can fill in the blank here, you're golden:
"Doing ___ makes me feel like I'm on fire and I'd never imagine calling that 'work' if I was doing it every day."
2. Be prepared to work really hard.
This is really that darn simple. Work really hard. Don't ever let off. Be prepared to do things like give up your weekends to get crap done. You'll have to in the early stages.
3. Success isn't far off.
As you work hard, know this. Tell yourself this, write it down, visualize of it often. You'll be motivated to keep working hard and you'll see fruits produced for your labor. Then when it happens, you'll celebrate.
4. As you grow, you'll need to hand off.
This is something I learned the hard way: I can't do it all. If I try, I start dropping the ball. (Like when I juggled nursing school, McDonalds and creating/running Express Writers.) As I grew, I learned that I needed to let go of several roles: client salesperson and manager all the way to copywriter and editor, and even being the social media manager of our busy Twitter chat. We have over 70 team members now, many of which are employed full time and loving it. And one of my most rewarding things in business has absolutely been hiring great people.
Business got a lot smoother when I realized:
No, I can't do it all—and there are people that can actually fulfill roles better than me.
I need to spend my time building my business and planning my next big move instead of scheduling out every Instagram post.
This is simple, too. Never, ever think you've achieved the crown. Work like you haven't achieved anything, and you'll keep learning something that'll amaze you. Embrace every day like a new opportunity. I'm amazed how much I find out I didn't know yet, every day.
Calling all HuffPost superfans!
Sign up for membership to become a founding member and help shape HuffPost's next chapter
This post was published on the now-closed HuffPost Contributor platform. Contributors control their own work and posted freely to our site. If you need to flag this entry as abusive,
send us an email
.