During the height of Superstorm Sandy's surge last fall, many people along the coast of New Jersey were trapped in flooded homes. The 911 system was overloaded, and the water was rising. With smartphones and access to Facebook, people all over the coast were posting mayday messages.
Using my Facebook Page, Jersey Shore Hurricane News, I was able to quickly organize a reporting thread asking, "If you're trapped, please post your location, number of people, and any medical conditions." The New Jersey State Police's Office of Emergency Management was monitoring my post and would dispatch rescue teams to those locations, replying to people that help is on the way.
Growing up on the Jersey Shore, most of my time was spent on the beach or in the ocean, and although I now have many "adult" responsibilities, enjoying the coastal environment remains an integral part of my lifestyle.
I am a multimedia journalist and city planner, and have been actively involved in citizen journalism for years -- always following strict journalism code in my reporting. Over years of daily tweets prior to the formation of Jersey Shore Hurricane News, I taught myself to be a reporter: curating and aggregating news on various platforms, covering breaking stories in my town, and blogging about the burgeoning new media.
But my love of reporting began much earlier than when I first became exposed the "text" Internet in 1992, a little under two years before the launch of Mosaic, the first web browser. As a kid, whenever I would hear the fire station's siren blare, I would hop on my bike and chase the fire trucks. Even then, I wanted to be in the know, and that hasn't changed.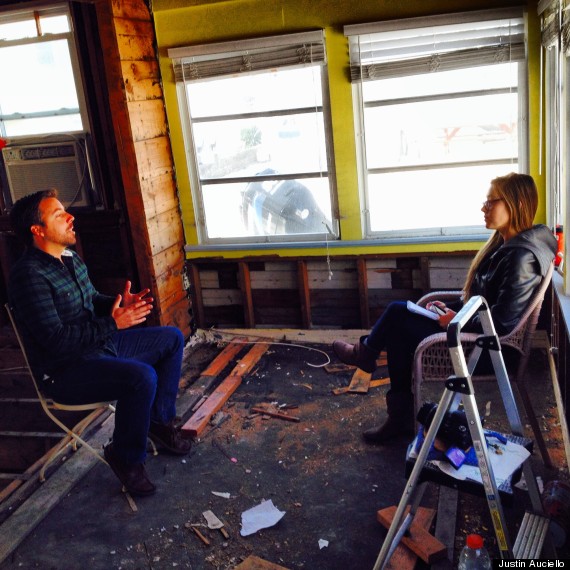 A Rutgers University journalism student interviews Justin inside a gutted house in Seaside Park, N.J., after Superstorm Sandy devastated parts of area.
On the evening of August 23, 2011, in my own barrier island community, panic over Hurricane Irene's potentially destructive impacts was beginning to simmer, and I knew that people were feeling this same anxiety throughout New Jersey. Armed with years of self-taught journalism experience and a decent understanding of new media dynamics, I felt a calling to create a "pop-up" two-way news outlet in an effort to supply reliable and factual real-time news and encourage reporting from ordinary citizens -- just like me -- on the ground.
Thanks to Facebook and its ubiquity, I had a platform.
My vision was to provide a ground swell of accurate information -- no spin, no rumors --- from both personal reporting and news curation from all angles, including potential weather impacts, evacuation orders, shelter information, store closures and breaking news.
I wanted to empower and engage people, with the goal of leveraging the new democratic nature of social media here at the Jersey Shore. I wanted to create a culture of citizen news contributors, not just Page fans or likes.
Irene wasn't the "Big One," but I felt good knowing that my community had the information it needed to make informed decisions about safety. After Irene, I turned Jersey Shore Hurricane News into a real-time news, traffic and weather platform, so people could learn about car accidents, fires and severe weather threats as they were happening.
As Superstorm Sandy barreled toward the coast last fall, our community network was ready.Jersey Shore Hurricane News offered wall-to-wall coverage of the storm. It started with reporting on the threat and preparing the community before, real-time reporting during, and weeks of humanitarian information after.
Understanding my role as an editor, I didn't sleep in the three days surrounding the storm. I had to get confirmed reports out in a timely fashion, and after the storm left, there was an enormous humanitarian effort that needed attention. I worked to confirm every report that passed in front of my eyes.
Contributors were sharing real-time news from the first instances of power outages and storm surges to the earliest images of the unbelievable destruction the following day. Every half-hour, I asked the question, "Where can we find food, water, ice, generators, shelters, etc," and contributors would respond. I also posted rumor control reports when needed, knocking down information that could have spurred panic.
In the day after, contributors posted images of shelter needs written on poster board, and theses posts got thousands of shares. Many people found their lost possessions after they saw images posted on JSHN. Throughout the ordeal, I made it a point to report on the positive, uplifting stories: popular businesses that had survived, heroic feats, and one particularly poignant story of a lineman from Florida experiencing snow for the first time.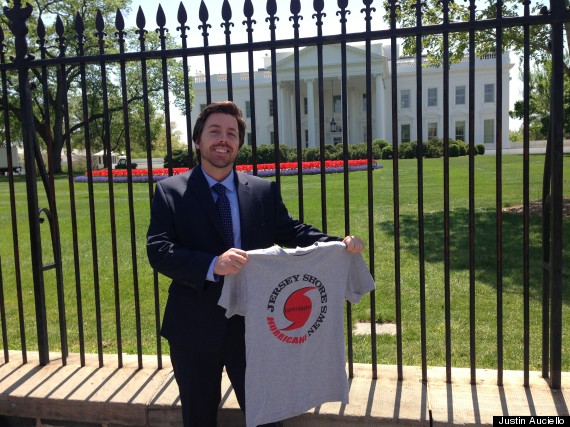 Jersey Shore Hurricane News goes to Washington.
Many told me that JSHN was their lifeline during Superstorm Sandy, and in some cases, literally. Without power, the smartphone paired with Facebook and Twitter is an extremely powerful communication tool. In suburban New Jersey, mostly everyone has a car, so it was as easy as charging your phone that way. Some people also have solar chargers and inverters, so many were receiving and sharing reports.
I'm an optimist by nature, so I've always seen the good in people, but the kindness demonstrated by New Jersey residents during the aftermath of Superstorm Sandy was unmatched. Thousands of people connected with my Page offering whatever they could to help strangers in need.
While we're back to the usual news, traffic and weather, JSHN is still reporting on the ongoing storm recovery, and there was something positive that came from the superstorm. A ritual was born in the days after landfall: a daily crowdsource-style posting of where people can volunteer and find help. That continues today.
As a volunteer, JSHN is how I serve my community.
I didn't build this myself, we built it as a community of people who love their home. We're all in this together, and together, we can weather anything.