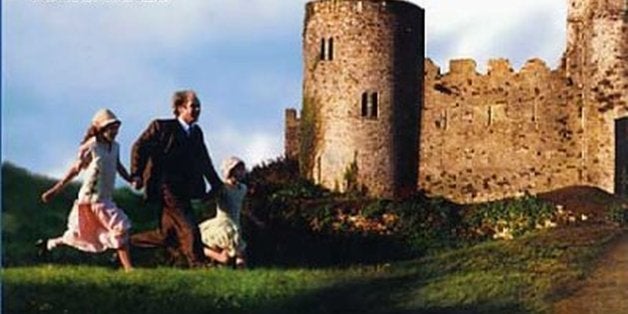 It happens to everyone eventually: a friend lends you a book that they adore and want you to read, but you read the back cover and think to yourself, "this is so not my kind of book." But you kind of have to read it, and you feel pressured to like it, since your friend loves it so much. If you take a look at my list of reviews, you'll understand why I got this feeling when my friend and co-worker lent me I Capture the Castle by Dodie Smith (best known as the author of The One Hundred and One Dalmatians). It is billed as a character-driven coming-of-age story about young love. Folks, this is not a Stephen King or Gillian Flynn. I was dubious, but the lender is a good friend and an editor with excellent taste, to boot, so I figured I would give it a shot -- and I am so glad I did. After a few chapters, I was neglecting my other books and diving into I Capture the Castle again and again.
The novel consists of the journal entries of Cassandra Mortmain, an intelligent and observant teenager who lives with her family in a crumbling castle in rural England. Her father is the renowned author of Jacob Wrestling -- a novel that is widely celebrated and studied. It is, however, a one-hit wonder; he has written nothing since and the family is desperately poor. Cassandra's 21-year-old sister Rose is desperate to marry well and escape from poverty. Her opportunity arrives in the form of Neil and Simon Cotton, heirs to the magnificent estate neighboring the castle who, as it turns out, have inherited the castle as well and are the Mortmain's new landlords. Rose picks one of the brothers and makes it her goal to get him to fall in love with her. Of course, between the dashing and wealthy Cottons, Stephen, the handsome live-in son of the Mortmain's late cook, and two young women who have little to no experience with men, things are bound to get complicated.
The plot at first seemed to move at a leisurely pace, but what kept me reading was Cassandra's voice -- she is witty, comic, melodramatic at times (she is a teenager, after all), and throughout the book her voice changes and matures along with her. J.K. Rowling has called Cassandra, "one of the most charismatic narrators I've ever met." Cassandra keeps the journals as a way for her to teach herself how to write and the entries are full of keen insight, lyrical description, and raw emotion. She paints the setting of the English countryside vividly -- many scenes feel dream-like and enchanted, like Neil and Cassandra's moonlight swim in the castle moat or the Midsummer Eve bonfire. I was also drawn to the whimsical cast of characters in the novel. Cassandra's father is very much the tortured-genius type -- he has not written anything in years but locks himself in his library daily doing crossword puzzles and reading spy novels. He is eccentric and volatile in the best way. Cassandra's stepmother, Topaz, used to be an artists' model and enjoys "communing with nature" in the nude. Young Rose is desperate to find a husband, be in love, and have money -- she reads a bit like an Austen heroine, and thinks of herself this way as well. All of these characters are "captured" by Cassandra, but avoid becoming caricatures of themselves.
The jumbled web of confused and unrequited love that develops takes turns I hadn't expected and I truly enjoyed the ride. I think part of my enjoyment was that I have not read a book like this in a long, long time; I Capture the Castle is a gentle book, full of gorgeous descriptions and Cassandra's witty observations about British society and young love. Reading it felt pleasantly relaxing, like laying on the sand at the beach. But it wasn't just relaxing -- it was truly entertaining too. The Weekly Standard deemed the novel "much more fun than the reader has any right to expect" and I completely agree.
More book recommendations from Off the Shelf
Related
Popular in the Community