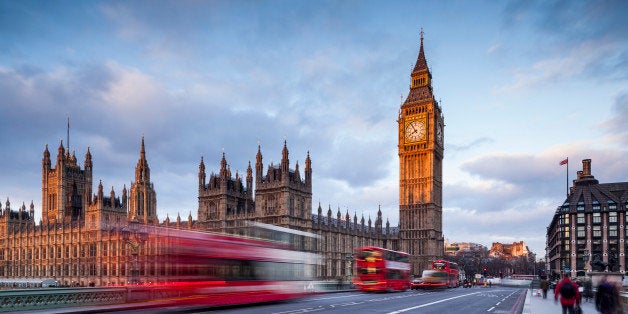 I remember in high school when everyone made it a point to remind us at every juncture possible that "it's not the end of the world." That the world was so much bigger than we knew it to be. I hated hearing that. It was one of those phrases you heard so many times that you mimicked them as they said it and received scolding looks in response. It was what they said to us rowdy teenagers of the 21 century who considered the latest school drama to be the end of the world as we knew it (cue the R.E.M. classic).
It wasn't until my sophomore year of high school that I finally got a glimpse of what they were talking about. All the brochures on "how to not be a juvenile delinquent" advised it: Go abroad while you're young. Well, at the age of 16, I did. And I saw. The world was bigger than I could have ever imagined. In retrospect, traveling abroad was the single most defining moment of my teenage life because it taught me what adults had been trying to say for years. The things that happen in high school feel so life-defining, but the truth is the world is so big that you can always live, start over even, in a place where nobody knows you and where your missteps or past decisions won't haunt you.
Now, I'd have been perfectly content if that was the only lesson. But as it turns out, Traveling Abroad had much more in store for me. I continued to travel during my teens and early 20s with my school and my parents. They were all wonderful experiences that exposed me to more and more of the world. But it wasn't until three summers ago, when traveling abroad played teacher again.
They'd been advertising for the semester abroad program for months, but I convinced myself that it was too long for me. I had so many responsibilities next semester, none of which I could just shuck off to traipse across Europe. When I heard about a two-week summer program at Oxford University, I again talked myself out of it. Then on the day of the deadline, like flipping a switch, I decided to go. To take all of those excuses -- there's no time, I have too much to do, none of my friends are going -- lock them in a steel box and let it sink. And in mid-August, I was strapped into an aisle seat, flying over the Atlantic.
Six hours and a very long customs line later, I was standing in the middle of London Heathrow Airport dragging my overpacked carry-on behind me, and I had no idea what to do next. I'd arrived safely, so I should probably call my parents to let them know, right? Wrong. My cell wasn't international, and I'd forgotten to exchange money in the city before I left. I also needed to find the bus station that would take me to the university, which was about an hour away. There was no itinerary to follow, no one to lead the way. I had to figure it out on my own. And I eventually did. After using a pay phone to call the states and wandering around the airport like a very lost but very stubborn child, I was on a bus to Oxford, sitting alone in a double seat and staring through the raindrops on the window at this vast foreign place that was to be my home for two weeks. It was a thought that was both exhilarating and terrifying.
I had never traveled abroad alone before. And it's not that it was particularly hard to do because it wasn't. I met the other seminar students on campus, and I attended classes and traveled the city with them. It was unfamiliar, but it wasn't lonely. In fact, that was traveling abroad's lesson this time -- just because I was alone didn't mean I was lonely.
On my last night in Oxford, everyone was tired. A group of us had been out exploring all day, and we were exhausted from a night of dancing and liquor-infused ice cream sundaes the night before. But as I had traveled to the UK alone, I wasn't content with picking up McDonald's for dinner and eating in my room. So I got dressed up and ventured out in search of somewhere to dine. I'd never sat at a restaurant by myself before, at least not in a place (or country!) where I wasn't a regular. The thought scared me, but the possibility of eating a Big Mac in my room was depressing enough to give me courage. Once I found a place, a dimly-lit, lovely little restaurant I no longer recall the name of, I sat alone at a table across from the bar and I observed my surroundings. The wall of pretty-colored liquor bottles behind the bar. The bartender gliding from one end of the counter to the other, taking orders and joking with a patron. The yelps coming from the large party at the back of the restaurant where only the sporadic candlelight lit their smiling faces. With so much life around me, I wasn't alone. Not really. In fact, I felt comfortable, happy, and happy because I was comfortable. Traveling abroad by myself gave me courage. Traveling abroad by myself forced me out of my comfort zone. Traveling abroad by myself proved that I can go it alone.
These are things I would've never known about myself had I not let all those excuses sink, had I not listened to that voice that told me I didn't need a traveling buddy, that I would be fine all on my own. The lesson wasn't expected, but it was one I needed to learn. For traveling and for life. I'll never forget how it felt to depart, sitting in the back of a black car on the way to JFK, excited for the adventure that was before me but nervous about it as well. And I'll never forget how it felt to return, having conquered a new fear and learned yet another new lesson. Like I had been changed for good. I went looking for the world and I found myself instead.