I recently had a fantastic opportunity to speak to a group of young women at Hult International Business School in Boston, MA for the "Women in Business Series: Walk in Her Heels" hosted by the Women in Business Club.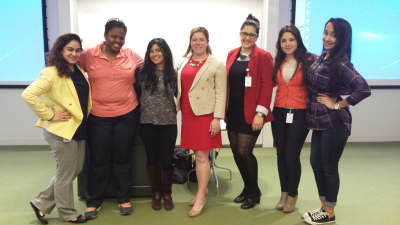 I discussed my background and my perspective on how it took me time to realize that the work I am doing today is in conjunction with my original goals as a fresh grad. 12 years in business has afforded me an understanding that fulfillment is much more complicated and you should not expect to gain a fulfilled life from your job alone. We are complex human beings. Take an honest look at yourself, your goals and aspirations to build the right opportunities for you. In addition, timing is not everything. Everyone talks about "having it all" which seems absolutely impossible when you are attempting this feat. It is also unfair to put that type of pressure on yourself. I am a successful business woman, wife, mother of a 4 yr. old with another baby on the way. Being everything to everyone has its ups and downs.
It was important to me to discuss a topic that I find interesting and something that has helped me in my own career which has been "Finding Opportunity in the Turning Point." When faced with a challenge or turning point in your life on the cusp of change, how can you make the best move, create the best opportunity and successfully position yourself to achieve your goals?
Recognizing the Turning Point, The Need for Change?
When you realize it's time to take on a new challenge; graduating from college, changing jobs, career paths, or a major life event, it is important to recognize the turning point and prepare yourself for a change. I am a list maker by nature and planning the next opportunity takes time to map out. Preparing to dive in takes practice, but when do you dive in the deep end and take a risk? I suggest to start by aligning your personal goals with professional goals. Does your next move incorporate your overall aspirations and mission? If your job path does not, that's OK. We can't all make our favorite hobby a job and sometimes reality sinks in. I often find balance between my career and interests by tying in extracurricular activities. Be dynamic.
Diving in the Deep End, Preparing for Change & Diving in
One of my most embarrassing moments was a 6th grade party. I stood on the diving board (a chubby 10 year old girl), my crush was swimming in the pool, and for some odd reason I decided to announce that I was not only going to dive in, I could up my game and do a back flip. I proceeded to do a back FLOP in front of my entire class. It was at that moment I decided not to give a f**k and laugh with the others (laughing at me) and not take everything so seriously. I use this analogy now 20 years later. You are inevitability going to dive in and potentially fail, big time. But that is the first step. Understanding your strengths, disposition and capabilities will help maximize your potential for success. Create a portfolio of your greatest strengths: where do you excel? Figure out what angle you are making the decision from: what is important to you, right now? When seeking a new opportunity, explore all options.
When you dive in the deep end to seek change in your career, do your research and know your audience. This will help you position yourself appropriately to communicate effectively with your audience. If you promote yourself to change, you will create new opportunities. Get out there!
Marketing Yourself, Tools for Engaging in Change
Some quick tips for marketing yourself; preparing your qualifications to engage in change, ask yourself: how are you presenting yourself to the world? Be your own advocate, find advocates. Who do you know that can introduce you to a new career, potential employer, advocate for change? Get comfortable with networking and the only way to do this is to practice. Utilize social media to your advantage. Include extracurricular activities and volunteering on your social media profiles. Find something to be passionate about and present it to the world! Be an expert in your area of interest.
Taking Chances, When to Take Risks?
It is important to consider timing when taking chances with your career. It might make sense to take a risk at this point in your life, for others stability might be at the top of the list. Ask yourself, can you really live with this decision every day? Do a walk through of your daily activities and make sure you are happy with your decision. How do you connect with the team, the mission?
Finding fulfillment is much more dynamic than landing a job. It is a combination of many things. Finding opportunity at the turning point is led by your passion, understanding and disposition for the need for change. Capture your interests in both your job and through extracurricular projects to keep a sharp edge on your resume and credential building exercises. At the end of the day, its only a job and true happiness, fulfillment and change is initiated from within.
ABOUT THE AUTHOR: ERIN BOUTHIETTE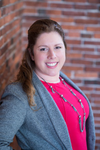 I am a lover of nature and everything Boston! As a career driven mama, I am always looking to find ways to balance motherhood with professionalism without losing touch with my fun side. Professionally, I have been in the staffing industry for 12 years and currently serve as a Chief Operating Officer for an IT consulting firm, Relational IT. I uncovered my secret "geek" and passion for the sciences and information technology through helping people find new careers and have been instrumental in developing and cultivating business opportunities in the greater Boston area for my organization.
I am also a contributor for Women's iLab and I Co-Founded Blissfulmamas, a project created in order to shed some light on the positive aspects of being a working mama. Blissfulmamas is a networking community for working mamas with a positive outlook, looking to collaborate with each other on career advancements, job opportunities, managing and organizing family life, without forgetting about the long overdue personal "me" time. Our goal is to act as a positive outreach for working mamas and be a place where working mamas can collaborate, find resources & inspiration all available on the go!
Calling all HuffPost superfans!
Sign up for membership to become a founding member and help shape HuffPost's next chapter