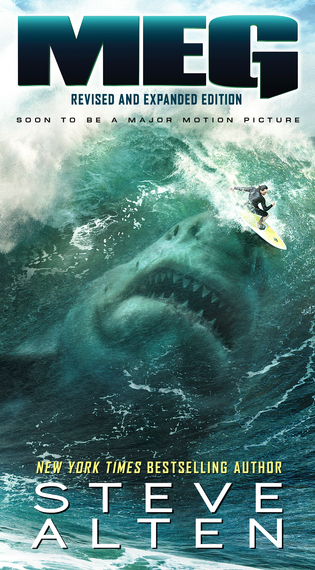 How often do you get to meet celebrity authors? In June of 2015, I traveled to Las Vegas to watch my friend and client David Long receive an award for his book Built To Lead, which had just hit the Wall Street Journal's Best-Sellers List. It was there I had the privilege of meeting the event's keynote speaker, New York Times bestselling author Steve Alten.
Most authors I had been exposed to up to that point did other things to advance their careers, things such as speaking, coaching, acting, or whatever their given profession was. I was fascinated by the fact that Steve Alten's career consisted of strictly writing books. After the Google search I conducted on him when I got back to my hotel room, it appeared he was pretty good at it too. I learned that he was one of those authors who received hefty advancements for his work and reviewers compared his thrillers to those of Michael Crichton and Tom Clancy.
My investigation or what those who know me call my "Snoop Doggy Dogging" also uncovered that Steve's book MEG was greenlit by Warner Brothers to be a major motion picture. MEG is short for Megalodon, an extinct 70 foot, 50-ton prehistoric great white shark with a big nasty mouth filled with 7-inch teeth -- think of it as the Donald Trump of sharks.
I knew this was going to be an exciting trip...

The second day in Vegas, I decided to go sit by the pool and read Vostok, Steve's latest novel that was given to me prior to the event. A few pages into the book, Steve's wife, Kim recognized me from dinner the night before so she came and sat down beside me. Steve joined us a few hours later. When he sat down I began to have a running dialogue in my head. I was thinking I want to remember this moment forever. Come 2017, if not before, this man is going to be all over the media and I am sitting here speaking to him and his wife about my love for books and sharing my personal life stories.
A few minutes before Steve's wife joined me by the pool I had just uploaded a picture to Facebook of me reading Steve's book; a local TV reporter from where I lived responded how much he loved Steve's work and how Vostok was an Alten novel he had not had a chance to purchase yet.
When I shared the post with Steve he told me how cool it was that I had a TV reporter responding to my posts. I thought to myself how cool it was that I was spending the day with a New York Times bestselling author whose book, Meg had just been optioned to be a movie and that a TV reporter was chatting with me about it.
After showing the post to Steve, I couldn't help myself ... I sent a quick response to the TV reporter (Pat Peterson) that I was hanging out by the pool with Steve and his wife.
Later that night it came time for the speaking part of the event. Steve's wife once again spotted me from across the room and sat down beside me. I asked where Steve was and she said he had forgotten something in their room. When he finally showed up he extended his arm out to me and handed me a signed copy of his new book, Vostok to give to Pat Peterson (the TV reporter). I have to admit I was a little surprised. He was not just making niceties by the pool earlier; he genuinely thought it was cool that I posted about his book and that Pat was a fan.
All good things must come to an end...?
The time went by quickly and before you knew it the event was over; it was time to return home. As I was packing my things I started replaying the trip in my head. I laughed at myself a little. Did I really ramble on for hours about my childhood poverty and describe in detail how I scoured the neighborhood looking for coke bottles that I could cash in for money at the local Dollar General Store? I even went into vivid details sharing that the exchange rate was 10-15 cents, depending on what size the bottles were, and what I would do with the exchange -- which was, take the money and go to the flea market or yard sales to pick up used books to read.
I am not sure why I chose to share that particular information. Why didn't I take lots of pictures and create a memorable story to at least share with my own fans and family? Now when the Meg movie comes out I can share how I 'almost' partied with a celebrity book author. I can hear myself saying, "see that author right there? We blew it up in Vegas and threw down stories about my childhood poverty and reading habits!"
How many times have you connected with someone and afterwards thought about all the things you should have done and said? Well, I am that girl!
As my friend Erin and I were settling into our seats and our plane was taxiing out of the runway to leave Vegas, my phone began to ring. Imagine my surprise when I heard Steve Alten's voice on the other end. Picture me pointing to the phone (with the mouthpiece covered) mouthing to Erin, "OMG, It is Steve Alten..."
You will have to come back next week and read what New York Times bestselling author Steve Alten had to say to me and why he called me.
Remember, March is National Reading Awareness Month. I thought my experience would be a great time to share with you how books have impacted my life and how they can impact the lives of others as well.
Disclaimer: While a company that I founded represented author David Long, Mr. Long is not in contract with my company, nor have we/I received any type compensation for mention of his name. My company is also not in contract with author Steve Alten nor have we/I received compensation to promote his brand.
Calling all HuffPost superfans!
Sign up for membership to become a founding member and help shape HuffPost's next chapter