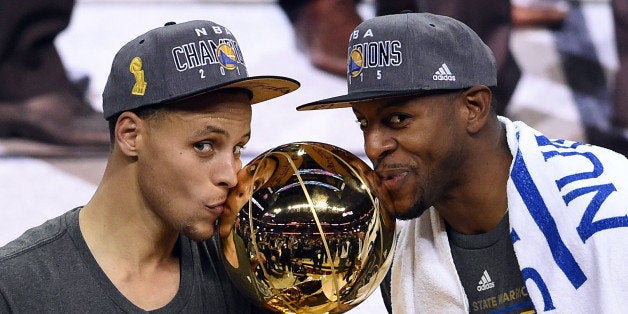 There are a million different paths to a single destination. Some will take a lifetime to get you there; while others can be just a few short steps.
While at an academic conference in San Antonio, I decided to skip-out for a bit and sneak into the hotel gym (I was staying at the motel 6 down the road). It was one of those fancy hotels where you had to swipe a card to even use a bathroom. I just waited for someone to either enter or leave, then walked in.
After about 10 minutes of working out, to my astonishment, five members of the Golden State Warriors entered the gym and started working out. I pulled out my phone to confirm. Yes, the Warriors were playing the Spurs that night.
The quality of my workout decreased dramatically after they came in. I couldn't keep my eyes off them. Their workouts were amazing. REAL, professional basketball players two feet away from me. I spent about 10 minutes going back-and-forth in my mind. "Should I ask for tickets to the game?" "What's the worst that could happen?" "Nah, I should just go. Why bother them?"
Then, I just forced myself to do it.
"What are the odds you could get a schmuck like me tickets to the game tonight?" I asked one of the players.
"How many do you need?" he responded without hesitation.
"Two would be awesome, man!"
"They'll be waiting for you at will-call."
When I got to will-call, I gave the person behind the glass screen my name. After a few moments, he handed me an envelope that read:
One of my professors and I watched the game down near the floor. Filled with amazing energy and joy I thought to myself: "What if I hadn't asked?"
That night, I didn't end up sleeping in the motel 6. Instead, I had an amazing view of the city from 30 floors up and a king-sized bed. A total stranger I met earlier that day said she was leaving the conference early. I asked if anyone was staying in her hotel room that night? She said, "Nope, it will just be vacant," as she handed me the swipe card.
"Rainmakers generate revenue by making asks. They ask for donations. They ask for contracts. They ask for deals. They ask for opportunities. They ask to meet with leaders or speak to them over the phone. They ask for publicity. They come up with ideas and ask for a few minutes of your time to pitch it. They ask for help. Don't let rainmaking deter you from your dream. It's one of the barriers to entry, and you can overcome it. Once you taste the sweet victory of a positive response, you'll not only become comfortable with it, you might even enjoy it. But making asks is the only way to bring your dream to life." -- Ben Arment
Contrary to popular beliefs, there are shortcuts in life and the most successful people in the world use them. One of the biggest shortcuts is asking the right people for help.
No matter where it is you want to go, there's a long way and a short way. You can slog it out yourself and get there in a few years, or you can convince the right person to help you.
Amanda Palmer is a famous musician. Her career is based on making asks. She left her record label so she could give her music away for free. She had enough trust in her fans and followers to ask them for help in exchange for the value she provided them. She launched a Kickstarter and made well over a million dollars. She couchsurfs all over the world. Her fans bring her food.
She asks because she has courage. She asks because she has trust. She asks because she wants to be vulnerable with her tribe.
They give generously because they have been the generous recipients of her gifts.
"A person's success in life can usually be measured by the number of uncomfortable conversations he or she is willing to have." -- Tim Ferriss
How long will it take you to get there?
What if you convinced the right person to help you?