 I'm not one to beg. But when, one afternoon in 2008, I stopped by the movie studio my then-boyfriend, John, helps run and saw "Sex and the City movie shoot - fashion show scene" written in his calendar, I made an exception. At 26, I had seen every episode of every season--twice--and the idea that I wouldn't be cast as an extra seemed impossible. It took some convincing, but John agreed to arrange it.

A smile hijacked my face from my (first) morning coffee on the day of the shoot. Designers had transformed the space into an elaborate Bryant Park tent showcasing a Vivienne Westwood fashion show during Mercedes-Benz Fashion Week. Five rows of matching white stadium seating lined the runway, which ran down the center of the large room. A huge stage held ground to my left.

Sarah Jessica Parker, sitting pretty in a fluffy silver dress, huddled with a fur-coated Kim Cattrall a row in front of me. Cynthia Nixon and Kristin Davis flanked them, both draped in dark hues. I squinted at the bright pin lighting as we awaited instruction. John took the microphone just as shooting was to begin, and I settled in for a "thanks for being here" kind of speech.

"Thanks to everyone for coming today," John said, and I smiled. "Today is a special day for me because my girlfriend, Rachel, is in the audience. It was Rachel's dream to be an extra in Sex and the City, and now I hope she makes my dream come true"--he was down on one knee at this point, an open Tiffany box in his hand--"by marrying me." Sure wish I'd known about this before I had decided to call in sick to work that morning.

I don't remember saying yes. I meant to, of course, and I must have, because within seconds all I could see were 300 extras, actors, and crew members on their feet, their clapping and stomping deafening my thoughts. Sarah Jessica Parker rushed over to examine my new bling. I stopped worrying about calling in sick to work.

Our fifteen minutes of fame--which the assistant director, in her effort to keep the production on time and on budget, whittled down to eight--ended fast. A 16-hour shoot day followed, filled with takes, re-takes, and bribes to get Lil' Kim, who made a deleted cameo, out of her dressing room. I went home exhausted but content.

Though John and I had never had an actual, filled-with-words conversation about marriage, we had been together for almost three years and had discussed where we might live long-term, our career goals, and future children's names. I had shied from ever broaching the subject because I hadn't wanted John to confuse a conversation for a suggestion, or a suggestion for an ultimatum, or an ultimatum for a reason to leave. I had seen so many friends jeopardize relationships with deadlines and demands. One had even left a printed itinerary of how she envisioned a proposal in her boyfriend's briefcase. And while such behavior is effective for certain couples at certain times, it wasn't us. I wanted John to propose--but I wanted him to do it when and how he felt was right.

"Sex and the City" was when. "Sex and the City" was how. And if it took a little begging on my part to get us there, well, I could live with that.
Below, Rachel and her now-husband on their Big Day.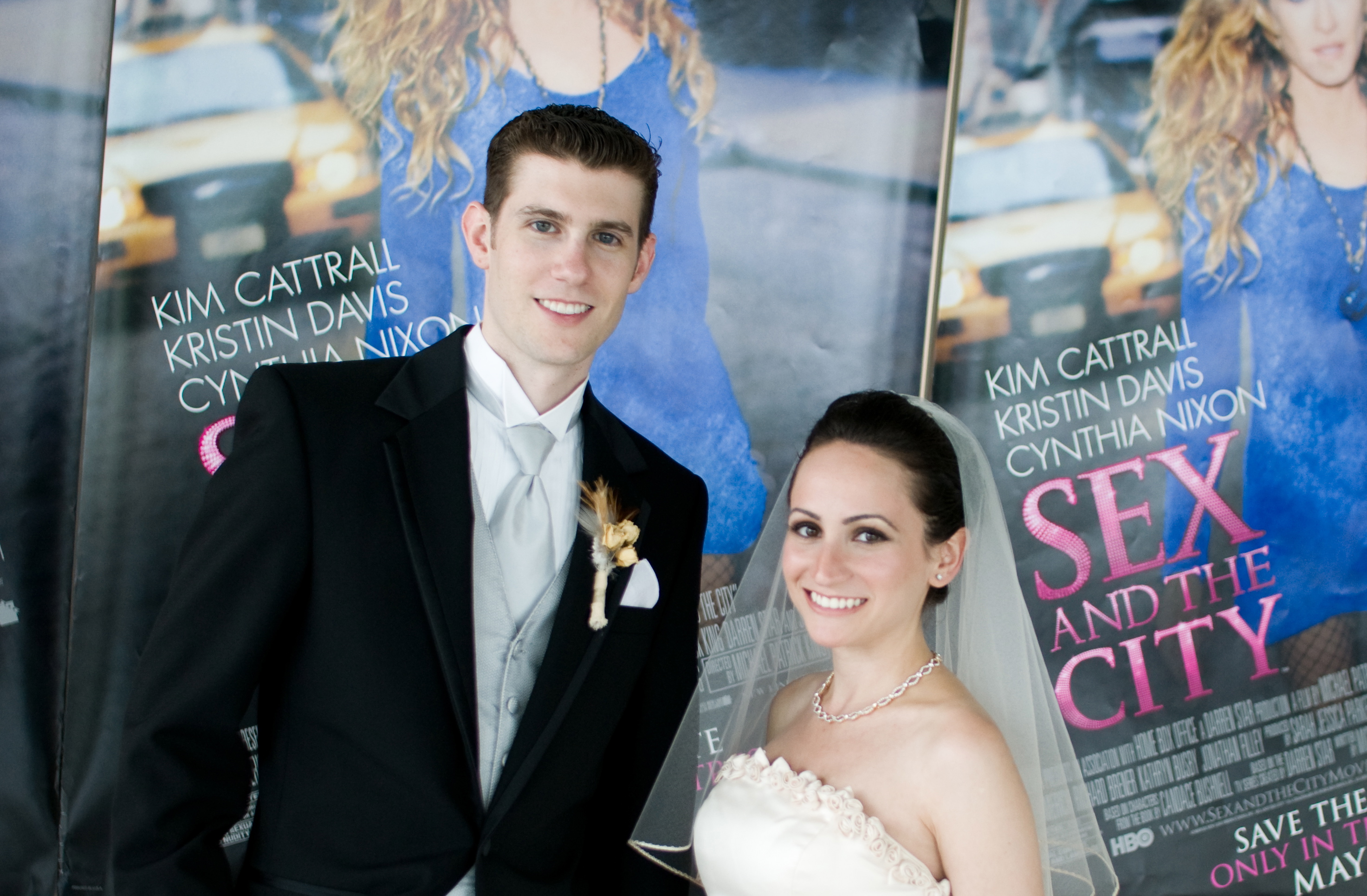 Related