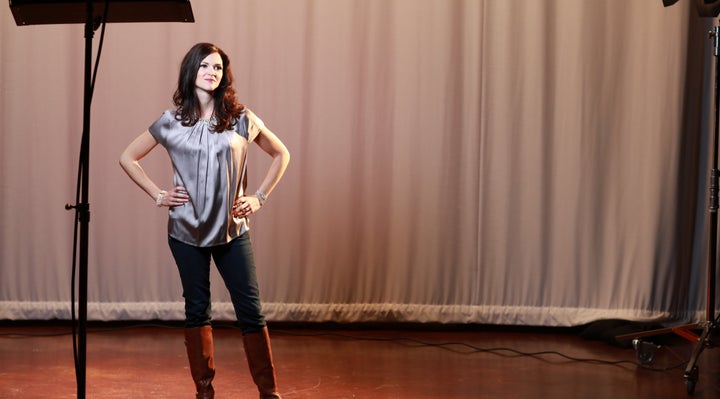 In 2016, my first full year running my company, Life With Passion, I got really visible.
Getting visible or "putting ourselves out there" is the thing that often scares us the most, the thing that strikes fear into my clients' hearts, and that was true for me, too.
The first time I put up a post announcing my new business, I almost threw up. Literally. I had so much nervous energy that it had to come out in some way, and I told my mentor, "I'm either going to throw up or work out." I did the latter.
I used my background and degrees in media communication, got support and examples from my mentors, and most importantly, I did it before I felt ready.
I did it when my audience was a fraction of the size it is now, when I'd only worked with a few clients, when they didn't have the results they do now. I had no idea how to do live streams and I was a perfectionist about them because I used to be a producer and documentarian.
It felt scary, I felt nervous, I wondered what was going to happen.
It felt crazy to put myself out there, because before starting Life With Passion, I was extremely private, and I prided myself on the fact that, ironically, I had never advertised in my online marketing business (I stayed booked through referrals).
On the opposite end of the spectrum, nearly all of my Life With Passion clients came from me getting visible--95% came to me as strangers.
I decided that my message was needed, and I wanted to reach as many women as possible with it.
I knew that there were so many women desperate to quit their jobs, desiring more meaning in their lives, and dreaming of making a big difference, but feeling confused, overwhelmed, or stuck about how. I knew that my mission was to help them know that no matter what they'd been through, it was possible not only to survive, but to thrive.
It wasn't just about me and my fear anymore. It was about the bigger mission and those women who needed to hear it from me.
Learning to get visible and put myself out there led to accomplishments in 2016 like:
Having an $18k month in January!
Making $10k in 72 hours with a 5-week-old
Working one-on-one with clients in 3 different countries and 5 different time zones
Celebrating with them as 70% quit their jobs, all became more confident and took massive action themselves
Appearing on my first podcast in August, followed by 18 more at the time of this writing
Starting my own YouTube channel
Being personally selected by Arianna Huffington to appear right here, on The Huffington Post
Appearing on The Today Show's blog
Launching a non-profit, Miles with Maeve, raising over $12,000, and being a featured speaker on its behalf at a charity gala
I share these things with you to show you what's possible for you, too, when you overcome your fear. It can become easy, comfortable, and even fun.
You can do any of these things you want in 2017. None of it is hard, it just requires you to do whatever it takes to get over your fear (you may need support for this, like I did), show up, and be strategic.
So, ask yourself: What would visibility do for your business? Or where do you most want to be visible right now? (It's ok if it's also the thing that scares you the most).
Share in the comments below!
Then, go get the support and accountability to make it happen, and serve the people who need you!
Christine McAlister helps high-achieving, motivated women rediscover their unique gifts and create freedom-based businesses through her company, Life With Passion.
Popular in the Community